Crissy Henderson
Age:
22,
United States
Somebody call the cops! Crissy Henderson is illegally hot in all 50 states plus Washington D.C. This deep rooted Texas native now Los Angeles based model is the coolest of the coolest. She has an amazing way to make you feel like she is your best friend the second you meet her in fact she happens to be best friends with some of the most elite people in the world from famous musicians, top athletes and the hottest models. But she is far from shallow as she admits a big part of her life is to give back to the communities less fortunate. She is involved with many organizations such as Big Brothers Big Sisters, Meals on Wheels, Church functions and several other charities that are listed below. She feels that a well balanced life is the key to happiness. Crissy's modeling experience has helped her sink her teeth into new promising areas such as film and radio which continue to grow everyday. She is also highly recognized at Playboy as one of their top models, radio personality and has two news shows on Playboy.TV called Camp Playboy and BadAss. It consists of dangerous stunts with other sexy models. Make sure you check out the incredible photos and videos of Crissy inside the hottest members section in the world
Basic Profile
Name: Crissy Henderson

Gender: Female

Age: 22,

Country: United States
Appearance
Body: Normal

Ethnicity: White

Weight: 110kg (243 lbs)

Height: 163cm (5'4")

Hair Length: Long

Hair Color: Black

Eye Color: Brown

Orientation: Straight
Crissy Henderson – A Badass Chick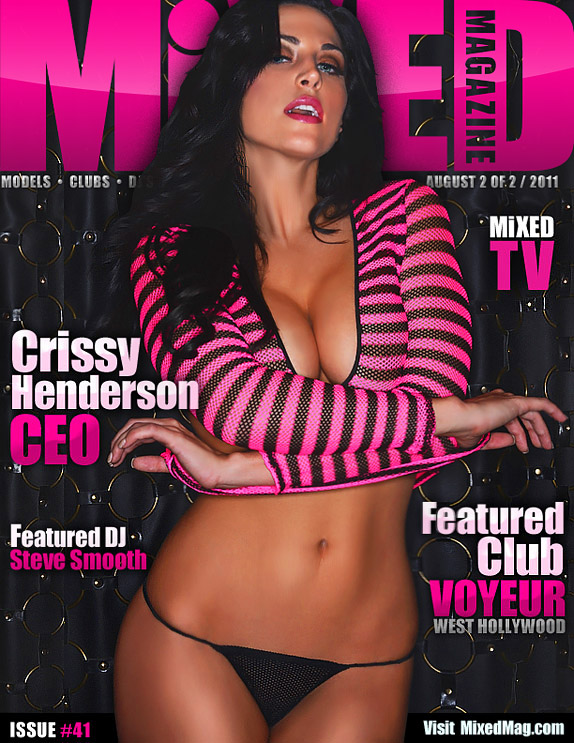 An interview with Crissy Henderson:
Where were you born, and how was life growing up? Dallas Texas. Life was great. I was involved in everything from sports, dance, cheerleading, gymnastics and was also the vice president of my senior class.
What nationality are you? Lebanese,Cherokee and Texan :)
Do you go to college? Yes. I went to school for film and I have a degree in acting.
What would the average person say about you? They would probably say super emotional, bipolar, loving, always giving, loyal and compassionate. haha.
Are you a good dancer? Yes. I studied jazz, ballet, hip hop, break dancing and many others.

Do you like the nerdy type, UFC fighter guy or the regular joe? I like the artistic and musically inclined types. Music is such a big part of my life! I need someone who can relate in that area for sure. But i like a mixture of everything. Someone who I can emotionally, physically, and mentally be on the same level with is most important.
What is your favorite club in LA? I like the supper club
Do you have any secret weaknesses or guilty pleasures? Tattoos!! i love when guys have full sleeve tattoos and neck tattoos. Gotta love those bad boys. I also like when i get sweet text messages or letters out of the blue! The little cute stuff is a big turn on for me! I'm a sucker for romance.
Can you name some new projects you are currently are working on? I just got back from Hawaii filming my show on Playboy TV called Badass. It airs August 18th on Playboy.TV, I have a radio show I host weekly called MZLive and Playboy Radio on Sirus 102, I have two movies out in 2012, and now I'm the new CEO of Mixed Magazine :) My plate is always full and I love it!
What's your biggest turn on? musically inclined guys (rock & roll) and a killer smile!
What's one thing about yourself that everyone should know? I'm a very deep emotional person who is always optimistic about things and that sometimes annoys people. :) But I'm also superrrrrrrr sarcastic and funny. A lot of the time I'm pulling pranks on friends or making them laugh.

What do guys compliment you most on? my eyes and badass personality
Do you consider yourself more of a "giver" or a "taker"? Giver, espicially if i'm in LOVE! I love nothing more than doing my man's laundry, cooking for him, and all the cute little girlfriend/wifey stuff. I love being in love!! It's an awesome beautiful thing!
If you could have any car you wanted, what would it be? Hard to say because when i was 23 years old i bought my dream car: A Bentley GT. That was the only car i wanted in the world and i got it for college graduation.

Do you have any hidden talents? I'm a sick drummer -on rock band, i write poetry, and i can cry on command.
What do you like best about being a model? the unlimited creativity you can do with each shoot! I like being in front of the camera and feeling sexy and dressing up! It's my own little pretend world that i can be anything i want to be or express whatever i want. Pictures are memories frozen in time and when I'm old and wrinkly i can dust off the old photo album's and show my grand kids what a hot lil thing i was back in the day! :p
What would you consider your strongest attribute? my desire to help others. I feed the homeless every Thursday with my best friend Jennifer Hollis. The organization we work with is called The Greater West Hollywood Food Coalition. (www.gwhfc.org) It's amazing to give back to the community and working with the homeless and getting to know their stories has been a true blessing!
What do you normally sleep in? sweats and a wife beater no bra no panties- i like to be really comfy! Sometimes I'm too lazy to put on clothes so I'll sleep nude.
If you could go anywhere in the world, where would you go and who would you take with you? Maldives and I'd take my family and a few close friends…
What is your favorite food? sushi, mexican, and corn dogs, ooh ooh and peanut butter & jelly sandwiches with doritos
What do you do for fun? work on music, movies, read books, dive bars and concerts

What are your dreams and goals? To continue my growing success in the many areas of modeling, acting, business, music, film and anything in the entertainment industry.
How does someone contact you for a modeling project? visit my website: www.crissyhenderson.com or twitter @crissyhenderson