MandyCfit
Age:
25,
United States
Say Hello to Mandy aka MandyCfit from Detroit, Michigan! This super babe recently moved to Florida focused on expanding her fitness career. This all around woman does it all. When you talk about perfection then you talk about Mandy. She is a personal trainer, model, entrepreneur and a mighty fine cook. She does everything to perfection and never skips a beat. She is all natural from head-to-toe. She owes her perfect curvy physique to her well balanced diet and lifestyle. Mandy has been modeling off and on over the years but now that she has made it to the sunshine state her modeling has picked up tremendously. She fits into a wide array of modeling categories and is very open minded. She is extremely easy to work with because she is always on time, follows direction very well and always has a smile on her face. She is the ultimate sweetheart. This world class model will be taking the world by storm so make sure you follow her and watch her career take off.
Basic Profile
Name: MandyCfit

Gender: Female

Age: 25,

Country: United States
Appearance
Body: Athletic

Ethnicity: Pacific Islander

Weight: 57kg (126 lbs)

Height: 154cm (5'0")

Hair Length: Short

Hair Color: Dyed (Other)

Eye Color: Brown

Orientation: Straight
MandyCfit – Best Booty on IG!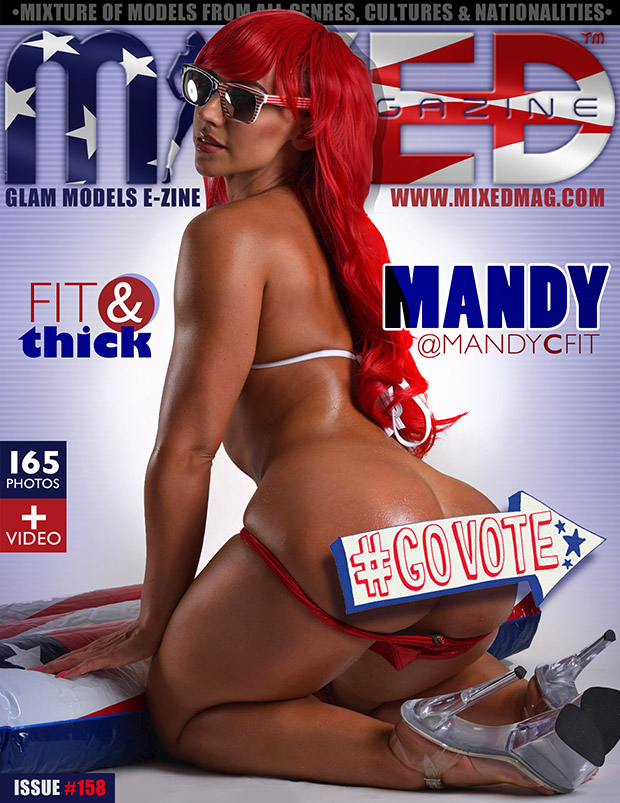 An interview with Mandy:
Where were you born, and how was life growing up? I was born in Dearborn, but raised in Livonia ( a suburb 15 miles from Detroit). I was brought up in a pretty sheltered home and wasn't exposed to much at all. I was always involved in extracurricular activities and sports, and have always been very competitive. I played basketball, softball, cheerleading and danced. My graduating high school class was only 12 people… I went on to attend college at Eastern Michigan University where I graduated with honors, with a degree in communications. After college I became very passionate about health and fitness which has now turned into a very exciting career path for me. Family has always been extremely important to me and my niece and nephew are my world!
How did you get your start in modeling? Since I was a little girl I can always remember putting on fashion shows for my mom and dad. As I got older and started playing sports and becoming competitive, working out and health went hand in hand. I decided to combine my passion for fitness and modeling by competing in Bikini National Physique Competitions (NPC). I have always been comfortable on any stage but having to stand out against others that were in tip top shape really motivated me to work harder and since I have my competitive edge, pushed me to always be better. After competing, my fitness career blossomed and I continue to model since they go hand in hand. Due to my natural build (curvier) I took a step back from competing, and focused my career path more on modeling and helping others achieve their fitness goals through personal training and health coaching. Assisting others in their health and fitness journey has always been not just my job, but my calling.
What has been your most memorable experience as a model? Uprooting my quiet sheltered life in Michigan & moving down to South Florida to pursue my dreams. It's still sometimes surreal to me right now, getting to work with so much talent down here, but I love it and continue to embrace every opportunity and moment.
What is your dream modeling job? To combine my passion of fitness with my love for fashion. Modeling for both has always been my dream, and the best part is that I'm already doing that! I set the bar very high for myself, so even though I'm already living out my dream, I have much more I plan to accomplish, and people/brands I would like to work with.
What would the average person say about you? That I'm very selfless and determined. I work extremely hard & I give as much of myself to others as I can. I've been personal training for almost a decade now and one thing I hear across the board from everyone I work with, is that I'm a natural leader and very good instructor. The art of teaching comes natural to me; whether it is with beginners or advanced "students", I've always had a niche for being able to properly educate people and make them feel good about themselves in the process
What are you most attracted to in a man? His sense of humor!! Make me laugh, and you've got my attention
I also like a man that can challenge me. Being an alpha my entire life, I need that push & a guy that's going to take charge.
What do guys compliment you most on? My smile ….& booty ?
If you could go anywhere in the world, where would you go? Bora Bora!! One of those huts on stilts in the middle of the ocean.
What is your favorite food dish? I'm obsessed with breakfast foods!! I would have breakfast for every meal. Lately I have a new obsession….it's toasted cinnamon raisin Ezekiel bread with coconut oil, and thinly sliced bananas sandwiched between the toast. OMG!! Too good!! Lol
What are your dreams and goals? To teach my patented fitness class, BootyMaker™ while building it to become nationally recognized ?? My dream is to combine my modeling and fitness, as well as my passion for health and nutrition and basically brand myself and help people to get in shape, feel their best, and love the way they look!
What is the best and worst thing about modeling? The best thing about modeling is being able to work with amazing people who have the same passions as you, and of course when you see the final product, nothing makes you happier. The final product is so exciting to actually see, especially when you know what actually happens behind the scenes ( the hard work, long days, early mornings, late nights, awkward poses, sore muscles), but I wouldn't trade it for anything. I would say all of those things also could be the worst things, but it makes all the hard work worth every minute, because when I actually get to see the final product, it makes me remember what it took to actually get that image.
How can a guy get your attention? Like I said before, make me smile or laugh and you're off to a good start. Being genuine goes a long way with me.
How does someone contact you for a modeling project? My business email : MandyCMgmt@gmail.com
What is the best pickup line you've ever heard? That's a hard one. I'd have to say the funniest to me is when guys hire me to train them and show up thinking they are gonna ask me out on a date or show off, but what ends up happening is I put them through such a humbling, tough workout, that they usually either crawl out of the gym or hire me full time when they realize I'm actually extremely good at what I do?
Do you have any hidden talents? Cooking. Can't say I hide it too much but if you're in my life I'm cooking for you daily (and nightly). I'm old school and I believe in having dinner waiting when family and loved ones come home after a long day ?
Do you have a favorite photographer? Once again I have many. What I love though is a photographer that thinks outside the box(or camera). I appreciate when a photographer has a more artistic approach to creating more than just a picture, but collaborating with their models in a professional and unique sort of way. My favorite photographers are the ones that are passionate and excited to work with me!
What is your guilty pleasure? Dark Chocolate & Coconut anythingggg lol
Would you prefer a guy to pursue you, or do you like to be the aggressor? Absolutely need to be pursued!! I'm so shy when it comes to the whole dating thing but I definitely need someone that's a man and knows how to handle me (cause I can be a handful)
Would you date a guy that you met on social network? I am very big on vibes and always go with my gut instinct and have an open mind. If the situation felt right and the attraction was there, why not?
How would you like to be remembered? As a role model. I want to empower current and future generations to embrace their bodies no matter what shape or size. I can help guide anyone to make them a better version of themselves physically, however when you're able to help boost someone's self esteem and self worth, I feel it truly helps them grow. When people think of me, I want them to think that I was able to help them become stronger…. And I don't just mean physically ??