Paola Cospi
Age:
25,
Colombia
Can you say FLAWLESS??!! Take a gander at the all woman all Colombian beauty queen Paola Cospi. Everyone always has some sort of vision in the mind of what perfection is and I'm sure this is what it looks like. This model comes to us all the way from Colombia. I don't even know where to start with this model. Just wow!! How about that? LOL She is so pretty, so clean, so fit, so tan and so sweet. This babe loves to come to Miami where she can stay in tip top shape while she gets to soak up the sun to keep her golden tan popping. Her body is just amazing with her ripped tummy and little bubble butt. Her face is exotic and her hair just flows. Ok I'm in love. Paola models full time because how could she not looking this good. You can take a million photos of her and everyone of them will be perfect and that is how a photographer knows he has a good one in front of him. If you have the chance to photograph this beauty you better cancel Christmas because this type of babe only comes around once in a lifetime. Check out her sexy photos and videos from her shoot below.
Basic Profile
Name: Paola Cospi

Gender: Female

Age: 25,

Country: Colombia
Appearance
Body: Thick

Ethnicity: Mixed

Weight: 52kg (115 lbs)

Height: 170cm (5'6")

Hair Length: Long

Hair Color: Blonde

Eye Color: Brown

Orientation: Straight
Paola Cospi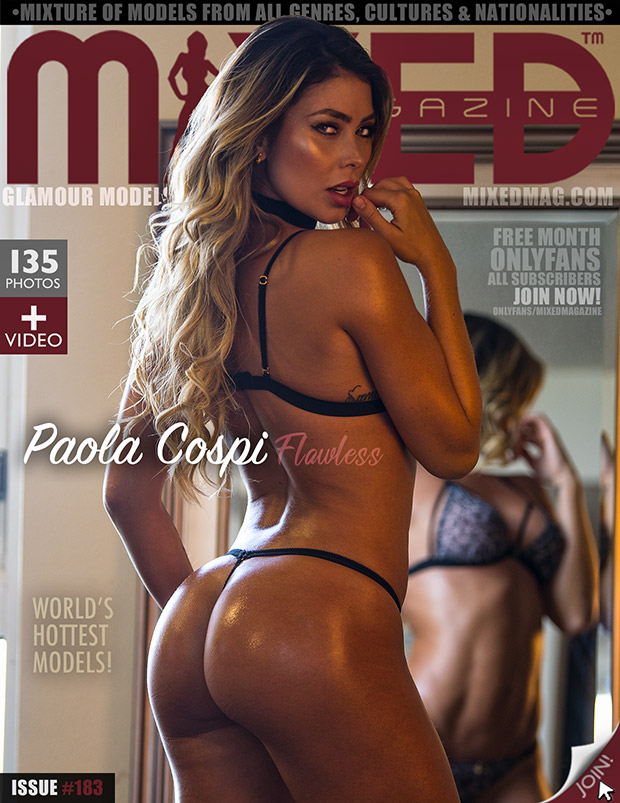 An Interview with Paola Cospi:
What do you like about being in Mixed Magazine? I think its awesome to be part of such a sexy magazine for a crowd that loves something extra.
How do you define a beautiful woman? Beauty is in the eye of the beholder but definitely a nice body, personality and how they treat others.
What is the day of your life work? I often travel back and forth to Colombia. I also love to go the gym and train and model.
Do you have a secret that you would like for people to know? I love sports!
What do you find attractive in a man? I love a tall man with large hands and has a beard. I love a sense a humor and a man who is loves and family and works hard.
What is the craziest thing you have done for love? I would travel really far to see someone.
What do you think about Instagram? It is really great for branding and gaining new fans.
What do you think is bad about social networking? For me I'm very selective about what I share but I can see how it could possibly be too much info for some.
How is your interaction with your fans? Sometimes I get negative comments but most of them or positive and uplifting.