Valeria Orsini
Age:
20,
United States
Valeria Orsini is a Miami Colombian model on the rise. Valeria Orsini was born in Atlanta, Georgia January 19th, 1990 and lived there till the age of two. Later Moved to Miami Florida in which she was raised and still resides. She is of Colombian, Italian, and Puerto Rican descent who measures 34C-24-35. Don't let the pretty face fool you or her warm Brown baby doll eyes, she is as smart as beautiful, determined, and Sassy at 5ft.2in. Valeria Orsini has done everything from calendars for "Latin Mix" to Swimming with sharks for "PlayBoy TV" and special guest on "Bunny Talk Radio". 2010 May's cover of Nine5Four magazine also Graced the cover of 2010 September's Mixed Magazine. She has walked the runway live for Tara Love, Linda Zamora, and Lace to Lust just to name a few. Has hosted some of the hottest clubs across America and has featured in numerous videos for artist like Trina, Flo rida, Cam'ron, and Mon E.G. She is driven and we don't see any signs of her slowing down now that she has distinguished herself in several areas of the modeling world; such as featuring in magazines, radio, TV programs and commercials and numerous music videos.
Basic Profile
Name: Valeria Orsini

Gender: Female

Age: 20,

Country: United States
Appearance
Body: Normal

Ethnicity: Hispanic / Latina

Weight: 105kg (231 lbs)

Height: 160cm (5'2")

Hair Length: Long

Hair Color: Blonde

Eye Color: Brown

Orientation: Straight
Valeria Orsini – A Model on the Rise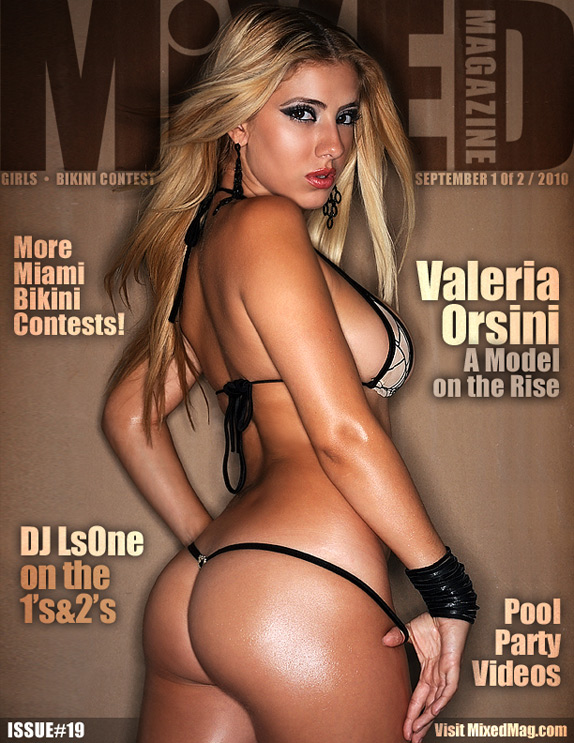 An Interview with Valeria Orsini:
Where were you born, and how was life growing up?
I was born in Atlanta, Georgia and moved to Miami when I was 2years old. I've been blessed with an amazing upbringing and huge beautiful family….
What nationality are you?
My mother is Colombian and my Father Is Italian / Puerto Rican
Do you go to college?
I went to Kieser University for Occupational Therapy
What would the average person say about you?
Down to earth and a big heart
Are you a good dancer?
Of course I'm Latin
Do you like the nerdy type, UFC fighter guy or the regular joe?
I like the package a smart man that can teach me things, that also has
my back and will protect me, but someone down to earth to level out my crazy life.
Do you have any secret weaknesses or guilty pleasures?
Of course many but then it wouldn't be a secret, would it…
What's your biggest turn on?
someone that's fun and makes me laugh no matter what we're doing
What's one thing about yourself that everyone should know?
Don't cross me lol and if I'm mad just walk away and leave me alone lol
What do guys compliment you most on?
My eyes
Do you consider yourself more of a "giver" or a "taker"?
pfff lol a taker but I won't abuse it I'll reward it
If you could have any car you wanted, what would it be?
wow right now it would be the brand new "LFA 12 Lexus"
Do you have any hidden talents?
I'm quite an actress lol
What do you like best about being a model?
Getting dolled up, feeling sexy, and traveling the world
What would you consider your strongest attribute?
My common sense lol witch most people don't have
I'm not blinded by the glitz and glamour I see things and
people for what they truly are.
If you could go anywhere in the world, where would you go and who would you take with you?
The beaches of Tyland I've there stunning
What is your favorite food?
sushi <3
What do you do for fun?
going on the boat tanning with my girls
What are your dreams and goals?
to be the greatest model I can be but over all be a great
daughter, sister, friend, and one day wife /mother
How did you get your start in modeling?
RichArt a friend photographer saw potential in me we shoot and its history
Do you have a website?
yes I do www.ValeriaOrsini.com and a Twitter twitter.com/Valeria_Orsini
Favorite Sports Team:
Is that really a question? It's all about MIAMI HEAT Baby…..
How does someone contact you for a modeling project?
on my website www.ValeriaOrsini.com or Twitter.com/Valeria_Orsini