Andrea Lakovic
Age:
21,
United States
Andrea Lakovic is the stunning model originally from Serbia but just recently moved to Boston. There is something about that geographic location that breeds some of the sexiest women in the world. Can you imagine a place that has tons of women that are just like Andrea Lakovic? Not only is Andrea scorchingly beautiful she is also very in tune with her sexy side. She is very feminine with her silky smooth skin and her voluptuous all natural body. She is also extremely sweet and treats everyone with love. You are probably wondering how do we find such amazing models and we ask ourselves the same question. They just seem to fall on our lap. It only took one glance at Andrea on Instagram wearing some jeans and a t-shirt posing for her cell phone and the next day she was on a flight to Miami for her Xmas cover shoot. She is very happy to be on the Xmas cover because December is also her birthday month. We loved her so much we even put her on the cover of our 2014 Mixed Magazine calendar that is free to all subscribers. She is very new to modeling and has only done a few photo shoots but you would never know it because she works the camera like an absolute PRO.
Basic Profile
Name: Andrea Lakovic

Gender: Female

Age: 21,

Country: United States
Appearance
Body: Thick

Ethnicity: Mixed

Weight: 150kg (331 lbs)

Height: 172cm (5'7")

Hair Length: Long

Hair Color: Dyed (Other)

Eye Color: Grey

Orientation: Straight
Andrea Lakovic – Serbian Princess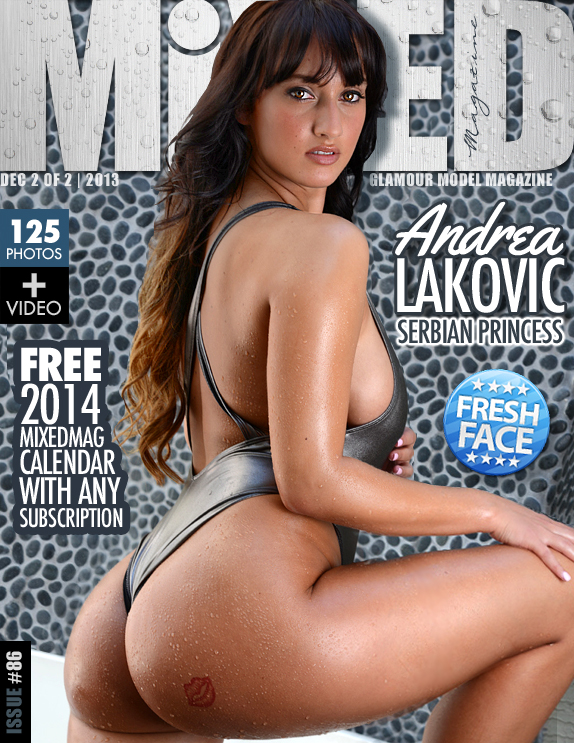 Interview:
Where were you born, and how was life growing up? I was born in serbia. It was really fun for the amount of years that I lived there.
What would the average person say about you? That I'm funny, outgoing, friendly, crazy and haters say they love me
Are you a good dancer? yes, I actually used to take dance classes growing up
Do you like the nerdy type, muscle guy or the regular joe? I don't really have a type
Do you have any secret weaknesses or guilty pleasures? yes, chocolates :)
Describe your most embarrassing moment. Getting caught "twerking" during my boyfriend family reunion
What has been your most memorable experience as a model? Working with Mixed Magazine was amazing because they made me feel just like a princess :)
What's your biggest turn on? someone who is outgoing, has a nice smile & someone who can hold a convo well
What's one thing about yourself that everyone should know? i am really goofy
What do guys compliment you most on? smile & my body
Do you consider yourself more of a "giver" or a "taker"? giver
If you could have any car you wanted, what would it be? 2014 McLaren mp-4 -12c
Do you have any hidden talents? It wouldn't be hidden if I told you what they were hahah
What do you like best about being a model? I feel in control with everything around me
What would you consider your strongest attribute? That I am very easy going
If you could go anywhere in the world, where would you go and who would you take with you? I would go back and visit my country and take my grandmother with me
We know you're a model and all, but you must have a favorite food. What is it? I honestly like everything but if i have to pick would be burrito & hot Cheetos
Besides modeling, what do you do for fun? Online shopping :)
What are your dreams and goals? My dream is to become FBI detective & my goal one day is to own a house and have a family
Would you prefer a guy to pursue you, or do you like to be the aggressor? I would prefer for a guy to pursue me
How did you get your start in modeling? Back in my country taking photos and being obsessed with j.LO -LOL
What is your favorite social network? INSTGRAM
Do you have a website? Nope
Relationship Status: Single
Favorite Sports Team: Lakers
Favorite Comedian: Chris Tucker
First Job: In a pizza shop
Piercings/Tattoos (How many? Where?) I have 4 tattoos & 2 piercings
What fun fact or talent should guys know about? I like to travel
How does someone contact you for a modeling project? my email info@mixedmag.com