Mercedes Morr
Age:
25,
United States
Back up for Mercedes Morr and her SUPER BOOTY! This is one of the those booties that has everybody falling to the ground when she walks by. Guys can't even think straight when they see it in person. She uses it to her full advantage as a full time exotic dancer and model for the best female modeling agency in the country Viscious Vixens out of Houston, Texas. Yes everything is bigger especially the booties. Mercedes is relatively new to the modeling world and she got her debut to the world pretty much as soon as WorldStarHipHop.com released a video of her. One of the things Mixed Magazine loves is a woman who can own her sex appeal along with staying humble and professional and Miss Morr is that person. She has absolutely no shame for her ability to shake the booty for the whole world to see all while treating everyone with respect along with way. Mercedes Morr is just a bad ass chick! Find out more about her below before we bore you with how awesome she is.
Basic Profile
Name: Mercedes Morr

Gender: Female

Age: 25,

Country: United States
Appearance
Body: Thick

Ethnicity: Black

Weight: 59kg (130 lbs)

Height: 152cm (4'11")

Hair Length: Long

Hair Color: Black

Eye Color: Brown

Orientation: Straight
Mercedes Morr – Super BootyLIKE? SHARE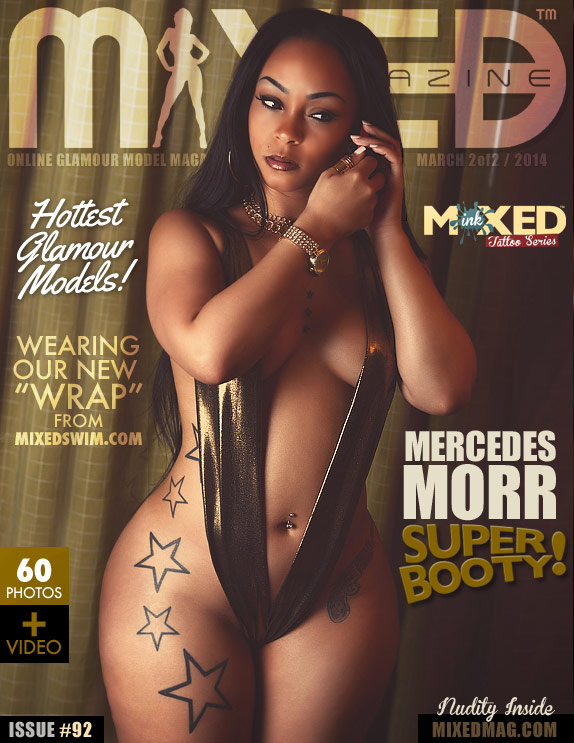 Interview:
Where were you born, and how was life growing up? I was born in El Paso, Tx to a military family so growing up was full of new experiences and new places.
What would the average person say about you? The average person would say I am goofy and sweet but very feisty
Are you a good dancer? I believe I am a good dancer
Do you like the nerdy type, muscle guy or the regular joe? I have to say I like a smooth type of guy with a lot of confidence and Is very driven
Do you have any secret weaknesses or guilty pleasures? My secret weakness would have to be food, Im kind of a food connoisseur
Describe your most embarrassing moment. My most embarrassing moment would have to be when I feel off stage one night at work and on top of all that I feel onto a table full of drinks
What has been your most memorable experience as a model? I cant say the most memorable experience as a model is only one thing because so many great things have come my way
What's your biggest turn on? My biggest turn on is a nice body and nice teeth
What is your favorite sex position? My favorite sex position doggy style
Have you been with a girl before? yes
What's one thing about yourself that everyone should know? that I'm supper silly
Where is your favorite club to dance at? Vlive in Houston
What do guys compliment you most on? my eyes and butt
Do you consider yourself more of a "giver" or a "taker"? I'm definitely more of a giver
If you could have any car you wanted, what would it be? McLaren P1
Do you have any hidden talents? great cook
What do you like best about being a model? the money
What would you consider your strongest attribute? My ability to model but yet maintain a cool down to earth attitude
If you could go anywhere in the world, where would you go and who would you take with you? I wouldn't go any one place I would travel the world and I would take a sex companion
We know you're a model and all, but you must have a favorite food. What is it? Chicken Creole
Besides modeling, what do you do for fun? Travel
What are your dreams and goals? To own a businesses one being a restaurant that my family once owned
Would you prefer a guy to pursue you, or do you like to be the aggressor? I would rather be pursued
How did you get your start in modeling? on Instagram
What is your favorite social network? Instagram
What's the craziest thing you've ever done? Become a stripper
Do you have a website? NO
Relationship Status: Single
Favorite Sports Team: Miami heat
Favorite Comedian: Kevin Hart
First Job: Sprint
Piercings/Tattoos (How many? Where?) 12 tattoos spread out all over my body and my nipples my belly button pierced
What fun fact or talent should guys know about? I'm very spontaneous
How does someone contact you for a modeling project? My booking email bookingmercedesmorr@gmail.com