Miss Cyprus
Age:
27,
Canada
Miss Cyprus needs no introduction. If you are a fan of twerking then you know about this bad ass babe. She has been blowing up the scene for a little while now with her ultra sexy moves. Her favorite thing to do is travel and twerk. She is a petite model butt she knows how to move it very well. She loves feeling free and being outdoors so don't try to keep this one cooped up! To win a girl like Miss Cyprus you better get a passport. She resides in Canada which is her chill spot until she is back on the Islands catching a tan and a beautiful tan she has! One thing you must know about her is that she is a total sweetheart. She is always chill and only turns up when it's sexy time. Does it get any better than that? I don't think so.. She does most of modeling on online services where you can catch her live and intimate. Her private snapchat is at snapbabez.com!
Basic Profile
Name: Miss Cyprus

Gender: Female

Age: 27,

Country: Canada
Appearance
Body: Normal

Ethnicity: White

Weight: 58kg (128 lbs)

Height: 167cm (5'5")

Hair Length: Long

Hair Color: Blonde

Eye Color: Brown

Orientation: Straight
Miss Cyprus – The Twerkologist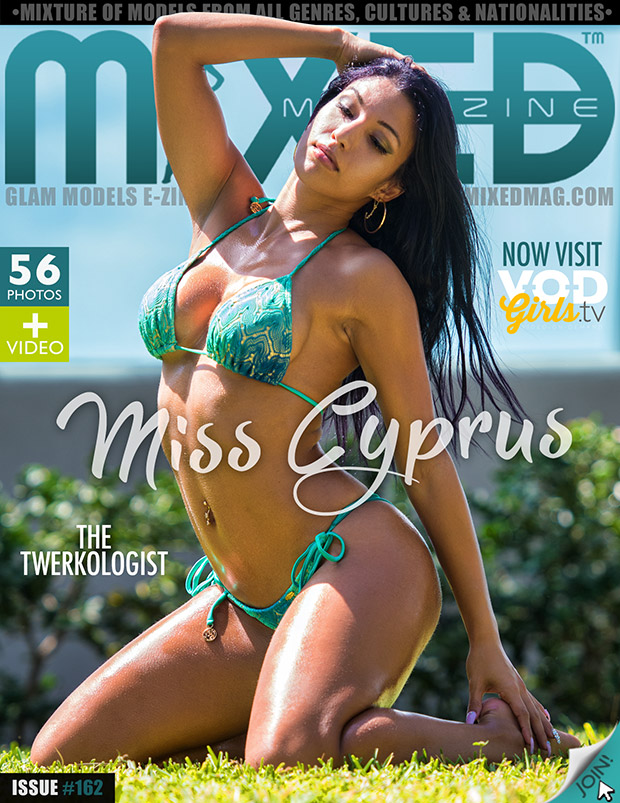 An Interview with Miss Cyprus:
Where were you born, and how was life growing up? I was born in Geneva, Switzerland. Growing up I was always moving around because of my parents' professions. I've lived in Quebec and Ontario – then finally settled in Toronto where I started my undergrad in BCOM Finance. I have always been the adventurous type thanks to all the travelling.. I am more of an open minded and laid back person.
How did you get your start in modeling? Got Ass Models was my first gig in the modeling industry
Favorite Sex position? Spread eagle
Have you ever kissed a girl? Yes .. I'm bisexual
What has been your most memorable experience as a model? Traveling to Vegas when I was barely legal and not even an entertainer at the time .. had the opportunity to host with some very talented people .. let's just say that was my break-through in adult entertainment.
What would the average person say about you? That I'm a sweetheart.
Describe your most embarrassing moment? Got caught giving oral on a plane … banned from that airline lol
What's your biggest turn on? Spontaneous sex.. I like the thrill of having sex wherever and whenever. No limits
What do guys compliment you most on? My bedroom eyes and my ass.
What do you sleeping in? Nude or satin .. but mainly nude
If you could go anywhere in the world, where would you go? Polynesian islands
We know you're a model and all, but you must have a favorite food. What is it? Cake .. I have a sweet tooth lol
What are your dreams and goals? Goal : To get my masters degree and become a Portfolio manager Dream : live on an exotic island next to a beach
Would you prefer a guy to pursue you, or do you like to be the aggressor? I like when a guy pursues me .. I'm dominant when it's necessary but I usually like when a guy comes for me . Especially when they have me pinned and helpless .. that is so sexy.
First Job: hostess
How does someone contact you for a modeling project? @Kelvin7talentagency
What is the largest gift offered to go out on a date with you? $10,000
Would you date a guy that you met on social network? Why not?
Do you have a passport? Yes