Jessica Kylie
Age:
26,
United States
If you're going to do something, you might as well be the best. That's exactly how veteran model Jessica Kylie has treated her modeling career. It is now Mixed Magazine's 5 Year Anniversary and 100th Cover Issue and over the years we have endured many challenges and have experienced our fair share of trials and tribulations. We have spectated and worked with some of the hottest models from all over the world. We have always in our minds had the blueprint for how the perfect model should look and act during this new exciting internet age which has kick started many careers for glamour models, photographers, makeup artist and more. Model Jessica Kylie matched all our expectations which is why she was chosen to be on the cover of the 100th Cover Anniversary Issue. She does it all and we could easily write a book about her accomplishments and successes but to sum it up Jessica Kylie has the perfect body with earth shattering curves that brings out the best in anything she touches. Her face is as beautiful as it gets with her perfect facial features, light colored eyes, perfect lips and pearly whites that melt you with every smile. Her physical appearance is something like a dreamt up caricature drawing. She embraces her sexy attributes to the fullest and exudes freedom and confidence making her the ultimate SEX SYMBOL!
Basic Profile
Name: Jessica Kylie

Gender: Female

Age: 26,

Country: United States
Appearance
Body: Thick

Ethnicity: Mixed

Weight: 130kg (287 lbs)

Height: 162cm (5'3")

Hair Length: Long

Hair Color: Blonde

Eye Color: Hazel

Orientation: Straight
Jessica Kylie makes the 100th Cover!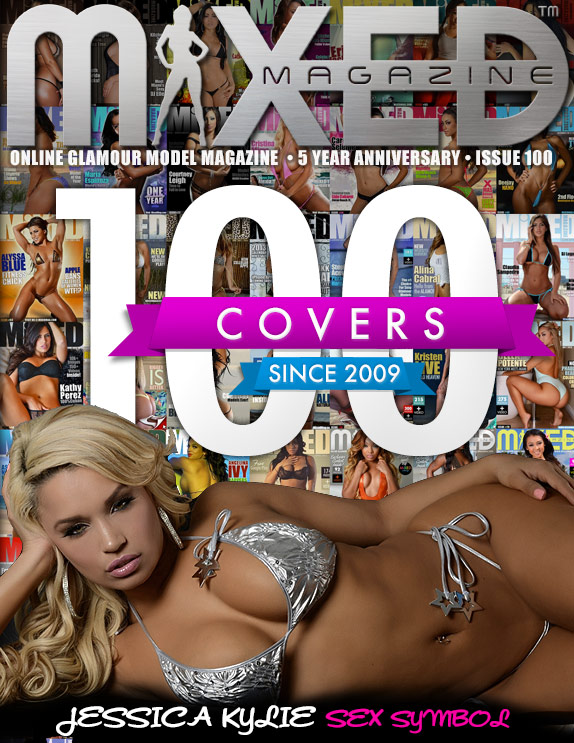 An interview with Jessica Kylie:
Where were u born,and what was life like growing up? I was born in Houston,TX on April 30th! Life for me growing wasn't easy. I come from a broken home and little money but that's what has made me the strong person I am today! Also being Bi-racial wasn't easy either because I always felt confused as to who I am! Now that I'm older,being bi-racial is a blessing since I look more exotic! Tough times pay off!
What would the average person say about you? Most people who don't know me say that I look conceited,stuck up,scary to talk to….lol! I guess I just have that serious face demeanor but once they talk to me their whole perception changes! Anyone who knows me would say that I'm," super generous,kind,funny,polite and but don't get on her bad side!"
Are you a good dancer? Yes,I would definitely consider myself a good dancer! I used to watch The show "In Living Color" as a kid and dance infringing of the TV! Lol I danced salsa,merengue,bachata all throughout middle/Highschool and I am now in a professional Salsa dance group!
Do you like the nerdy type,muscle guy or regular joe? I don't really have a "type". I can find attractiveness in different types of men but for me to really fall for someone (which is super rare) he has to have a little of all qualities. I want a guy with street smarts and intellect! I want a guy who has a nice lean body but not too big with muscles. I want a guy who is nice and polite but takes control in the bedroom.
Do you have secret weaknesses or guilty pleasures? Last time I gave too many details about my naughty side and I got in trouble lol! But one of my guilty pleasures is wearing lingerie for my man. When I was younger,I was too shy to get dressed up for him but with confidence that changed! If you want to keep your man happy them you have to stay creative!
Describe your most embarrassing moment. Hmmmm,that's hard! I think my most embarrassing moment was when I was arrested and I had to stay in jail for a couple days. The police women have to strip search you in front of everyone and you have to bend over and cough lol! So I did,and some girl trustees were watching the whole time and commenting on how big my ass was! Ummm thanks but no thanks!!!! Lmao
What was your most memorable moment as a model? My most memorable moment as a model was when I was chosen for Smooth Mag."Jamaica Issue" cover! I was brand new to modeling and there were about 16 other famous models in the running! When the mag called me and told me that I was chosen for the cover,I almost cried! That's when my career took off!
What's your biggest turn on? My biggest turn on is for my man to take control in the bedroom. Ill purposely tell him no to sex just so he will "take it"! If he would just say,"Ok,fine then",then I would be like what a pussy! Lol
What's one thing about yourself that everyone should know? Everyone should know that just because you see me looking all happy and perfect in pics doesn't mean I am perfect. I've been through hell and back in life but I'm not bitter about it. Some of ,y fans say,"I wish I had a perfect life like yours!" Ha! If you only knew hunny! No ones life is perfect!
What do guys compliment u most on? I get compliments on almost everything but the things that I appreciate most are when a man compliments my eyes,smile and attitude! Guys Always tell me,"Jessica your beautiful,but your attitude is even better!" That makes my day!
Do you consider yourself more of a giver or a taker? I think of myself as both. I'm kind of old school. I come from a Latin family where the man works and provides and the woman takes care of her man! I would never completely depend on a man and I love to work but my man spoils me and I spoil him.
If you could have any car you wanted what would it be? I want a Bentley Coupe in a baby pink color! Lol
Do you have any hidden talents? Wow! I have lots of hidden talents but if i told you then they wouldn't be hidden anymore….
What do you like best about being a model? Being a model is super fun because I get to use my natural talents! Don't get it twisted,modeling is way more than just being pretty in font of a Camara! Modeling is being creative,open to new ideas,mastering poses and facial expressions. I get to make my own work schedule and travel the world which is a blessing!
What would you consider your strongest attribute? My strongest attribute would be my mouth. I know how to make any picture become ultra sexy with a sultry smile to an innocent but sexy pout. Be careful,I can control you with it.
If you could go anywhere in the world where would you go and who would you take with you? If I could go anywhere in the world I would visit Uruguay with my best friend who passed recently of cancer. She was born there and hadn't been back to see her family in years! She really wanted to go back before she passed so I would take her! Love you Mariana!
What's your favorite food? I love all kinds of food but you can never go wrong with Authentic Mexican food!
What are your dreams and goals? My mind runs 100 miles an hour with dreams and goals! I have so much that I want to accomplish but not enough time! I started acting recently and filmed a low budget movie…now i have the acting bug! I also want to expand my modeling school,teaching new models the ropes!
What is your favorite social network? I like Instagram more than anything because its not to much work for me. I post pics,people comment and I try to comment back on as many as I can! I love to see other people's pics also!
Relationship status: Single!
Favorite comedian? My favorite comedian is my friend Kevin Hart! I can only take 1 day of hanging with him though bc my cheeks start to hurt from laughing so much!
First job? I've always been a hustler and I got hired at Foot Action sneaker store the day I turned 16! I would take the bus to work since I was too young to drive.
Peircings/tattoos?? I have 3 tattoos and Iv had almost everything pierced lol