Zashia Santiago
Age:
25,
United States
Zashia Santiago is Pin Point Perfect! If there was a test on how well a model performs then Zashia would get a A+. She does everything right and it's safe to say she is an angel. She is punctual, positive, pretty, professional and knows how pose very well. She has been modeling for a few years but recently has stepped up her game when she connected with Seven Talent Modeling Agency in Miami. She recently just shot with Miami's top photographers from Nick Ramirez, Derick G, Ohrangutang and more. She loves to work hard and is excited about her bright future ahead. She is considered to be one of Miami's top glamour models and is gaining world wide recognition through her social networking. Get ready to fall in love with this beauty.
Basic Profile
Name: Zashia Santiago

Gender: Female

Age: 25,

Country: United States
Appearance
Body: Thick

Ethnicity: Black

Weight: 120kg (265 lbs)

Height: 165cm (5'4")

Hair Length: Long

Hair Color: Black

Eye Color: Blue

Orientation: Straight
Zashia Santiago – Pin Point Perfect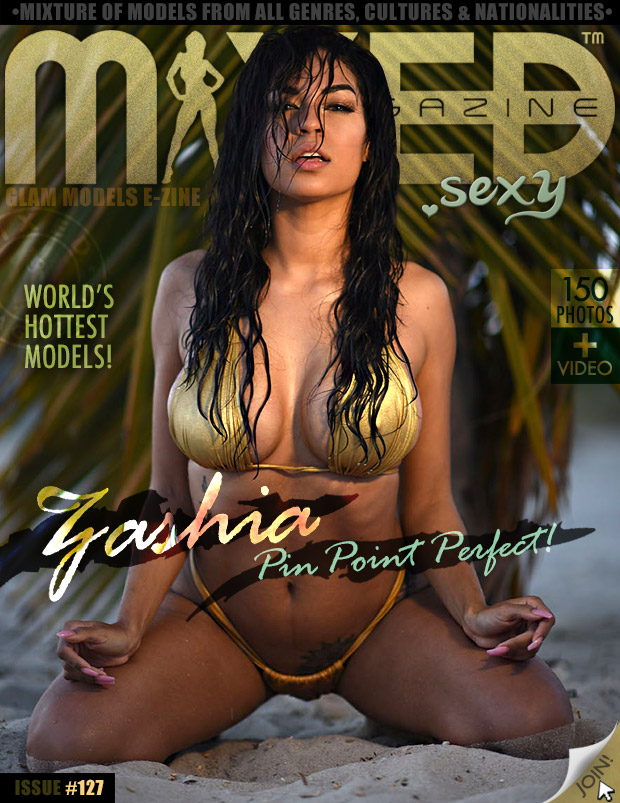 An Interview with Zashia Santiago:
Where were you born, and how was life growing up? I was born in north Miami ( Miami Gardens ). Grew up in a bad neighborhood, but loyal friends and strong family. We knew right from wrong.
How did you get your start in modeling? Modeling kind of fell on my lap. My best friend Kattya was modeling and she did her part to make sure I knew the way to go.
Favorite Sex position? doggy style
Have you ever kissed a girl? I've kissed a girl. More than once.
What has been your most memorable experience as a model? Most memorable experience was when I had a change in career and officially became an actress. HBO
What would the average person say about you? The average person would call me humble, sweet, and hilarious. For some odd reason people think I'm funny
Describe your most embarrassing moment. Most embarrassing moment is my life. I'm a cluts
What's your biggest turn on? Biggest turn on is a man that can kiss
What do guys compliment you most on? Guys compliment me on my eyes and lips the most. No, not my boobs believe it or not lol
What do you sleeping in? I sleep in a big T shirt. Love them thangs!
If you could go anywhere in the world, where would you go? I need to visit Egypt once in my life
We know you're a model and all, but you must have a favorite food. What is it? Pizza is my all time favorite. No one can stop me from eating pizza
What are your dreams and goals? My dream is to make it big of course. But as a makeup artist. Or actress. You can make it big on both sides of the camera. I don't have a preference
Would you prefer a guy to pursue you, or do you like to be the aggressor? I love a guy that knows what he wants and I want to know that he wants me. But I like to change up the roles and take over too
First Job: Dominos pizza
How does someone contact you for a modeling project? Contact for modeling: email : zashiasmgmt@gmail.com
What is the largest gift offered to go out on a date with you? I had a guy offer me a car once. Just to go out with him. I don't accept gifts from men like that. I love to earn my own ish!
Would you date a guy that you met on social network? Yea. I would date a guy off social media.
Do you have a passport? Nope. No passport. Shame on me