Liz Lugo is the Dream Come True. Over 500 images were taken of this Miami bombshell and over 500 images came out perfect. This 20 year old cuban model from Miami and is driving everyone crazy with her incredibly magnetic personality and striking beauty. She has the whole package with the prettiest face, exceptional curves and the biggest heart. Liz is currently working hard as a hooters girl to put herself through college. She worked as a TV host for a spanish television channel at the age of 15 and decided she loved being in front of the camera and is now pursuing a career in television.
Basic Profile
Name: Liz Lugo

Gender: Female

Age: 20,

Country: Cuba
Appearance
Body: Petite

Ethnicity: White

Weight: 106kg (234 lbs)

Height: 162cm (5'3")

Hair Length: Long

Hair Color: Blonde

Eye Color: Brown

Orientation: Straight
Liz Lugo – A Dream Come True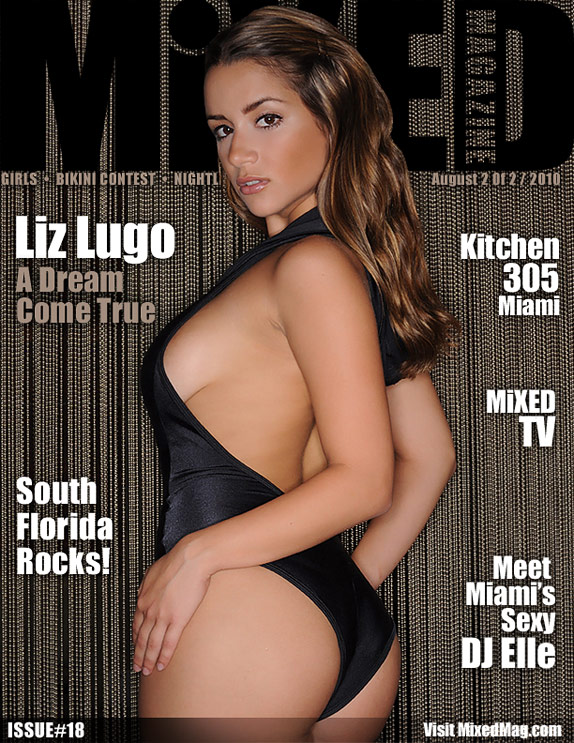 An interview with Liz Lugo:
Where were you born, and how was life growing up? I was born in Cuba and had an incredibly fun life growing up despite the fact that i was raised in a communist country, my parents aways made sure i had the best of the best! i really look up to them.
What nationality are you? I'm cuban
Do you go to college? yes i do. I'm an international relations student at FIU.
What would the average person say about you? they will say i have a very big heart.
Are you a good dancer? i consider myself to be an okay dancer. i believe there are very few "good" dancers
Do you like the nerdy type, UFC fighter guy or the regular joe?
honestly i dont really have a type. i guess u can say i have been attracted to all types throughout my life. it just comes down to who can make me laugh the most and make me feel the most comfortable
Do you have any secret weaknesses or guilty pleasures? yes i love sweets! theyre are my most guilty pleasure
What's your biggest turn on? an intelligent man. i think any attractive guy with no common sense or topic of conversation is just a loser.
What's one thing about yourself that everyone should know? that im a really bad driver. if you see me in the streets, run away!
What do guys compliment you most on? my smile.
Do you consider yourself more of a "giver" or a "taker"?
definitely a giver, im not one of those people that give expecting somthing in return, i like seeing the people i care about happy, therefore i dont mind sacrificing a little in order to achieve that
If you could have any car you wanted, what would it be?
right now? i would love a mercedes cl, later in life a cute little suv to drive my babies around
Do you have any hidden talents?
i can do the macarena haha
What do you like best about being a model?
the taking pictures part. i think every girl deserves to get dolled up with pretty hair and make up and feel beautiful
What would you consider your strongest attribute?
my smile
If you could go anywhere in the world, where would you go and who would you take with you?
this is probably going to sound a little weird, but im a history buff, and i loooove anything that has to do with world war 2 so i wwould really like to visit the concentration camps in europe
What is your favorite food? sushi. i can eat sushi all day every day!
What do you do for fun? i love to get manicures, and pedicures, and do my eyebrows, girly things :)
What are your dreams and goals? my number one goal is to have my own talk show like cristina saralegui. she is considered to be the spanish oprah
How did you get your start in modeling? well as a little girl in cuba i remember i used to do hair modeling, i guess you can call it that, my dads best friends gf was a hair dresser and she would do my hair and have me participate in little pageants. but when i was 15 i actually started working for the local telemundo in fort myers, where i grew up, and thats pretty much where everything began
Favorite Sports Team: definitely the heat now that we have the 3 kings! lol but im a baseball girl, and im a big fan of the yankees
How does someone contact you for a modeling project? through my website https://www.lizlugo.com/