Sassy Mandy
Age:
23,
United States
Check out this little cutie pie from Canada named Sassy Mandy. She is the perfect package. She has the perfect face, curvy body, golden tan and a fun personality. Any guy that gets the chance to hang out with this beauty is one lucky bastard. She recently moved to Miami from Canada and is loving every minute of it. She can't stay away from the camera and the camera's can't stay away from her. She is definitely living her best life. She is exploded on instagram by jumping up to 600k fans in just a few months. She is available for all kinds of booking from swimwear modeling, music videos, promotional modeling and anything that involves a super sexy babe. Learn more about her below and don't forget to join to see her exclusive content.
Basic Profile
Name: Sassy Mandy

Gender: Female

Age: 23,

Country: United States
Appearance
Body: Thick

Ethnicity: White

Weight: 125kg (276 lbs)

Height: 165cm (5'4")

Hair Length: Shoulder Length

Hair Color: Blonde

Eye Color: Hazel

Orientation: Straight
Sassy Mandy – The Ultimate Cutie Pie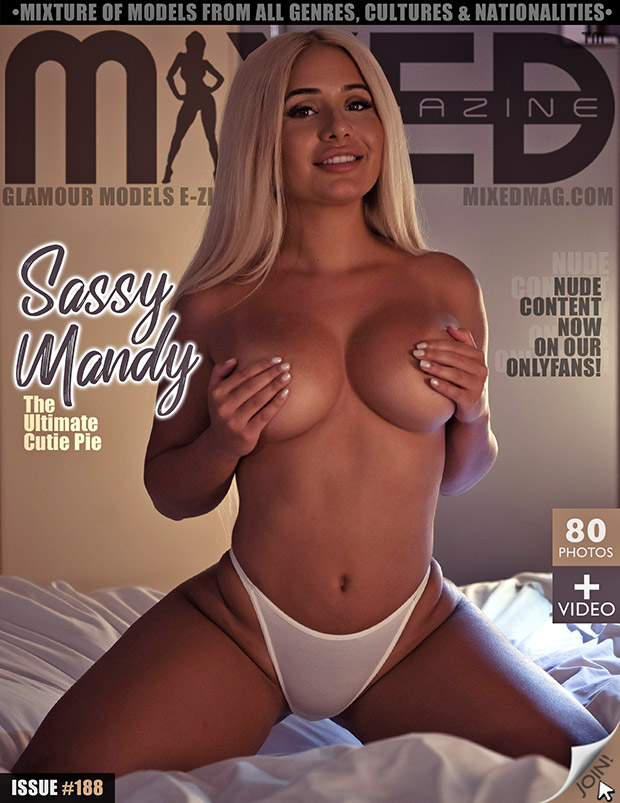 An Interview with Sassy Mandy:
Where were you born, and how was life growing up? I was born in Canada and loved every minute. I had an awesome upbringing and love dressing up.
How did you get your start in modeling? I started when I was about 17 just shooting with friends who where photographers.
What has been your most memorable experience as a model? Coming to Miami and working with all the photographers was fun but shooting with This is Aimes was great and made my images go viral.
What would the average person say about you? that i have a great personality
Describe your most embarrassing moment. hmmmm maybe I should save myself from more possible embarrassment.
What's your biggest turn on? When a man knows his place, and takes action.
What's one thing about yourself that everyone should know? I love traveling and I'm a great dancer
What do guys compliment you most on? My personality
Would you prefer a guy to pursue you, or do you like to be the aggressor? Every women likes to be pursued each day.
If you could go anywhere in the world, where would you go? Bali!
We know you're a model and all, but you must have a favorite food. What is it? Cookies! Does that count as a food? I could eat toll house cookies for each meal of the day.
What are your dreams and goals? Be able to speak truth and motivation to all the young individuals who have not come from a silver spoon and be able to give them the hope they deserve. Success is an opportunity for all, not just the ones born into such circumstances.
First Job: a spa.
What is the largest gift offered to go out on a date with you? An island
Would you date a guy that you met on social network? Never
Do you have a passport? yes