Natalie Gauvreau
Age:
26,
Canada
Canada's Queen – Natalie Gauvreau! If only every girl could be like Natalie life would be just grand. This experienced French Canadian model scores with flying colors in every category imaginable. From her car(2011 Maserati), face, body, sexy appeal, personality, professionalism, etc. etc. Natalie is truly the complete package! After many years of looking for the most perfect Canadian model it was clear instantly by looking at merely 1 cell phone picture she had posted on her twitter @sexynatg, that Mixed Magazine had to book the first plane cooking to beautiful Toronto, Canada. While watching all the disgruntled people in the airports going through customs looking unhappy and complaining this yours truly photographer had a smile on his face as he knew he was embarking on photographing a masterpiece in the midst. At last it was true that @SexyNatG did exist when she pulled up in her 2011 Maserati Gran Turismo S. She even states, "You can call me what you want, but you can't call me poor". She admits her two favorite things in the world are rich men and massages. This women really knows how to get what she wants because everyday she is living in her dreams. She travels on a regular basis, eats the finest foods, drives the nicest cars and respects everyone around her. She is direct and to the point and wastes no time with any of life shenanigans. These may very well be the traits needed to be successful. I have to say that after having 7 photo shoot no-shows in a row with filler models with the worst excuses ever that this was a great way to celebrate the fact the awesome girls still exist and Mixed Magazine will always move forward in showcasing them right here just for you. When looking at Natalie Gauvreau just realize one thing, you are very lucky and blessed to be witnessing such beauty! Take it to the next level also by joining our Exclusive Member Section where you can see all the sexy photos and videos of Natalie
Basic Profile
Name: Natalie Gauvreau

Gender: Female

Age: 26,

Country: Canada
Appearance
Body: Thick

Ethnicity: White

Weight: 145kg (320 lbs)

Height: 172cm (5'7")

Hair Length: Very Long

Hair Color: Blonde

Eye Color: Brown

Orientation: Straight
Natalie Gauvreau – Canada's Queen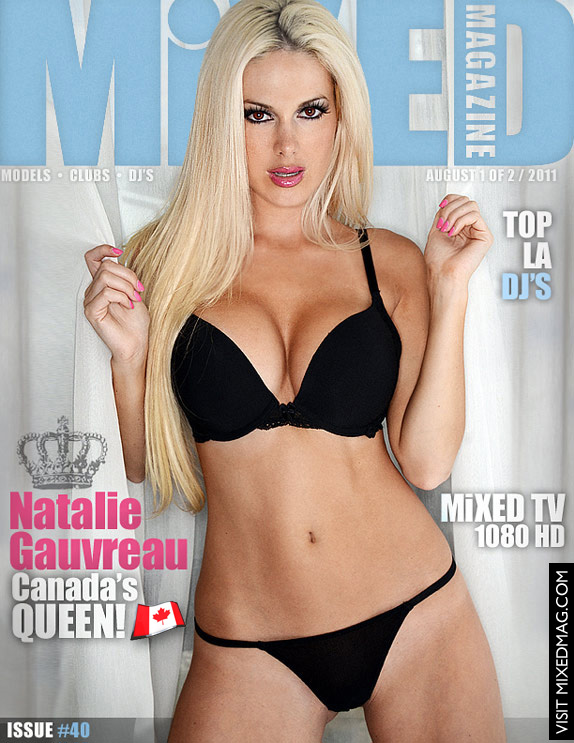 An interview with Natalie Gauvreau:
Where were you born, and how was life growing up? I grew up in Canada and I have no complaints.
What nationality are you? French Canadian
Do you go to college? Yes for real-estate
Did you pass the real estate exam on the first try? YES, of course!
What would the average person say about you? That I know what I want and know how to get it.
Are you a good dancer? yes
Do you like the nerdy type, UFC fighter guy or the regular joe? CEO'S
What's your biggest turn on? massages, they get me everytime
What's one thing about yourself that everyone should know? I don't really like to go to clubs and love just being with my boyfriend and enjoying quality time.
What do guys compliment you most on? A little of everything.

Do you consider yourself more of a "giver" or a "taker"? Taker, duh..

If you could have any car you wanted, what would it be? The car I'm driving. Maserati Gran Turismo S
What do you like best about being a model? Being in front of the camera
What would you consider your strongest attribute? Determination.
What do you normally sleep in? Booty shorts and a tank top.
If you could go anywhere in the world, where would you go and who would you take with you? Fiji and I would go with my uncover lover.
Do you have any shocking stories from modeling? Yes, I was recently in London doing a photo shoot at the Ritz Carlton when a extremely intimidating hotel officer gave us the third degree and forbidded us to continue our shoot. Turns out they had even kicked out Madonna and many other famous people from doing photo shoots there in the past. Needless to say there was no Puttin' on the Ritz that day.
What is your favorite food? Italian
What do you do for fun? Shop
What are your dreams and goals? To be a trophy wife.
How does someone contact you for a modeling project? www.sexynatg.com
Some of Natalie's modeling work:
-fashion show for Mayra's Bikini's 2008
-fashion show for Ed Hardy Swimwear 2008
-car events, Importfest 2008
-stags
-Promo work at night clubs. 2007-2008
-hosted a show for insiders T.V. 2008
-Countdowngirls.com (website I had to act and make a short movie for) 2008
-a few commercials for a real estate company. 2006
-go go dancing
-window dancing
-Toronto Sun Swimsuit edition 2007
-Toronto Sun Swimsuit edition 2008
-Toronto Sun Calendar 2008
-TAG body spray calendar 2008
-shoot for Ice Gear Fitness Apparel 2008
-GotAss.ca Model 2008
-FHM Digital Darling 2006
-shoot for Dark Dog energy drink 2006
-Monster Girl for the Supercross event 2008
-Playstation Girl in Montreal for the Grand Prix 2006
-featured in the movie The Love Guru. 2007
-featured in the movie Phantom Punch. 2007
-featured in the movie Max Payne. 2008
-Shoot for Dirty Magazine 2008
-What the Fluxx radio Station in L.A. 2008
-Flash point (t.v.) series. Hot girl flirting with lead actors
-Shoot for ZU Bar. (my pics are all over the club)2008
-Shoot for Ford trucks. 2008
-Country Music video played lead girl. July 2009
-Actor roles on Love Court show for MuchMusic. did 7 different episodes July-Nov 2009
-Actor role on Love Court show for MuchMusic. Played the sexy blackjack dealer. August 2009
-Hosted Grand Bend 2009 with Got Ass
-Commercial for Lava Life Nov 2009
-Model feature on pasmag.com website Jan 2010
-Model feature on www.impulsegamer.com Jan 2010
-played a puck bunny in the movie Score Hockey Musical Feb 2010
-Music Video for Down With Webster (played the hot girl in a bikini) feb 2010
-shot for the Snowmobile swimsuit Calendar I'm on the cover for the 2011 calendar. Feb 2010
-played a sexy calendar girl for the T.V. show "She's The Mayor" May 2010
-Featured model in PASMAG May 2010
-Actor role in a McDonalds commercial July 2010
-Playboy annual Golf Tournament July 2010
–Auto Body Calendar 2011
-played a stripper on the t.v. show Break Out Kings 2011
-Actor role in TheDatingGuy.com (spoof porn movie) 2011
-Model rep for the website www.theroyalfew.com 2011
-Actor role on Against The Wall (played a stripper) 2011