Suzy Parra
Age:
18,
United States
Suzy Parra is the sexy mixed model from Los Angelas, California. This new model is a real firecracker! She was brought to us by the ultra sexy December 2011 Mixed Magazine cover model Alyssa Jerry. Alyssa sure knows how to pick em. Suzy is mixed with Puerto Rican and Mexican descent and it's obvious that she inherited that caliente style. Her sexy moves are clearly all natural as she set the photo/video shoot on fire at the Hard Rock Hotel in San Diego. Some girls got it and some don't but Suzy Parra definitely Got It! Suzy is quickly becoming noticed by some of the biggest names in the urban world. Suzy has already done a few music videos for some top artists. Suzy has no problem with keeping it sexy always. She is a very strong minded young 20 year old. She knows what she wants and knows how to get it. Suzy is also extremely sweet, respectful and highly professional. We always say that Mixed Magazine models are marriage material and Suzy is no different. We know she is going to set the world on fire with whatever she chooses to do. The modeling world just got a whole lot better with this beautiful fiery new model.
Basic Profile
Name: Suzy Parra

Gender: Female

Age: 18,

Country: United States
Appearance
Body: Petite

Ethnicity: Asian

Weight: 54kg (119 lbs)

Height: 161cm (5'3")

Hair Length: Long

Hair Color: Black

Eye Color: Brown

Orientation: Straight
Suzy Parra – Caliente Style!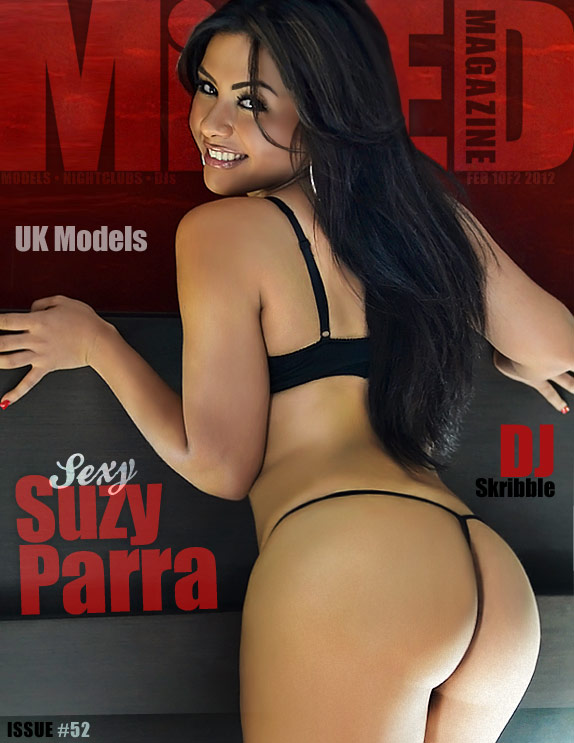 An interview with Suzy Parra:
Where were you born, and how was life growing up?
I was born in Brawley, CA (the desert/ middle of nowhere) Growing up over there was cool . Its very small and there isn't much to do but i was surrounded by my family and lots of love
What nationality are you?
Im Mexican and Puerto Rican
Do you go to college?
Yes
What would the average person say about you?
That I'm a girly girl, keep quiet and carry on, and that I'm driven to get what i want.
What do you normally sleep in?
in my birthday suit
Are you a good dancer?
I think so
What kind of guys are you attracted to?
Confident, funny, ambitious and most of all just someone real
Do you have any secret weaknesses or guilty pleasures?
Love is my weakness and guilty pleasure mmmm food!!
What's your biggest turn on?
The way someone carries themselves their swag
What things would you like to get out of being in Mixed Magazine?
The experience
Who do you think is the sexiest Mixed Magazine model?
One of my best friends Ms Alyssa Jerry
What's one thing about yourself that everyone should know?
Im very loyal. Loyalty is everything to me.
What do guys compliment you most on?
eyes
Do you consider yourself more of a "giver" or a "taker"?
Giver
If you could have any car you wanted, what would it be?
Black on black bentley with a baby pink diamond license plate
Do you have any hidden talents?
cant think of any right now
What do you like best about being a model?
Being in front of the camera and meeting new people
What would you consider your strongest attribute?
Im a positive person
Do you see yourself getting married and having a family?
Yes I cant wait.
If you could go anywhere in the world, where would you go and who would you take with you?
Bora Bora I would take my mom, grandma, sisters, close aunts and girl cousins, and my group of girlfriends
What is your favorite food?
Seafood
Can you cook?
Yes i love cooking
What do you do for fun?
Hang out with my girl friends
What are your dreams and goals?
I want to have a successful career and start a family of my own
How did you get your start in modeling?
Ive been asked to model since i was 18 but never did until i moved here to LA about 2 months ago. Great opportunitys just came my way and i just did it one day
Favorite Comedian:
I like Angela Johnson and youtube comedian Jerry Lavigne
First Job:
Gymnastics Coach