Desiree Niemann
Age:
25,
United States
Desiree Niemann is the very desirable model from Pensacola, Florida. This is one of the sweetest models we have ever showcased. She is mixed with half filipino and half caucasion. Desiree has been one of Hooters' favorite model for the past couple years now and has been featured in several calendars and bikini contests. She recently won the Hooters Regional Bikini Contest and went on to compete for Hooters International 2011 in Miami. We think she should have won but hey, what are ya gonna do? Desiree is very classy, smart, a sweetheart and she loves to cook!!! She is studying to be a nurse and already has a B.A. in Public Relations. Spending roughly 5 minutes with her and you will want to slip a ring on her finger. She is clearly the dream come true. Consider yourself very lucky to be viewing this exclusive feature on this extremely sexy model.
Basic Profile
Name: Desiree Niemann

Gender: Female

Age: 25,

Country: United States
Appearance
Body: Thick

Ethnicity: White

Weight: 120kg (265 lbs)

Height: 169cm (5'6")

Hair Length: Long

Hair Color: Brown

Eye Color: Brown

Orientation: Straight
Desiree Niemann – Desirable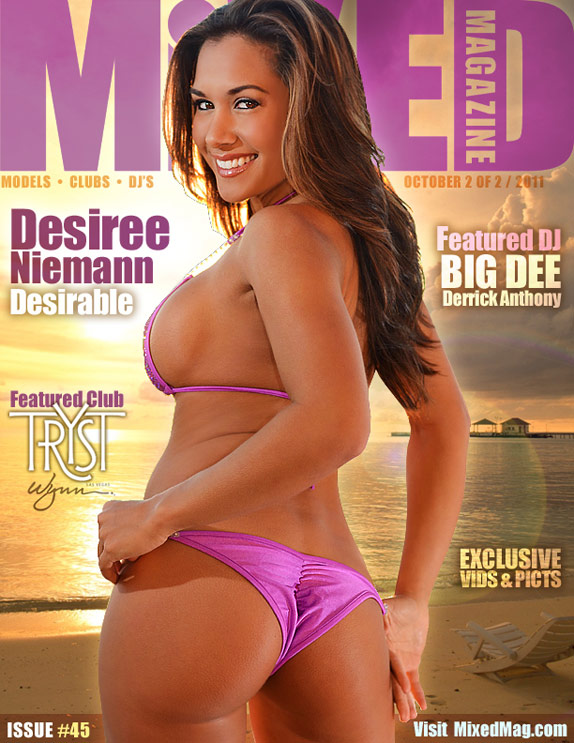 An interview with Desiree Niemann:
Where were you born, and how was life growing up? San Diego, CA. My dad was in the navy, so I traveled a lot. It was hard making and keeping friends, but I seen a lot and learned a lot and have become a more cultured and intelligent being because of it.
What nationality are you? filipino/white
Do you go to college? I have a B.A. in Public Relations and currently pursuing a B.S.N
What would the average person say about you? The average person who doesn't know me would say that I am quiet, but once you get to know me, I open up more and you will find that I am a down to earth, fun, loving person!
Are you a good dancer? yes
Do you like the nerdy type, UFC fighter guy or the regular joe? I like a regular joe, who is a nerdy type and looks like a UFC fighter, haha!
Do you get nervous on stage for big pageants? Extremely nervous!
Do you have any secret weaknesses or guilty pleasures? Junk food and massages
Can you cook? I am filipino, of course I can cook!
What's your biggest turn on? A gentlemen. The type that opens your door for you, cares about what your parents think of him, and will rub your feet without you having to ask when you've had a long day.
What is one thing people would be surprised to know about working for hooters? All the amazing opportunities it offers, such as modeling for the calendar, magazines, merchandise and the hooters international swimsuit pageant and all the traveling opportunities. No other restaurant offers these opportunities. It is such an amazing company.
Do you like your wings naked or breaded? Naked
Mild or HOT!? Daytona style! Its got a kick to it!
Do you have a facebook fanpage? Not yet ;)
If you have ever had sex before how old were you on that first time? Next question!
What's one thing about yourself that everyone should know? Im a good girl with bad habits
What do guys compliment you most on? my eyes
Do you consider yourself more of a "giver" or a "taker"? a giver
If you could have any car you wanted, what would it be? a bentley
Do you have any hidden talents? yes, they are called hidden talents for a reason!
What do you like best about being a model? In front of the camera, you can be anybody you want to be. There are so many ways to express yourself and capture it.
What is your secret to staying in shape? Im not a big fan of the gym. I like to run trails, bike ride, swim or do zumba.
What would you consider your strongest attribute? loyalty
What do you normally sleep in? A big comfy T-shirt
If you could go anywhere in the world, where would you go and who would you take with you? I would like to go to the philippines because I have never been there. I would take my mom because she grew up there and it would be nice to see all the places she went to and knew, a look into her past.
What is your favorite phillipine food dish? Chicken Adobo
What has been the most clever pick up line from a Hooters customer? I wouldn't call it clever but its one pick up line I remember someone using…"If I could rearrange the alphabet, I would put U and I together"
What do you do for fun? Go on road trips with my friends or go to the beach
What are your dreams and goals? I want a simple life. A good fulfilling job, a family, and the freedom to travel whenever and whereever.
How does someone contact you for a modeling project? Email me at dmniemann@hotmail.com
Let's say someone wanted to sponsor you by sending you money through paypal as a donation or a gift.. What is your Paypal email they would send to? OMG it's desmn86@gmail.com