Maria Rya
Age:
20,
Czech Republic
Prague Perfection. Meet Maria Rya from The Czech Republic. This smoking hot 20 year babe was found by searching the web when she came up on google under perfect models. The second I seen this flawless beauty I immediately jumped onto social network and found her online and messaged her and she quickly messaged me back about booking a cover shoot and the a few weeks later I took the European tour and met up with her in Prague. I booked the coolest five star hotel they had in the city where the Police stayed out front to keep out any bad elements. I went to get some authentic Czech food and waited for the baddest model in Europe to arrive and sure enough she showed up with her sexy self. Her accent was just as sexy as her appearance and I knew it was going to be a good day. She busted open her itty bitty outfits out of her luggage and had the perfect looks to match the room. We immediately jumped right into shooting and before I knew it she was completely naked. Maria Rya has been modeling in Europe since she was 18 and her experience was very evident. She went into splits, twerking and much much more if you know what I mean. I stopped a few times only to pinch myself to see if I was dreaming. The baddest model in Europe was letting it all hang out in the sexiest hotel in the land. The second she was done posing she quickly left the hotel and was off on her way like waking up from a dream. It was that quick. I decided to then go have me a drink of the finest beers over some of the countries famous goulash as I tried to stay inside the dream as much as possible and realizing the two finest things about life are women and food. Learn more about this prodigy of a model below and if you want to hire a nude model then get your ass over to PRAGUE!!!
Basic Profile
Name: Maria Rya

Gender: Female

Age: 20,

Country: Czech Republic
Appearance
Body: Petite

Ethnicity: Mixed

Weight: 50kg (110 lbs)

Height: 172cm (5'7")

Hair Length: Short

Hair Color: Brown

Eye Color: Brown

Orientation: Straight
Maria Rya – Prague Perfection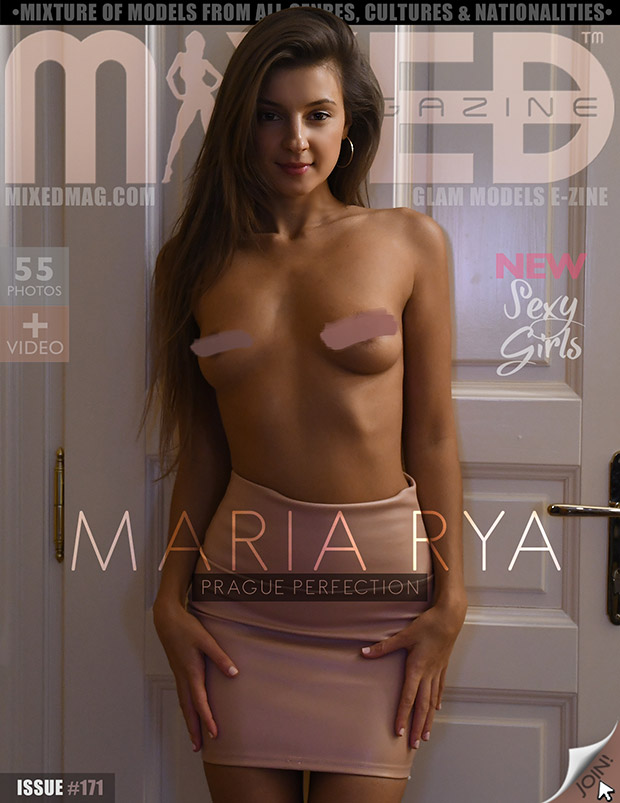 An Interview with Maria Rya:
Where were you born, and how was life growing up? Europe.all good
How did you get your start in modeling? Always want be model.
Favorite Sex position? Doggy
Have you ever kissed a girl? Yes
What has been your most memorable experience as a model? I love to travel and be creative
What would the average person say about you? I'm a Good girl
What's your biggest turn on? Big cock and pretty brunettes
When did you do your first nude photoshoot? I was 18 and I feel in love with showing my pussy
What do guys compliment you most on? They like spoil me
What do you sleeping in? Nude
If you could go anywhere in the world, where would you go? Everywhere
We know you're a model and all, but you must have a favorite food. What is it? I like soups fish chicken fruits , melon
What are your dreams and goals? I'm already doing it
Would you prefer a guy to pursue you, or do you like to be the aggressor? I like be when man dominate me but I can dominate too
How does someone contact you for a modeling project? Internet site
What is the largest gift offered to go out on a date with you? Too many to name
Would you date a guy that you met on social network? Yeap