UNA
Age:
26,
United States
UNA – One & Only. It was one beautiful night out in Miami at the famous club on South Beach named Club LIV when this Serbian beauty from Cali walked by in this incredibly sexy dress and her booty just looked like it was fighting to get out as she strutted by in her high heels. Since we specialize in the art of model scouting it was just a few minutes and the photoshoot was set for the next day in a very luxurious Miami style hotel. We learned that UNA is a aspiring model from Los Angeles but she hasn't quite had her big break yet. You can pretty much say things happen for a reason because this opportunity couldn't have happened to a better person. UNA is a very special woman with all the lady like characteristics that any man would dream over. She is ultra sexy, super smart and is pure as a bed of fresh flowers. She has been working as a banker but times look like they might change because has already booked with some of the top photographers and has been turning heads ever since she posted her sexy behind the scenes video on instagram. If you love the finer things in life then just feast your eyes on The One & Only – UNA! Learn more about her below!
Basic Profile
Name: UNA

Gender: Female

Age: 26,

Country: United States
Appearance
Body: Thick

Ethnicity: White

Weight: 59kg (130 lbs)

Height: 170cm (5'6")

Hair Length: Shoulder Length

Hair Color: Blonde

Eye Color: Brown

Orientation: Straight
UNA – One & Only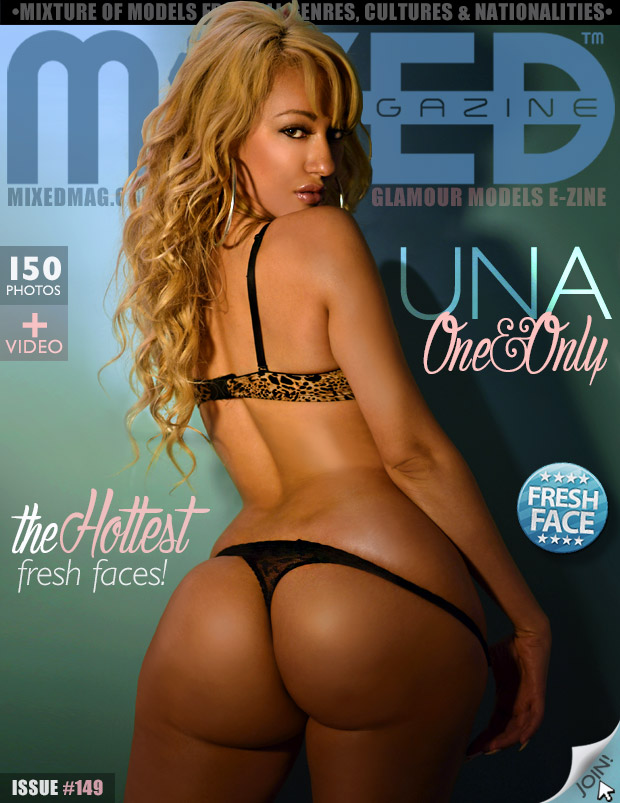 An Interview with UNA:
Where were you born, and how was life growing up? I was born in Pancevo,Serbia. I came from a traditional Serbian family where family is highly valued. I was also obsessed with babies I had 100+!
How did you get your start in modeling? I was recruited at a movie premiere by an agency owner.
Favorite Sex position? Only one??
Have you ever kissed a girl? No
What has been your most memorable experience as a model? My first test shoot after being recruited to model for a fashion dress line! I was so nervous but feel in love with it since that day!
What would the average person say about you? Goofy, honest,joyful and loves to have fun with life!
Describe your most embarrassing moment. I don't normally get embarrassed, I laugh things off myself as they happen.
What's your biggest turn on? Chivalry is sexy to me.
What do guys compliment you most on? Lips, booty and shape.
What do you sleeping in? Nothing.
If you could go anywhere in the world, where would you go? The Moon.
We know you're a model and all, but you must have a favorite food. What is it? I love seafood!
What are your dreams and goals? Happiness forever.
Would you prefer a guy to pursue you, or do you like to be the aggressor? Pursue me 100%
First Job: Fashion sales.
How does someone contact you for a modeling project? Numeraunamgmt@gmail.com
What is the largest gift offered to go out on a date with you? Many…Money doesn't impress me,energy can.
Would you date a guy that you met on social network? Possibly.
Do you have a passport? Yes, Serbian and US one Lol