Victoria Banxxx
Age:
28,
United States
Victoria Banxxx is a new webcam model that currently works for Camsoda and Myfreecams but that could change as she is testing the market. She is very unique in so many ways. She is a total free bird when it comes to modeling and loves to take advantage of all of the amazing ways to make money on the internet from just being sexy. Her body is fully tanned and she has perfect breasts. She can twerk, do splits, play with toys, etc,. Boston is her hometown and loves living there because she always stays true to her roots. Victoria is new to the business but she is quickly becoming the most talked about model in the game. She is eager to do it all and the next on her bucket list is to do a girl on girl scene so stay tuned.
Basic Profile
Name: Victoria Banxxx

Gender: Female

Age: 28,

Country: United States
Appearance
Body: Normal

Ethnicity: Hispanic / Latina

Weight: 130kg (287 lbs)

Height: 167cm (5'5")

Hair Length: Long

Hair Color: Brown

Eye Color: Brown

Orientation: Straight
Victoria Banxxx – Giving you want you want.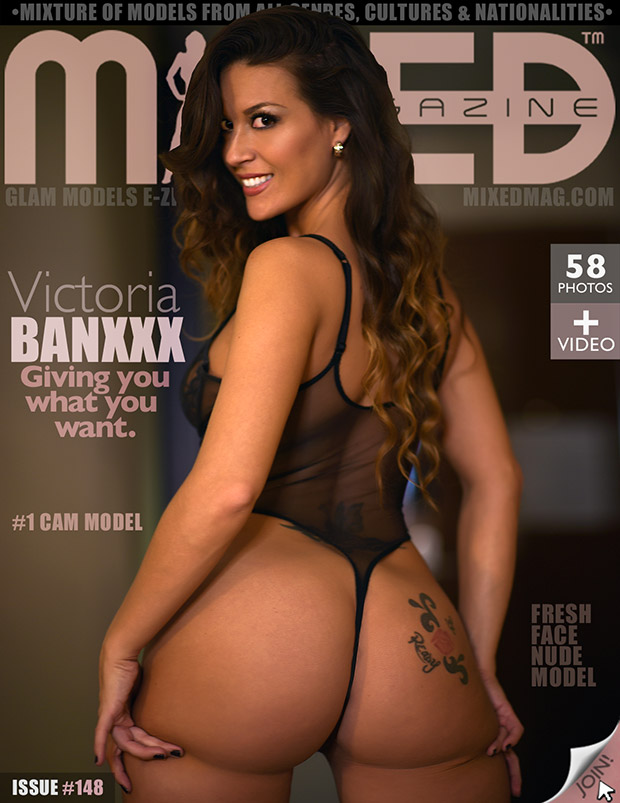 An interview with Victoria Banxxx:
WHERE YOU BORN? Massachusetts, life was awesome growing up, despite the fact that my parents split. I lived with my mom for a while then with my Dad for a while, then I went off on my own. I feel like Ive gotten to do everything I have set out to do so far and am executing new goals daily!
HOW DID YOU START MODELING? I began modeling when I was 11yrs old. A modeling agency opened up in my city and I used to walk past it every day coming home from school and I always used to admire the girls working behind the counter, one day the friends I was walking with, pushed me into the studio and from there I began working with them regularly.
FAVORITE SEX POSITION? Doggy by a longshot
HAVE YOU EVER KISSED A GIRL: YES! Every chance I get.
WHAT HAS BEEN YOUR MOST MEMORABLE EXPERIENCE AS A MODEL? I would have to say that it was the time I shot a commercial in the freezing cold with nothing but a bikini on under a long fur coat, standing on top of a snow bank and trying to "look natural" yeah right I was getting frost bite on my nipples!!
WHAT WOULD THE AVERAGE PERSON SAY ABOUT YOU? People assume I am a bitch until they actually speak to me. I guess its the resting bitch face.
WHAT IS THE BEST THING ABOUT BEING A CAM MODEL? Meeting new people and working with new companies.
WHAT IS THE WORST THING ABOUT BEING A CAM MODEL? I would have to say, the worst thing is when people dont keep their word, were only as good as our word, and I run into a lot of people just blowing smoke.
DESCRIBE YOUR MOST EMBARRASSING MOMENT? When I almost fell off my bed while riding a dildo. lol
WHATS YOUR BIGGEST TURN ON? A guy who can make me laugh
WHAT DO GUYS COMPLIMENT YOU ON THE MOST? My eyes, teeth and ass.
WHAT DO I SLEEP IN? I sleep with just panties on, and if it werent for my fear of spiders, Id sleep nude. Im scared somethings gonna crawl up there and that freaks me out lol
IF YOU COULD GO ANYWHERE IN THE WORLD, WHERE WOULD YOU GO? Ive always wanted to go to Dubai and of course Greece.
WHATS MY FAV FOOD? I'm a total junk food junkie, if its bad for me, Im drawn to it, but I indulge in moderation and pray it goes to the right places.
WHAT ARE YOU DREAMS AND GOALS? My dreams and goals are to work with good people, doing the things I love, and eventually being comfortable with people I love.
WOULD YOU PREFER A GUY PURSUE YOU, OR DO YOU LIKE TO BE THE AGGRESSOR? This question has a tricky answer. In the beginning I enjoy being submissive, but if a guy starts to think he wears the pants I get all alpha and devour him. I suck at relationships.
FIRST JOB: My first job was modeling and I also ran my own all girl painting crew when I was 18.
HOW DOES SOMEONE GET AHOLD OF YOU FOR A MODELING PROJECT? One would email me at victoriabanx143@gmail.com and of course they could contact me via social media, I always make time to answer every DM I receive.
WHAT IS THE LARGEST GIFT OFFERED TO GO OUT ON A DATE WITH YOU? A gentleman offered me$15,000 Euro which is roughly$18,000 in USD ( I declined)
WOULD YOU DATE A GUY THAT YOU MET ON SOCIAL NETWORK? I like to keep my personal and business lives separated so if someone is trying to date me on my business page it's probably not a good idea
DO YOU HAVE A PASSPORT? yes