Kelly B
Age:
24,
United States
Meet the new model Kelly B brought to us by Seven Talent Agency. Kelly brings a lot to the table with her spunky personality. She just recently moved from the slow paced city of Jacksonville, Florida to the extreme city of Miami. She needed to step it up because this model is on the move. She works at one of Miami's top nightclubs as a waitress and then makes moves in the modeling world during the day. She models swimwear, lingerie, fashion and also does videos. One of her strongest assets is her booty which is one of the best you will see. Kelly is a very smart person and is very easy to work with. Oh and she definitely knows how to be sexy. See her ultra sexy photos and video shot in Miami by joining our exclusive member section by clicking here. You won't be disappointed!
Basic Profile
Name: Kelly B

Gender: Female

Age: 24,

Country: United States
Appearance
Body: Normal

Ethnicity: White

Weight: 114kg (251 lbs)

Height: 154cm (5'0")

Hair Length: Long

Hair Color: Dyed (Other)

Eye Color: Brown

Orientation: Straight
Kelly B – Wildly Sexy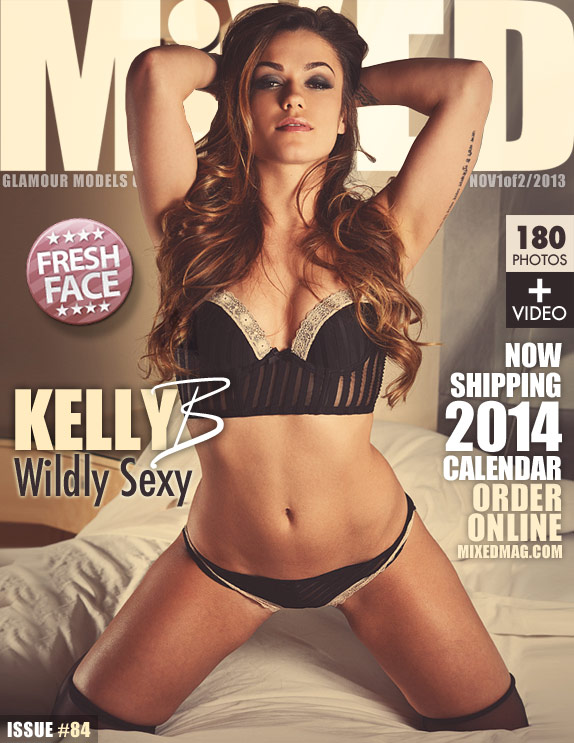 An Interview with Kelly B:
Where were you born, and how was life growing up? Jacksonville, Florida. I had a very hard life growing up, but I always managed to make the best of everything. Luckily I had my siblings and good friends
What would the average person say about you? She may be small but she is fierce :)
Are you a good dancer? Yes
Do you like the nerdy type, muscle guy or the regular joe? I don't usually have a preference, but I usually am attracted to taller guys, tattoos, and nice teeth :)
Describe your most embarrassing moment. I don't really get embarrassed ;)
What has been your most memorable experience as a model? Recently shooting with 8and9 clothing. Elisa and Smitty are a great team when they are inspired.
What's your biggest turn on? Intelligence, confidence, manners, and affection.
What's one thing about yourself that everyone should know? I'm mutable, there's not much like I don't like.
What do guys compliment you most on? How small I am :)
Do you consider yourself more of a "giver" or a "taker"? Balance
If you could have any car you wanted, what would it be? 2014 Audi a8 TDI all black
Do you have any hidden talents? That's why they're hidden only a few know about them ;)
What do you like best about being a model? The different people I get to meet. I love to see how people create and perceive different scenarios.
What would you consider your strongest attribute? I have a strong personality and love to do anything to help benefit the less fortunate.
If you could go anywhere in the world, where would you go and who would you take with you? India or South Africa. Whoever would be willing to go.
We know you're a model and all, but you must have a favorite food. What is it? Pizza
Besides modeling, what do you do for fun? Read, travel, drink, dance.
What are your dreams and goals? I want to own my own business and travel the world.
Would you prefer a guy to pursue you, or do you like to be the aggressor? I like it when guys show interest in me. It's flattering
How did you get your start in modeling? Curvacious Modelz from Miami contacted me because of my curves
What is your favorite social network? instagram
Relationship Status: Not on the market but not yet taken
Favorite Sports Team: Miami heat
Favorite Comedian: Kevin hart of course
First Job: Garber automall
Piercings/Tattoos (How many? Where?): I took most piercings out but at one point I had 17. I currently have 10 tattoos.
What fun fact or talent should guys know about?: That I'm very flexible and athletic
How does someone contact you for a modeling project? Bookinginfo.cm@gmail.com