Meghan Marie
Age:
22,
United States
Meghan Marie has enormASS! We have seen a lot of big booties in our day but damn. Meghan is the new urban model from Queens, New York. She got started as an exotic dancer and lately has been gaining big steam in the urban industry with her monster booty and beautiful face. She has been featured on a few magazine covers and party flyers. Meghan also has a large personality. She is a strong minded, loyal and owns whatever she does. She was easy to work with and twerking came very natural to her. Her twerking was much different from other twerks because her cheeks had such a huge bounce to them. It's a must see! This Angelo Lumas phot0shoot was done in Manhattan and the complete photos and behind-the-scenes video is all inside.
Basic Profile
Name: Meghan Marie

Gender: Female

Age: 22,

Country: United States
Appearance
Body: Thick

Ethnicity: Black

Weight: 150kg (331 lbs)

Height: 172cm (5'7")

Hair Length: Long

Hair Color: Black

Eye Color: Brown

Orientation: Straight
Meghan Marie EnormASS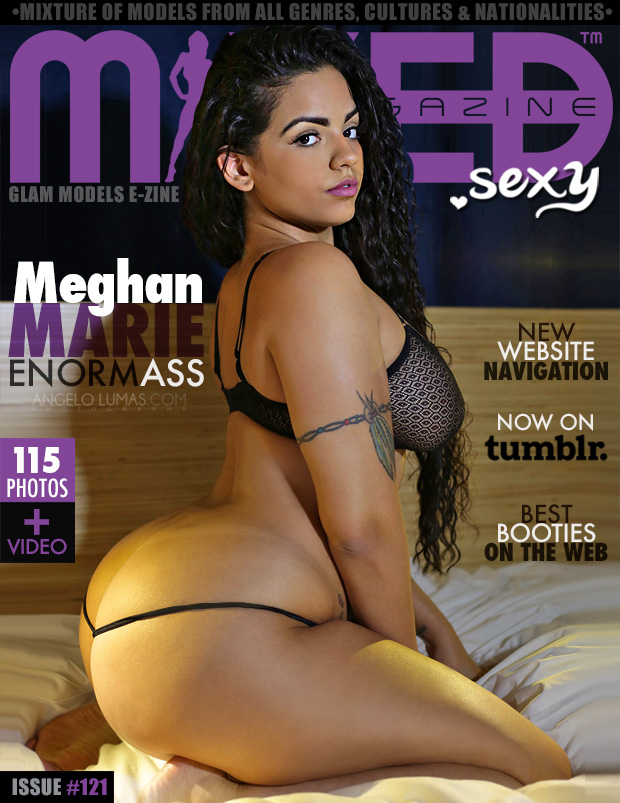 An Interview with Meghan Marie:
Where were you born, and how was life growing up? Brooklyn, Life was grand!
How did you get your start in modeling? I became an exotic dancer and started meeting anyone
What has been your most memorable experience as a model? Shooting with Angelo
What would the average person say about you? The i'm weird and funny
What's your biggest turn on? Tattoos
What's one thing about yourself that everyone should know? I'm down to earth
What do guys compliment you most on? my ass
If you could go anywhere in the world, where would you go? Dubai
We know you're a model and all, but you must have a favorite food. What is it? Pizza
What are your dreams and goals? I want to have a family
Would you prefer a guy to pursue you, or do you like to be the aggressor? I like to be pursued
First Job: Mcdonalds
How does someone contact you for a modeling project? bookmeghanmarie@gmail.com
Would you date a guy that you met on social network? No
Do you have a passport? yes