Emerald Kisses
Age:
28,
United States
Emerald Kisses is the hometown hottie from Shreveport, Lousiana! Where do I start? I think it's pretty obvious from looking at Laura Moro that she possesses every single trait anyone would ever want from a woman.She is literally flawless! If all the girls from the bayou are like Laura then you better get to packing. Laura is filled with beautiful energy.
She is as sweet as can be and has the cutest little Louisiana accent. She has one of the purest personalities which becomes obvious within seconds of meeting her. Laura is very bright, strong minded and joyful about life itself. Her body is naturally perfect like a beautiful seashell from the most pristine oceans. She tops everything off with her incredible sex appeal and her heavenly booty. Laura Moro is an absolute dream. She is relatively new to the modeling world but is quickly turning heads. We photographed Laura in Cocoa Beach, Florida where we could capture her beauty in sexy sunrise and sunset photoshoots giving us the ultimate lighting to shine on this rising star.
Basic Profile
Name: Emerald Kisses

Gender: Female

Age: 28,

Country: United States
Appearance
Body: Petite

Ethnicity: White

Weight: 59kg (130 lbs)

Height: 172cm (5'7")

Hair Length: Long

Hair Color: Blonde

Eye Color: Green

Orientation: Straight
Emerald Kisses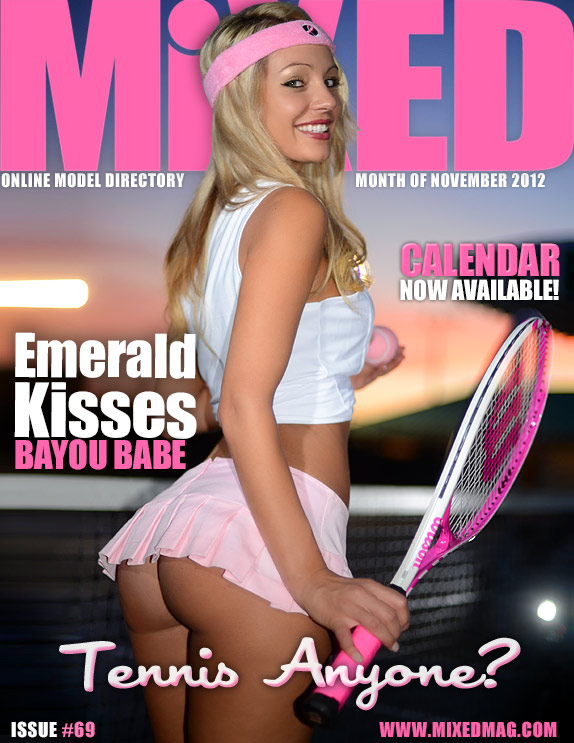 An interview with Emerald Kisses:
Where were you born, and how was life growing up? I was born in Shreveport,La. Life was really fun growing up in the country and having 3 older brothers and an older sister made me tough.
What nationality are you? I am Bulgarian/German
Do you go to college? Yes I do. Study study study.
What would the average person say about you? People say I am a very sweet and beautiful girl who is living out my dreams. Then they laugh and say Im goofy and crazy, but still pretty
What do you normally sleep in? Nothing at all, clothes annoy me.
Are you a good dancer? I like to think I am I love dancing
What kind of guys are you attracted to? I like tan muscles and tats.
Do you have any secret weaknesses or guilty pleasures? I love a man with an accent and that can cook.
What's your biggest turn on? When a guy can make me laugh! I think a good sense of humor is the key.
What's one thing about yourself that everyone should know? I am really a nice person so don't judge me so quick. Im pretty tough so watch it.
Who is your favorite Mixed Magazine Model? Lais De Leon
What do guys compliment you most on? My boootay
Who is your favorite photographer? Dan of course.
Do you have a favorite club you would like to give a shout-out to?
Do you have a favorite DJ you would like to give a shout-out to? Not really lol No
Do you consider yourself more of a "giver" or a "taker"? Giver, I am always willing to help
If you could have any car you wanted, what would it be?&nbsp Tesla,Love the doors and everything else
Do you have any hidden talents? I am very double jointed and flexible
Do you consider yourself more of a "giver" or a "taker"? Giver, I am always willing to help
If you could have any car you wanted, what would it be? Lambo! Love the doors and everything else
Do you have any hidden talents? I am very double jointed and flexible
What do you like best about being a model? Being able to travel! Love it love it love it
What would you consider your strongest attribute? My willpower
If you could go anywhere in the world, where would you go and who would you take with you? I would go to Hawaii or Puerto Rico and I'd bring my lover of course
What is your favorite food? Umm hello Im from Louisiana .. Gumbo lol
Can you cook? Oh yes! And I love it. I can cook you up some Gumbo and Crawfish Fettucini you'd never forget
What do you do for fun? I love to have paintball wars, shop, and ride fourwheelers
What are your dreams and goals? To continue living out the life of a Model and travel the world
How did you get your start in modeling? Originally it was only for a contest I needed photos for but I loved it so much I made a portfolio and it took off from there
Favorite Comedian: Kat Williams
First Job: Waitress