Tancy Hanna
Age:
22,
United States
Meet the wildly sexy blonde Tancy Hanna! The green eyed blonde is no rookie when it comes to getting sexy. Mixed Magazine welcome her with open arms after seeing how free she is with her sex appeal. We met her at Port St. Lucie, Florida premier nightclub Club LaZen for a sexy her photoshoot. Tancy was ready to take it to the next level with a bag full of thongs and laced lingerie and club wear. She oiled herself up and down from head to heels and was ready to go. It was like being at home with Tancy as she rolled around on a sexy leather black couch and even performed sexy poses on a 2 ton Budha from Indonesia. Tancy is an experienced model who enjoys all types of projects. She has been fortunate to model with several top photographers and has an extensive portfolio. Tancy also prides herself as being a great make-up artist and works full time doing just that in her home town or Port St. Lucie.
Basic Profile
Name: Tancy Hanna

Gender: Female

Age: 22,

Country: United States
Appearance
Body: Normal

Ethnicity: White

Weight: 106kg (234 lbs)

Height: 170cm (5'6")

Hair Length: Long

Hair Color: Blonde

Eye Color: Green

Orientation: Straight
Tancy Hanna – Wildly Blonde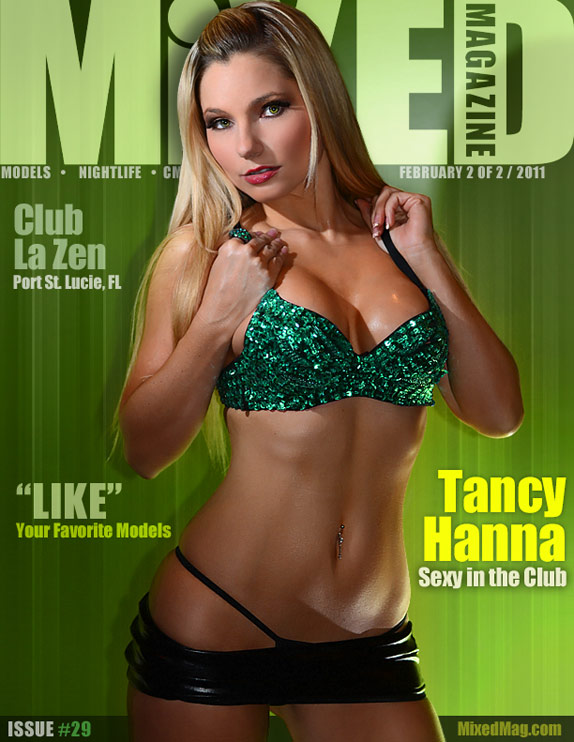 An Interview with Tancy Hanna:
Where were you born, and how was life growing up? Born in Texas Grew Up In Sunny Florida playing on the beach .
What nationality are you? American
Do you go to college? Graduated Cosmetology school in 2005
What would the average person say about you? They'd say Im bossy!
Are you a good dancer? Pretty Good .
Do you like the nerdy type, UFC fighter guy or the regular joe? I like the Man Barbie type! Hey Ken! lol
Do you have any secret weaknesses or guilty pleasures? Steak n Potatoes
What's your biggest turn on? A Beautiful Man that takes care of himself w a Sexy smile ! ;`)
What's one thing about yourself that everyone should know? Im smart and Beautiful
What do guys compliment you most on? My Green eyes !
Do you consider yourself more of a "giver" or a "taker"? Both

If you could have any car you wanted, what would it be? A pink Lambo
Do you have any hidden talents? No
What do you like best about being a model? Its fun N get paid!
What would you consider your strongest attribute? getting sexy
If you could go anywhere in the world, where would you go and who would you take with you? Hawaii Id take my beautiful Man Barbie .
What is your favorite food? Steak n Potatoes

What do you do for fun? Skate Shop and Travel
What are your dreams and goals? To pose for Playboy
How did you get your start in modeling? I started as a Budweiser Model It was so much fun then I got w Krush models I Love It!
Myspace or Facebook? FB
Do you have a website? Only Model Mayhem

Favorite Sports Team: I Guess Jets Bc my man loves The Jets ! and My son Is a Huge Jets Fan too !
Favorite Comedian: Charlie Murphy .
First Job: Winn Dixie N I won Favorite Cashier too
How does someone contact you for a modeling project? Email me at TancyHanna8@aol.com