Maya Michelle Rew
Age:
25,
United States
Congratulations to the winner of the Mixed Magazine Model Search! Introducing Maya Michelle Rew. She is the half Japanese half French 24 year old GO-GO dancer from Los Angelas, California. She possesses one of the most incredible shaped bodies we have ever seen. Her shapes are almost cartoonistic but it's all real 100%. She favors dancing and ballet for her incredible physique but we think she got it from her mama. Maya has been modeling now for 5 years and has done everything under the sun. She has been featured in countless music videos, magazine covers, bikini contest, movies, print ads and so much more. She is the ultimate model. But not only is she very successful, she also has a very sexy personality. She has unique sex appeal about her that has you melting the second you meet her. It was a great pleasure to be able to work with such a model and it's obvious why she completely ran away from the competition scoring the most and highest rates votes.
Basic Profile
Name: Maya Michelle Rew

Gender: Female

Age: 25,

Country: United States
Appearance
Body: Normal

Ethnicity: Mixed

Weight: 110kg (243 lbs)

Height: 170cm (5'6")

Hair Length: Long

Hair Color: Black

Eye Color: Brown

Orientation: Straight
Maya Michelle Rew – Model Search Winner!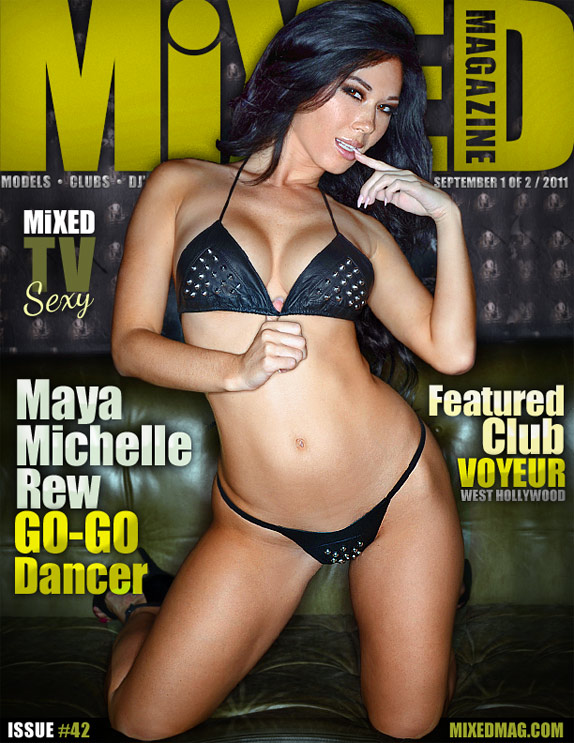 An interview with Maya Michelle Rew:
Where were you born, and how was life growing up?
I was born in Tokyo, Japan but grew up in Carpinteria, CA. Carp, being a small beach town, was very easy going place to live where everybody knew everybody.
What nationality are you?
I am half Japanese & half caucasian.
Do you go to college?
No I don't but after high school I completed a cosmetology course & currently have my cosmetology license.
What would the average person say about you?
Hopefully they would say I'm fun, comedic & a good person.
Who do you think is the hottest Mixed Magazine model after yourself?
Jillisa Lynn for sure!!
Do you like the nerdy type, UFC fighter guy or the regular joe?
I prefer all those rolled into one with a touch of musical or artistic talent.
What is your favorite club in LA?
Colony ran by SBE. I love staff, the set-up & I love gogo dancing there!
Do you have any secret weaknesses or guilty pleasures?
Its no secret but I love sweets! Candy, cake, I can't get enough!!
What's your biggest turn on?
Someone who can make me laugh AND make me orgasm.
What's one thing about yourself that everyone should know?
I am ALWAYS joking around.
What do guys compliment you most on?
My surprisingly big booty.
Do you consider yourself more of a "giver" or a "taker"?
Definitely a giver.
If you could have any car you wanted, what would it be?
Mercedes-Benz SLK AMG 55 convertible.
What do you like best about being a model?
Getting glammed up & wearing cute outfits!
What would you consider your strongest attribute?
Being a good friend & truly caring for others.
What do you normally sleep in?
A t-shirt & booty shorts.
If you could go anywhere in the world, where would you go and who would you take with you?
I would take all my closest friends to a relaxing vacation in Italy.
How did your butt get so nice?
I believe its a combination of having Southern blood from my dad's side of the family & years of ballet training.
What is your favorite food?
Sushi!
What do you do for fun?
I love watching movies, playing board & card games, getting tan at Hollywood Tans, dancing & (of course) shopping!
What are your dreams and goals?
I definitely dream of having a big family but for now my goals are to continue my success in the modeling & gogo worlds.
How does someone contact you for a modeling project?
Email BookingMaya@gmail.com or hit up my Facebook page https://www.facebook.com/MayaMichelleRewFanPage