Winny
Age:
22,
United States
Winny Munoz is the adorably voluptuous model from New Jersey. It's seems like we just can't get enough of these beautiful thick models from the tri-state area and apparently the world loves it because Mixed Magazine is doing record numbers these days. THICK IS IN! Winny is very unique though with her own style and class. She knows how to carry herself very well and puts off just the right amount of sex appeal. She is very talented, smart and loves to sing and dance. She is only 22 but she is very mature for her age. She currently works as a bartender in some of the biggest named night clubs and models at any chance she can get. Winny is 100% all natural and has one of the sexiest booties around and the combination of her beautiful face and adorable smile with huge dimples just makes you want to hug and squeeze. Winny has been modeling now for just a year but she is already doing big things with top magazine, music videos and much more.
Basic Profile
Name: Winny

Gender: Female

Age: 22,

Country: United States
Appearance
Body: Thick

Ethnicity: Black

Weight: 150kg (331 lbs)

Height: 167cm (5'5")

Hair Length: Shoulder Length

Hair Color: Brown

Eye Color: Brown

Orientation: Straight
Winny – Adorably Voluptuous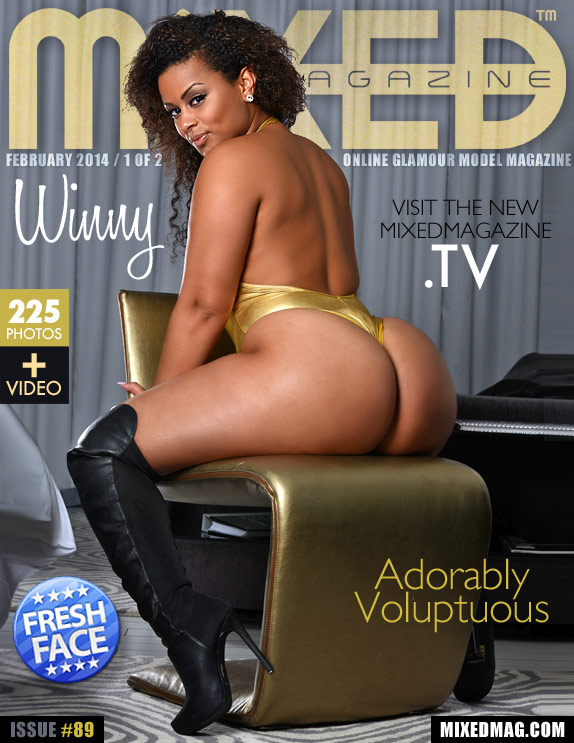 An Interview with Winny:
Where were you born, and how was life growing up? I came to America when I was two years old from Republica Dominicana and raised in a small city called Perth Amboy. It was very rough growing up there. I had to prove myself every waking day and literally fight my enemies. Those battles and obstacles made me who I am today.
What would the average person say about you? Hello I bartend so for the most part that I'm a chatter box. [laughs] Ask anyone who know me at Palace, Escape, Jersey Girls, my crowd loves it when I'm serving them drinks. I'm down to earth no matter who you ask because I talk to average people like myself every day. I never forget where I came from, you can get a good conversation out of me if your mind is right.
Are you a good dancer? Can Beyonce sing? Years of cheerleading, step team and dancing in front of videos of Beyonce have paid off by my rapport. [laughs]
Do you like the nerdy type, muscle guy or the regular joe? As I mentioned before I'm so enlightened about what more a man has to offer. Having a type is for the girls who have nothing to lose but their reputation, so High School. It's more of an intellectual connection I look for. I check for how long you can carry a conversation and how you can stimulate my mind. That is the ultimate turn on. I've grown enough to not get fooled by appearance anymore.
Do you have any secret weaknesses or guilty pleasures? I'm a sucker for a good home cooked meal, food is my secret weakness and guilty pleasure at the same damn time. [laughs] I love food.
What has been your most memorable experience as a model? The most memorable moment as a model was being able to be in the same room with Jay Z and Beyonce two of my all-time favorite artist. They are very down to earth people and just being in a room with such great talent you could almost feel it in the air.
What's your biggest turn on? I would have to the biggest turn on is when a guy knows how to control the situation, a little bit of dominance not too much though.
What's one thing about yourself that everyone should know? Well I am a certified massage therapist. Before fully devoting my time to modeling I was working fulltime as a massage therapist. I still do want to continue giving wellness to others with massages but my dream is to open my own personal spa.
What do guys compliment you most on? The compliment I hear the most would have to be about my smile and how my dimples really stand out.
Do you consider yourself more of a "giver" or a "taker"? I don't really ask for much and growing up I didn't really have it all so it just doesn't sit right for me to take from anyone. I would most defiantly consider myself giver, I'm defiantly not greedy at all.
If you could have any car you wanted, what would it be? Ow, that's a good question and the answer changes all the time but I always wanted an all-black Ranger Rover with red leather seats inside.
Do you have any hidden talents? I guess they are still hidden because I can't think of one.
What do you like best about being a model? Meeting so many different kind of people, the creativity and work behind each set. There is really so much more beyond than models and pictures.
What would you consider your strongest attribute? My go getter attitude would have to be my strongest attribute. Once I set a goal and have a vision I accomplish it.
If you could go anywhere in the world, where would you go and who would you take with you? Traveling around the world has always been something that I want to do while I'm still living and I want to take my sisters with me. One specific place would be France, the culture, the fashion, and cuisine really grabs my attention.
We know you're a model and all, but you must have a favorite food. What is it? DO I! Right now my favorite food is Houlihan's Thai Wings. OMG they are amazing!
Besides modeling, what do you do for fun? My bestfriend is an aspiring singer so when I'm with her or even when I'm not I sing. I know I'm not the best singer but I just love to sing.
What are your dreams and goals? My dream is to expand more in this modeling industry I made it this far doing the work without an agency behind me so I know I can do it. Some of my goals are to get into doing some commercials and I want to try acting as well.
Would you prefer a guy to pursue you, or do you like to be the aggressor? It's only nature to want a guy to pursue you but I do like to be the aggressor he and there. Taking it gets boring, I love to show a man that I know what I'm doing.
How did you get your start in modeling? Well I was doing a lot of videos and photo shoots with many different photographers but the start would have to be when I got to work with Dynasty Series and I got my spread in Straight Stunttin magazine.
What is your favorite social network? Instagram is definitely my favorite tight now.
What's the craziest thing you've ever done? The craziest thing that I've done was jump out of a moving car.
Do you have a website? Currently working on that.
Relationship Status: Single
Favorite Sports Team: New York Knicks & New York Jets
Favorite Comedian: Martin Lawrence
First Job: Retail I worked at Against All Odds
Piercings/Tattoos (How many? Where?): I have one tattoo on my chest and my ears are pierced. I had my nipples pierced but they fell off and their piercing closed on me.
What fun fact or talent should guys know about?: I don't like to give much away but I am very flexible.
How does someone contact you for a modeling project? Contact my booking agent 99modelsia@gmail.com or you can always hit up my email munoz.winny@gmail.com