Payton Scott
Age:
25,
United States
Payton Scott is that curvy babe from Oregon. Yep Oregon has baddies. This curvy mature model came all the way across the country to showcase her modeling skills for Mixed Magazine in Miami. She was very comfortable in her own skin as she strutted her stuff and shook that booty all over the studio. She got her twerk game on and poppin and showed us why there are 1 million fans on her instagram page going ape shit over her. She was really relaxed and carefree. She ended up going out that night in Miami South Beach and had everyone falling over her. I one point she ran into a Kardashian and several of the onlookers became gawkers for the Oregon babe. Payton is one fine piece of ass and we are too lucky to have her here so scroll below and get a load of this curvy bombshell.
Basic Profile
Name: Payton Scott

Gender: Female

Age: 25,

Country: United States
Appearance
Body: Thick

Ethnicity: White

Weight: 146kg (322 lbs)

Height: 167cm (5'5")

Hair Length: Short

Hair Color: Highlights

Eye Color: Blue

Orientation: Straight
Payton Scott – Oh So Curvy!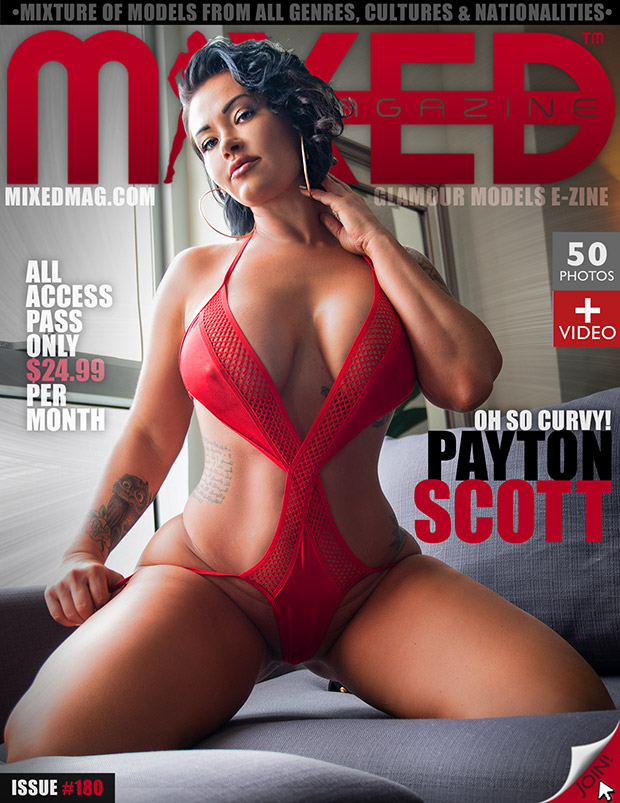 An Interview with Payton Scott:
Where were you born, and how was life growing up? I was born in Oregon. Growing up was amazing. I was a cheerleader and loved to play with the boys
How did you get your start in modeling? I have always loved being in front of the camera.
Favorite Sex position? Doggy
Have you ever kissed a girl? Yes
What has been your most memorable experience as a model? Shooting with Mixed Magazine in Miami was amazing because. The photographer knows how to make things fun!
What would the average person say about you? Goofy, honest,joyful and loves to have fun with life!
Describe your most embarrassing moment. I don't normally get embarrassed, I laugh things off myself as they happen.
What's your biggest turn on? Chivalry is sexy to me.
What do guys compliment you most on? Lips, booty and shape.
What do you sleeping in? Nothing.
If you could go anywhere in the world, where would you go? The Moon.
We know you're a model and all, but you must have a favorite food. What is it? I love seafood!
What are your dreams and goals? Happiness forever.
Would you prefer a guy to pursue you, or do you like to be the aggressor? Pursue me 100%
First Job: Fashion sales.
How does someone contact you for a modeling project? Contact me on hubzter.com
Would you date a guy that you met on social network? Yes and I have.
Do you have a passport? Of course.