Rali Ivanova
Age:
22,
Bulgaria
Happy New Year! Mixed Magazine has provided you beautiful models for 2 years and continues by bringing you this incredible model named Rali Ivanova. This beautiful model is from Bulgaria and now lives in Tampa, Florida. Her beauty is bar none and it was truly impossible to catch a mediocre image. This photoshoot was held at the new Scene Night Club in downtown St. Petersburg, Florida. Rali as always brought it and posed like a pro for over 6 straight hours. It was so sexy I had to seriously pinch myself every half hour to make sure I wasn't dreaming. Rali has been modeling in America now for 5 years and has been setting the scene on fire. She has her own website, a 2011 calendar, and resume too long to list. I'm sure you have already started to scroll down to see this girls incredible images at this point so I'm probably rambling but just incase you are still here make sure you join the member section to prove that you are a very important person by witnessing Rali's exclusive videos!
Basic Profile
Name: Rali Ivanova

Gender: Female

Age: 22,

Country: Bulgaria
Appearance
Body: Normal

Ethnicity: White

Weight: 110kg (243 lbs)

Height: 166cm (5'5")

Hair Length: Long

Hair Color: Blonde

Eye Color: Brown

Orientation: Straight
Rali Ivanova – A Bulgarian Beauty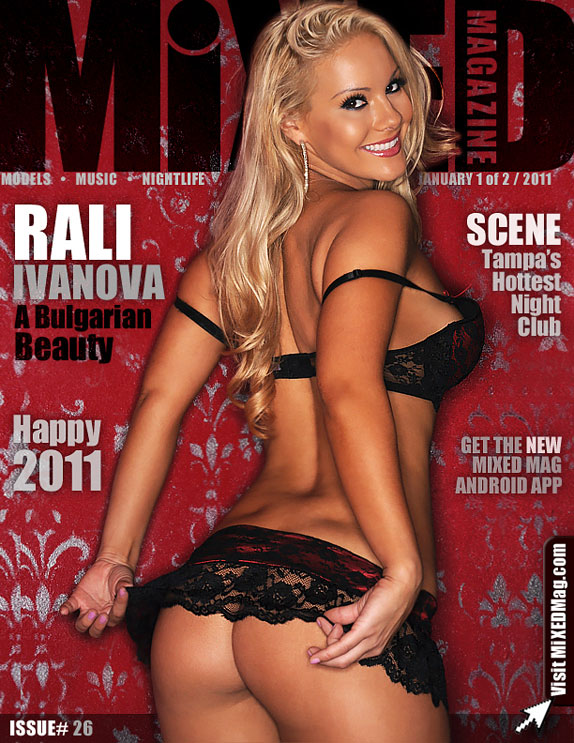 An interview with Rali Ivanova:
Where were you born, and how was life growing up?
I was born and raised in Varna, Bulgaria ! Life growing up was amazing ! I had a great childhood and the best teenage years.
What nationality are you?
Bulgarian with lil bit of Russian !
Do you go to college?
No , I went for couple years in bulgaria but then I moved here and never had a chance to finish it
Are you a good dancer?
Yeah ! After one or two cocktails
Do you like the nerdy type, UFC fighter guy or the regular joe?
I like bad boys
Do you have any secret weaknesses or guilty pleasures?
I love food ! Pizza , cheesecake , ice cream …
What's your biggest turn on?
nice cologne !
What's one thing about yourself that everyone should know?
I'm very down to earth girl !
What do guys compliment you most on?
my face :)
Do you consider yourself more of a "giver" or a "taker"?
Definitely a giver !
If you could have any car you wanted, what would it be?
Bugatti :)
Do you have any hidden talents?
I can cook bulgarian traditional meals
What do you like best about being a model?
Seeing my pictures in different magazines :)
What would you consider your strongest attribute?
My smile :)
If you could go anywhere in the world, where would you go and who would you take with you?
I would go to exotic island and I would take my hubby with me :)
What is your favorite food?
Italian ! I love pizza and pasta
What do you do for fun?
I love to plan my photo shoots ! And that's what I do when I have free time shop lingerie looking at sexy concepts and thinking of locations :)
What are your dreams and goals?
I really want to run my own magazine ! I have so many ideas !
How did you get your start in modeling?
When I was still in Bulgaria my mom took me to my first photo shoot !
Do you have a website? www.RaliIvanova.com
Favorite Sports Team: Basketball : Orlando Magic and baseball: Tampa Bay Rays
Favorite Comedian: Chelsea Lately
First Job: waitress in karaoke bar
How does someone contact you for a modeling project?
Booking@RaliIvanova.com