Shanna Corrina
Age:
21,
United States
Shanna Corrina is the shawty from Naples with the strong body to go with her strong attitude. The model is no push-over. You have to appreciate a woman that knows what she wants and Shanna is that woman. Shanna Corrina came on the scene about a year ago and has already been featured in Black Men Magazine, Girls of Lowrider, Sassy Assy Jeans Swimwear and many more. She has worked in TV, music videos, car shows, bikini contest, print modeling, and go-go dancing. She spends much of her time balanced between Miami and Naples and runs her own club promotion company where she provides the hottest go-go dancers and performers to the hottest clubs. Shanna believes that one should own their life and not to be owned by life. Shanna is the total package and it shows in our exclusive photo and video shoot on the sexiest beaches of South Beach Miami by Mixed Magazine.
Basic Profile
Name: Shanna Corrina

Gender: Female

Age: 21,

Country: United States
Appearance
Body: Normal

Ethnicity: White

Weight: 39kg (86 lbs)

Height: 157cm (5'1")

Hair Length: Bald

Hair Color: Blonde

Eye Color: Brown

Orientation: Straight
Shanna Corrina – A Tough Lil Chick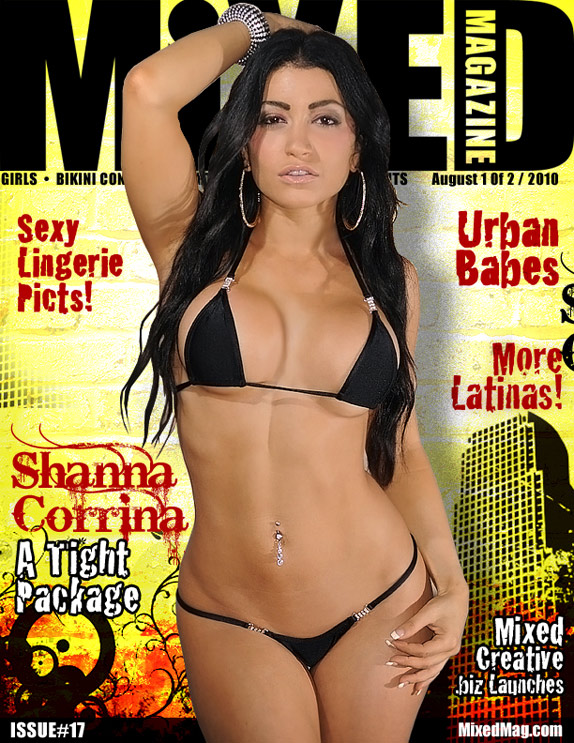 An interview with Shanna Corrina:
Where were you born, and how was life growing up? I was born in Fort Myers,Fl. A small town on the West Coast of Florida. You either hate it or love it. I always felt out of place because most of the people in my town were conservative Christians with blond hair and blue eyes and there I was this Israeli Jew sticking out like a sire thumb. After college I left to Miami and felt more at home but Fort Myers will always be my home deep down. Presently, Fort Myers is more Spanish and diverse than ever so it is not the way it used to be at all. The town has expanded with a great University and club life is growing. It is now on the map due to FGCU, Plies ( a music artist) rapping about it in his lyrics, and with more and more people moving over here.
What nationality are you? I am a mix of Hungarian, Israeli, Caucasian, and Polish
Do you go to college? I attended Florida Atlantic University and Florida Gulf Coast University. My bachelors degree is in Communications with a minor in Interdisciplinary Studies.
What would the average person say about you? The average person might say I come off very quiet, but once you get to know me you will see I am down to earth, fun, and outgoing. The most common comment I hear from an average person is " Wow, your really short!) I am 4'9.
Are you a good dancer? I would think I am! I have been Go Go Dancing in night clubs for huge name celebrity's and Venus since I was 18. I have even been featured on Miami Top 12 sexiest Jobs for Hotjams (I was body painted head to toe as a cheetah.) I have my own Go Go Dance Company called Zarcor Entertainment. It means Spotlight in Hebrew. I provide nightclubs all over Florida with Go Go Dancers, Dj's, body painters, arial artists you name it and I can find it. It started as a way to make money in college now its a passion and a hobby. I love being on stage and center of attention its a rush. Some celebrity's I have worked events for are Lil Wayne, Diddy, Coolio, Florida, and more.
Do you like the nerdy type, UFC fighter guy or the regular joe? None of the above! I like a real man. I love tall men with big eyebrows, facial hair, and tattoos, and nice teeth One that is quiet and intelligent, but everyone respects. Very smooth and has swagger. I like Spanish and Italian and Mixed men. I don't like very muscular guys or guys that wear tight jeans and are metrosexuals. I like a man to have his life together and be educated . He must have goals in life and should know how to make me smile.
Do you have any secret weaknesses or guilty pleasures? If you can make make me laugh you will catch my attention..What's your biggest turn on? Its a secretWhat's one thing about yourself that everyone should know? I am an exhibitionistWhat do guys compliment you most on? My eyes and smile.
Do you consider yourself more of a "giver" or a "taker"? Giver for sure

If you could have any car you wanted, what would it be? Bentley Convert able
Do you have any hidden talents? I am really flexible
What do you like best about being a model? First and foremost I like meeting other people in the industry that are passionate about their art like photographers, camera crews,graphic designers etc. Without them half the models out there wouldn't look so amazing! I am a Communications major so I just enjoy travel and meeting people. I also like learning about my body and enjoying myself while I am young so I can look back and say " Wow look at me."
What would you consider your strongest attribute? My body
If you could go anywhere in the world, where would you go and who would you take with you? Jamaica or Israel –my family
What is your favorite food? I love anything Italian or Mediterranean.
What do you do for fun? I love dancing or dressing up in sexy outfits and taking pictures!
What are your dreams and goals? Um ultimate goal is to star in MOVIES because acting is the ultimate step forward. I would like to be on the Cover of more Magazines and see how many trophies I can pick up in the modeling game. On a personal note I would like to be a very successful business woman with my company and my day job.How did you get your start in modeling? I did a photo shoot with a photographer when I was younger and just started to submit to different gigs and it just went from a hobby to a fun job.Myspace or Facebook? BothDo you have a website? In the process Coming Fall 2010
Favorite Sports Team: Miami Dolphins,Red Wings,
Favorite Comedian: Eddie Murphy from Delirious and Raw and Andrew Dice Clay
First Job: Sunday School teacher assistant
How does someone contact you for a modeling project?
You may e mail me at
shannacorrina@gmail.com
ONLY serious inquiries.