Samantha Harris
Age:
27,
United States
Playboy Model Samantha Harris is the Real Readhead! This 27 year old Orlando bombshell is a very special bikini model because you won't find anyone close to her perfection and unique look. Her eyes are sky blue, her hair is vibrant red, her body is simply perfect, and her smile will melt you. It takes roughly 5 seconds to fall in love with Samantha Harris when you meet her. Samantha has been a bikini model for over 9 years and has been competing in bikini contest and winning them so frequently that she sometimes considers them to be her full time job. The one thing that stands out the most is her amazing confidence. She is always relaxed and lives life to the fullest. She has recently been on the cover of Playboy and is still breaking down doors in the modeling world. Samantha Harris is truly a special model and portfolio is proof in the pudding.

Be sure to check out all her exclusive images and videos in the member section by clicking here.
Basic Profile
Name: Samantha Harris

Gender: Female

Age: 27,

Country: United States
Appearance
Body: Petite

Ethnicity: White

Weight: 38kg (84 lbs)

Height: 161cm (5'3")

Hair Length: Long

Hair Color: Blonde

Eye Color: Blue

Orientation: Straight
Samantha Harris – The Real Redhead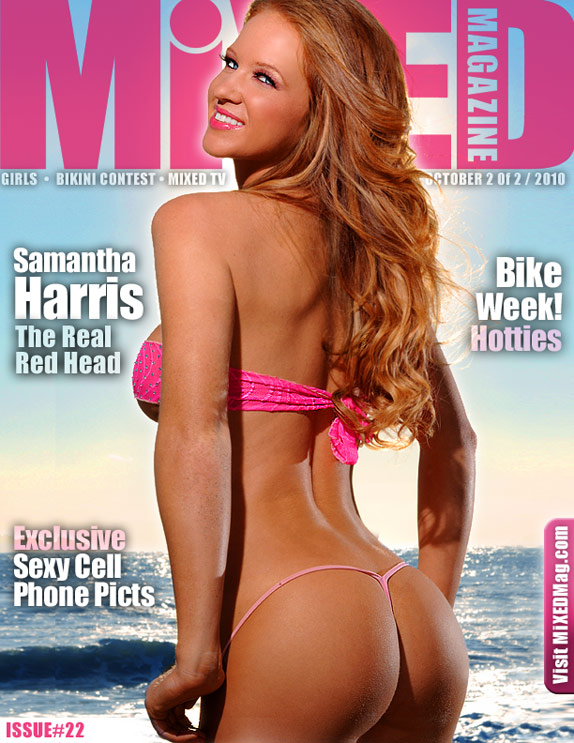 An Interview with Samantha Harris:
Where were you born? Southern Georgia

What nationality are you? Irish
What did you like most about working with Playboy? I've gotten to travel all over when doing my shoots with playboy and also the exposure I've gained from working with Playboy, which has been amazing
What would the average person say about you? I'm very opinionated, strong, confident and loyal
What advice would you give other up and coming bikini models? Stick to your morals and values, be smart with your choices and decisions and have confidence
What's one thing about yourself that everyone should know? I was in the junior olympics for athletic skating

What do guys compliment you most on? booty, eyes and laid back and chill personality
Do you consider yourself more of a "giver" or a "taker"? Giver for sure. I'm one of those people who gets gratification by making others happy
If you could have any car you wanted, what would it be? A bentley

Do you have any hidden talents? I'm a great swimwear designer. I make my own suits

What do you like best about being a model? I decide my schedule. I'm doing something I love doing, I'm passionate about and that most people dream about doing. I'm very grateful that I'm able to be a model
What would you consider your strongest attribute? My confidence and ability to stay calm in most situations
What is your favorite food? Sushi

What do you do for fun? Lots of outdoor stuff, I love the water
How did you get your start in modeling?
Myspace or Facebook? I liked myspace but everyone is using facebook.. so facebook for now.
What are your dreams and goals? To accomplish happiness
If you could go anywhere in the world, where would you go and who would you take with you? There are so many places I would like to go with the man of my dreams on day when I meet him.

Do you have a website? I had one but I couldn't keep up with it so it's gone now.

Favorite Comedian: Jim Jefferies
First Job: at a snow cone stand
How does someone contact you for a modeling project? I don't model much these day. My last shoot was exclusive with Mixed Magazine
How long have you been doing bikini contests? Haha a really long time

How many contests roughly have you won over the years? hundreds

Are you a good dancer? probably not, depends on peoples sense of humor
Do you like the nerdy type, UFC fighter guy or the regular joe? I love to laugh, I typically don't go for buffed out guys because I'd rather have all that time and attention focused on me! :)
Do you have any secret weaknesses or guilty pleasures? Ice Cream
Samantha Harris gets naked for Mixed Magazine at Blue Moon Ultra Lounge Nightclub in Orlando, Florida.