Kelly Kurves
Age:
21,
United States
Meet the Russian Bombshell that goes by the name of Kelly Kurves! This fresh face model was discovered by one of our model scouts when he entered into Mangos on South Beach. She was one of the many hot girls that bartended at this hip hot spot directly on Collins Avenue. The place is known for their smoking hot babes that wear very sexy outfits and dance on the stage. They are expert twerkers. There was something about Kelly though that stood out amongst all the other girls. Her booty, walk and overall sex appeal had our model scout mesmorized to say the least because minutes after he noticed her our phone was blowing up. We immediately booked her for a test shoot and as soon as she walked through the door we knew she was a cover model. Her career as a model has already exploded on the scene making her quit her full time job at Mangos. We believe that this Russian babe has one of the sexiest booties in Miami. See for yourself below.
Basic Profile
Name: Kelly Kurves

Gender: Female

Age: 21,

Country: United States
Appearance
Body: Thick

Ethnicity: White

Weight: 130kg (287 lbs)

Height: 162cm (5'3")

Hair Length: Long

Hair Color: Black

Eye Color: Brown

Orientation: Straight
Kelly Kurves the Russian Bombshell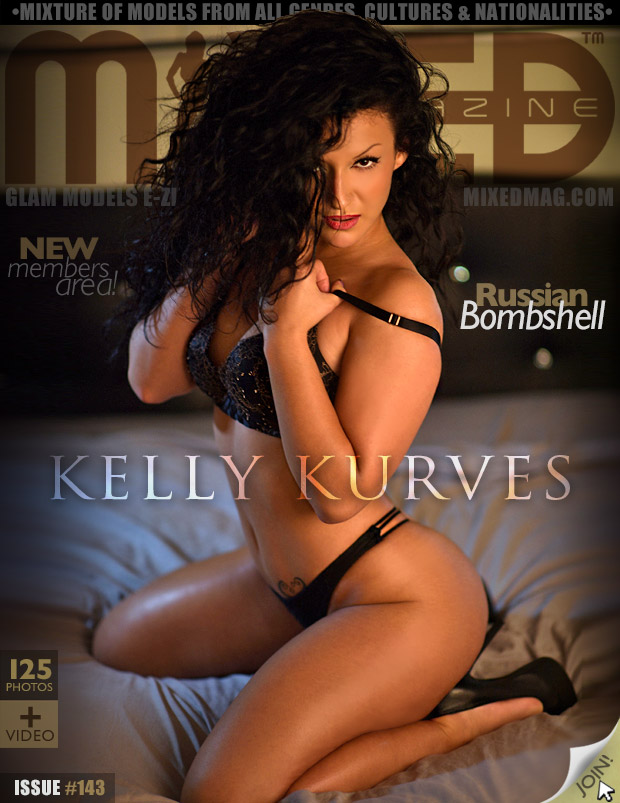 An Interview with Kelly Kurves:
Where were you born, and how was life growing up? Israel, I have always been a princess ??
How did you get your start in modeling? I got offered to work with Seven Talent Agency.
Favorite Sex position? I like them all doggy style, girl on top and face to face…
Have you ever kissed a girl? No
What has been your most memorable experience as a model? I don't have a lot of experience as a model since I just started I hope the most memorable experiences are coming for me in the future.
What would the average person say about you? What a nice girl with a huge hair and huge ass ahahah
Describe your most embarrassing moment. I don't get embarrassed.
What's your biggest turn on? I love black guys and don't date white guys and Neck kisses
What do guys compliment you most on? The body I guess
What do you sleeping in? Naked
If you could go anywhere in the world, where would you Go? Dubai.
We know you're a model and all, but you must have a favorite food. What is it? Chocolate is my food
What are your dreams and goals? I don't like to dream. My goal is to be the person that I'm proud of forever and to be a perfect mother.
Would you prefer a guy to pursue you, or do you like to be the aggressor? It depends who is the guy haha I love when a black guy hits on me
First Job: Server at Winghouse
How does someone contact you for a modeling project? info@mixedmag.com
What is the largest gift offered to go out on a date with you? I don't go on a date for something materialistic I go only if I want to go.
Would you date a guy that you met on social network? Yes
Do you have a passport? Yes