Maryanna-X
Age:
26,
United Kingdom
Meet Maryanna-X! Now there is sexy and then there is out of this world sexy. Maryanna-X showed up to the London swanky hotel and she was just a tiny little thing until she got into her lingerie outfit. The room immediately caught on fire. Her posing combined with her sleek and sexy body was just an unreal experience. You instantly know that you have done something right in life when this Hungarian beauty is rolling around on the bed in front of you naked with her flawless body. Maryanna-X is a glamour model living in London and is always busy working. This woman knows exactly what she wants out of life. She loves to travel and can't wait to begin her USA tour. She loves to party also so maybe you will see this babe on the dance floor one day and yes you will stutter if you try to talking to her because she will melt you on the spot. Learn more about her below.
Basic Profile
Name: Maryanna-X

Gender: Female

Age: 26,

Country: United Kingdom
Appearance
Body: Thick

Ethnicity: White

Weight: 43kg (95 lbs)

Height: 162cm (5'3")

Hair Length: Long

Hair Color: Black

Eye Color: Brown

Orientation: Straight
Maryanna-X – The Hungarian Hotty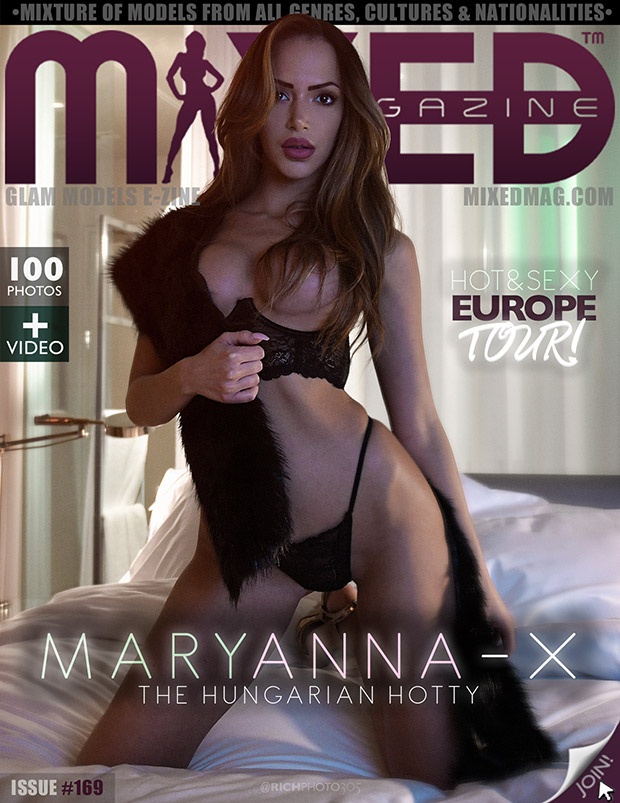 An Interview with Maryanna-X:
Where were you born, and how was life growing up? I grew up in Hungary, with my two sisters which I'm really grateful to have. Family is everything.
How did you get your start in modeling? Through instagram, I started test shooting and posting pictures and people started to follow me and offer jobs and I started shooting.
Favorite Sex position? I don't have a favorite, depends on the mood I'm in ?
Have you ever kissed a girl? yeah
What would the average person say about you? I don't have a lot of average people around me so I don't know?
Describe your most embarrassing moment. Not long ago I attended a party where both of my ex-lovers were there at the same table that was quite embarrassing, so I had to leave.
What's your biggest turn on? Confidence
What do guys compliment you most on? My waist and my bum
What do you sleeping in? I like to sleep in a cute braw with matching panties
If you could go anywhere in the world, where would you go? New York is on the top of my list right now
We know you're a model and all, but you must have a favorite food. What is it? Pancakes!!
What are your dreams and goals? My dream is to have my own lingerie line. ?
Would you prefer a guy to pursue you, or do you like to be the aggressor? I like when they wait for my signal and not to just haunt on me.
First Job: Dancer
How does someone contact you for a modeling project? I have my official website and business email so usually there or by social media. Please visit maryanna-x.com
What is the largest gift offered to go out on a date with you? I got offered so many things but its not my thing to accept gifts from random guys.
Would you date a guy that you met on social network? I never say never but haven't dated anyone yet.
Do you have a passport? Yes.