Alexia
Age:
30,
United States
Alexia is the exotic dancer/model that resides in Miami, Florida. She is a free spirit that loves to enjoy life. She is new to living in Miami but as everyone probably already know, Miami absorbs international sex symbols like a sponge. They fit right in like it was their home all along. Alexia is from Lebanon. She has been a model for several years. She knows how to pose and move her body in front of the camera very well and it showed when she shot her sexy photo/video shoot for us in a hot Miami penthouse.
Basic Profile
Name: Alexia

Gender: Female

Age: 30,

Country: United States
Appearance
Body: Normal

Ethnicity: White

Weight: 144kg (317 lbs)

Height: 167cm (5'5")

Hair Length: Long

Hair Color: Honey Blonde

Eye Color: Brown

Orientation: Straight
Alexia Models for Mixed Magazine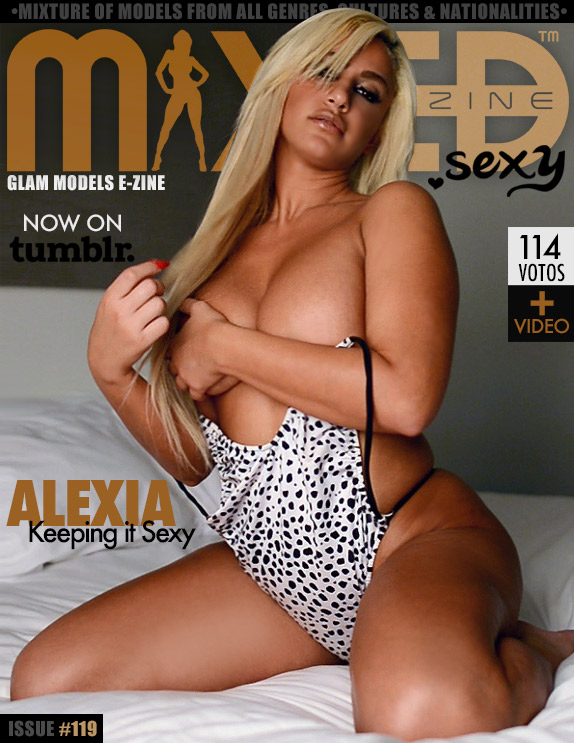 An interview with Alexia:
Where were you born, and how was life growing up? Born and raised in the Middle East. Life growing up is just a whole different world. We're simply everything Americans aren't!lol
What would the average person say about you? That I'm different
Are you a good dancer? U gotta find out urself.
Do you like the nerdy type, muscle guy or the regular joe? My type of guy is a boss, regardless.
Do you have any secret weaknesses or guilty pleasures? Guilty pleasure is pizza!
Describe your most embarrassing moment. Its really hard for me to feel embarrassed cuz I laugh at everything, but I must say falling at work in my very big dancing shoes in pretty embarrassing.
What's your biggest turn on? My biggest turn on is a man that has enough confidence and power to handle me and not be intimidated by my feisty and strong character.
What's one thing about yourself that everyone should know? Something about me everyone shud know is don't try me.
What do guys compliment you most on? Guys def compliment me the most about my personality and energy.
Do you consider yourself more of a "giver" or a "taker"? I treat ppl like they deserve to b treated, but pretty girls always get what they want ;)
If you could have any car you wanted, what would it be? Special made Buggatti.
Do you have any hidden talents? Hidden talents wud b probably I can look at any man and tell whats he like in bed….
What do you like best about being a model? What I like best about modeling is looking at my pics and loving and appreciating what I have and working on myself.
What would you consider your strongest attribute? My strongest attribute is absolutely my character/charisma.
If you could go anywhere in the world, where would you go and who would you take with you? I am half Greek and no where in the world tops Greece to me. I wud go and take my man, if I had one, or my best friend.
We know you're a model and all, but you must have a favorite food. What is it? Fav food is Lebanese.
What are your dreams and goals? My goal is to be free. By freedom I mean health wealth and happiness for me and my family.
Would you prefer a guy to pursue you, or do you like to be the aggressor? It depends on the situation but I luv a guy thats confident enough to approach me and not be scared to show interest.
How did you get your start in modeling? I modeled
What is your favorite social network? I'm not big on social media but instagram is pretty cool.
What's the craziest thing you've ever done? I done so many crazy in my life but I wud say moving to America on my own from the Middle east wud be the craziest.
Do you have a website? No
Relationship Status: Single
Favorite Sports Team: Miami Heat
Favorite Comedian: Kevin Hart
First Job: waitress
Piercings/Tattoos (How many? Where?): No tattoos, one monroe lip piercing.
How does someone contact you for a modeling project? Email: al3xiaxx@gmail.com