Forsaken Love
Age:
23,
United States
Forsaken Love is the model you have been waiting for! This mixed Spanish and Lebanese model from Miami is a true wild child. You won't meet a more positive and energetic model. She had the studio set on fire as she danced around to latin music nearly the whole time during her photoshoot. Over the past couple years she has laid low from modeling but that doesn't stop her instagram from blowing up as she has almost 300k followers. People love her because she obviously has an incredible booty but they really love her for her fearless personality. She loves to have a great time and she is always smiling. She is very much in tune with her sexual side and says sex is one of her hobbies. She discovered that she was 2 weeks pregnant during this photoshoot so she will be away from modeling for a little while. I guess you could say that our timing was perfect with Forsaken Love and mostly all other models that we feature!
Basic Profile
Name: Forsaken Love

Gender: Female

Age: 23,

Country: United States
Appearance
Body: Thick

Ethnicity: Mixed

Weight: 125kg (276 lbs)

Height: 160cm (5'2")

Hair Length: Long

Hair Color: Black

Eye Color: Brown

Orientation: Straight
Forsaken Love – The Wild Child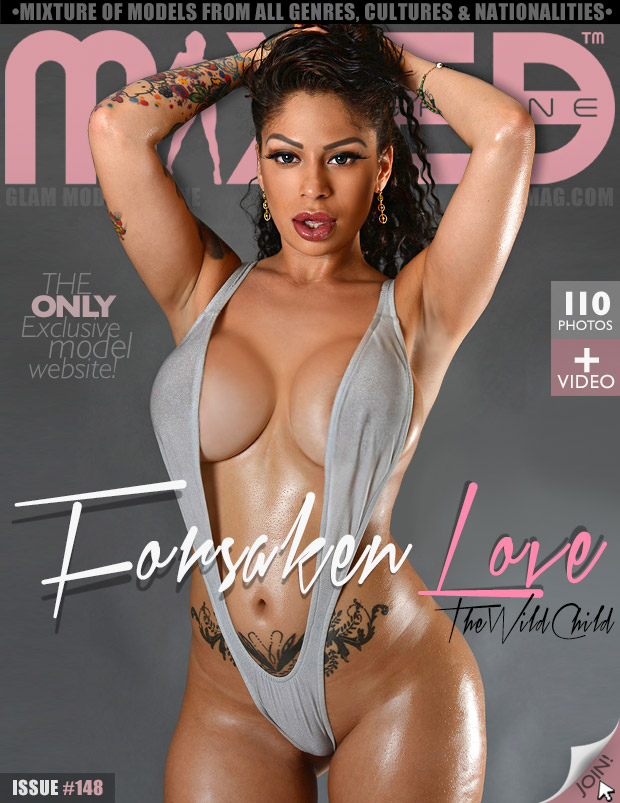 An Interview with Forsaken Love:
Where were you born, and how was life growing up? I was born in Barcelona but was raised in Venezulea. Venezuela was so beautiful. I got to see both poor and rich. We had lots of morals in our family but I was the black sheep of the familiar.
How did you get your start in modeling? I love being sexy and have been embracing my sex appeal as long as I can remember
Favorite Sex position? Froggy Style
Have you ever kissed a girl? yes
What would the average person say about you? That I'm a perfectionist
What's your biggest turn on? Tattoos
What do guys compliment you most on? my ass and my eyes
What do you normally sleep in? hello kitty booty shorts
If you could go anywhere in the world, where would you go? greece
We know you're a model and all, but you must have a favorite food. What is it? Seafood
What are your dreams and goals? to help animals
Would you prefer a guy to pursue you, or do you like to be the aggressor? depends on the person
First Job: When I was 9 years old I lived near the gold course and would sell golf balls after finding them
How does someone contact you for a modeling project? info@seveltalent.com
What is the largest gift offered to go out on a date with you? I get offers daily for dates on Instagram but I never take them
Would you date a guy that you met on social network? yes
Do you have a passport? yes