Yesy Naya
Age:
27,
United States
Yesy Naya is the fresh face Cuban model from Miami that has the looks that kill. With her razor sharp curves, jet black hair, cat like eyes and her sultry moves she is quickly becoming the fastest rising model in Miami right now. She is all about her business as she rolled up in a brand new Mercedes Benz for her photoshoot. She loves to travel and to enjoy the finer things in life. She gets pretty much whatever she wants and she does it all humbly. She is not the type of girl that acts too good for anyone or anything which is a breath of fresh air. She is also very professional. She is on time always and sticks to the job at hand and executes perfectly. She is willing to go over and above for every shoot. We don't know where these dream babes come from but we are not complaining. If you need the perfect model that can do it all then Yesy it is!
Basic Profile
Name: Yesy Naya

Gender: Female

Age: 27,

Country: United States
Appearance
Body: Thick

Ethnicity: White

Weight: 120kg (265 lbs)

Height: 162cm (5'3")

Hair Length: Long

Hair Color: Black

Eye Color: Brown

Orientation: Straight
Yesy Naya – Looks that Kill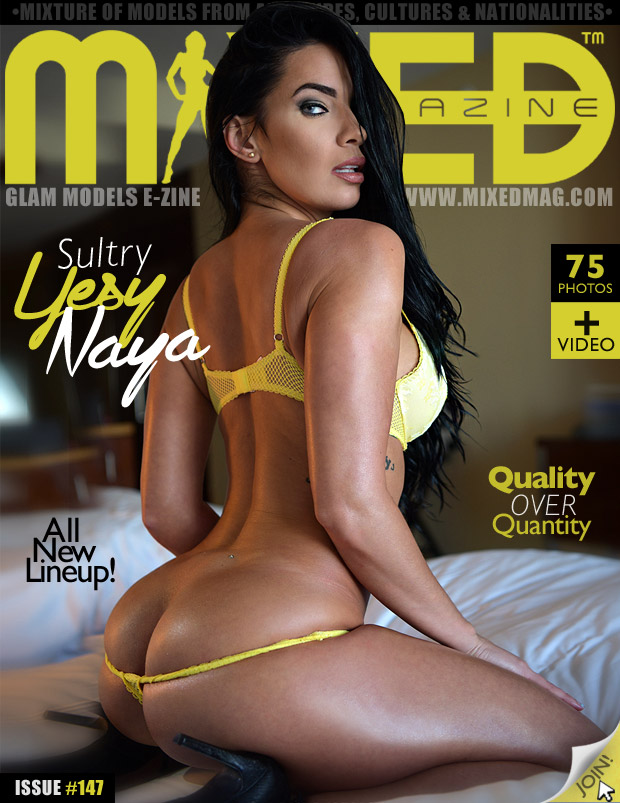 An Interview with Yesy Naya:
Where were you born, and how was life growing up? I was born in Cuba, i came when i was 3 years old lived in Miami ever since.
How did you get your start in modeling? I started modeling like 4 yrs ago my friend is really good at taking pictures and painting stuff so i started doing photoshoots with her and started experimenting with her paintings
Favorite Sex position? Doggy style lol
Have you ever kissed a girl? No
What has been your most memorable experience as a model? When i traveled to Chicago and did a hot yoga video was the first time I actually did something serious i was freaking out lol
What would the average person say about you? That im super friendly and social
Describe your most embarrassing moment. I was eating at a restaurant on a date and had a dress With cleavage on and my nipple was Showing nobody told anything i noticed when i went to the bathroom omg!
What's your biggest turn on? Guys with chiseled chest and tattoos
What do guys compliment you most on? My legs and booty
What do you sleeping in? Booty shorts or mostly naked
If you could go anywhere in the world, where would you go? Tokyo
We know you're a model and all, but you must have a favorite food. What is it? Chocolate mmm…
What are your dreams and goals? First of all finish my career in school and have a family with kids and obviously keep growing as a model.
Would you prefer a guy to pursue you, or do you like to be the aggressor? I like the guy to pursue me definitely lol
First Job: Medical assistant
How does someone contact you for a modeling project? Email yesyn1317@icloud.com and instagram yesyn13
What is the largest gift offered to go out on a date with you? Omg trips, cars, money but who knows if any of it was true lmaoo
Would you date a guy that you met on social network? No
Do you have a passport? yes