Breanna Desoul
Age:
25,
United States
Meet the Minnesota Baddie Breanna DeSoul! She is by far the hottest model in her state. She has all of the physical features guys dream about but it's her personality that really resonates when being around her. She is confidently sexy and she loves to have a good time. She spends most of her time on her families farm taking care of nearly 100 horses. She is very loyal and has strong family values and she knows exactly what she wants out of life. She is also a gymnast which explains her incredible figure. She can do backflips, hand stands, splits, and everything in between. She also teaches people all of her trades because she loves to give back. Breanna is a true beauty and very unique which makes her the ultimate catch. Whether you are a photographer looking to shoot a top model or a company wanting to hire a model to brand your products then choose this high flying super star Breanna DeSoul!
Basic Profile
Name: Breanna Desoul

Gender: Female

Age: 25,

Country: United States
Appearance
Body: Thick

Ethnicity: White

Weight: 150kg (331 lbs)

Height: 172cm (5'7")

Hair Length: Shoulder Length

Hair Color: Dyed (Other)

Eye Color: Green

Orientation: Straight
Breanna Desoul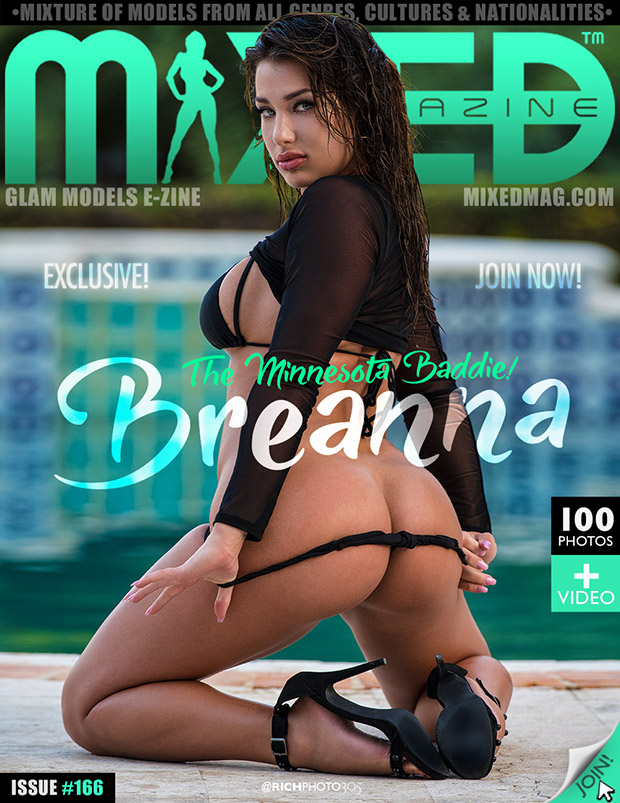 An Interview with Breanna:
Where were you born, and how was life growing up? I was born in Minnesota! Life was exceptionally fun and unique growing up and still is! I grew up on a horse ranch with my mom and 4 siblings who are my closest friends so you can imagine what kind of fun we had. I did gymnastics and horse riding competitively for majority of my childhood so it kept me busy and out of trouble. For the most part. ?
How did you get your start in modeling? It made sound cliche but dumping my boyfriend and going wild with my Instagram is what created the opportunity for me. Lol
My manager who discovered me is who I have to thank for opening the door.
Favorite Sex position? I like to be on top, obviously. Im a professional Cowgirl and gymnast remember?
Have you ever kissed a girl? I prefer kissing girls, actually. Kissing a beautiful woman makes my heart race.
What has been your most memorable experience as a model? I'm only just beginning my career as a model but my most memorable experience so far has been having my little sister travel with me and be my personal ass-oiler for photo shoots.
What would the average person say about you? What's an average person? Lol
Describe your most embarrassing moment. I don't really get embarrassed easily but I do remember getting pantsed in middle school in front of a group of boys. Ironic that at 24 years old I show my ass for fun!
What's your biggest turn on? Uhm, pizza. Also a kind human being.
What do guys compliment you most on? Probably my horse booty.
What do you sleeping in? Underwear only. If I sleep completely nude I have nightmares. Don't ask.
If you could go anywhere in the world, where would you go? My backyard. It's very large and beautiful.
We know you're a model and all, but you must have a favorite food. What is it? Carbs are my favorite food. Italian is ranked number one on my list!
What are your dreams and goals? I could write a paragraph answering this but to be simple I will just say that my biggest dreams are to help animals in need, children in need and pay for my moms retirement. I have many small and specific goals that will get me to that point but at least you understand my motives and
intentions.
Would you prefer a guy to pursue you, or do you like to be the aggressor? Honestly, after everything I've learned in school and throughout life, when it comes to interpersonal relationships I prefer everything to be equal. A younger me would say I like being chased but not anymore! When it comes to relationships, I like simple, fun, communicative and no games.
First Job: I've been shoveling horse poop and caring for horses since I was 12 years old. Comes with the territory.
How does someone contact you for a modeling project? Preferably via my business email (breannamgmt@gmail.com) or through Instagram messenger.
What is the largest gift offered to go out on a date with you? 10 thousand dollars I think lol
Would you date a guy that you met on social network? That's where I've met the only two people I've ever dated. I don't care where I meet someone. If he approaches me correctly and our conversation is right then I give it a shot.
Do you have a passport? I have a temporary passport. Why? Does someone want to invite me to Spain or France? Haha