Sahara Santos
Age:
25,
Brazil
Sahara Santos was "Made in Brazil" and she is SEXY! SEXY! SEXY! This 22 year old Brazilian model arrived in Miami from living in London for the past 10 years and she doesn't want to go back. Miami is the place for her due to it's sultre nightlife and ultimate weather. As soon as she landed in Florida Mixed Magazine was on the scene within days to shoot one of the hottest shoots to date. Sahara's booty is something that every guy loves. It's tan, round, smooth, and the thong tan line combined with a "Made in Brazil" tattoo makes this booty one of the best ever. Now let's talk about how much fun this woman is. She joked from the beginning to the end of her shoot. Her clever and vibrant personality brought a certain relaxation and a sense of class to the set. Her posing was out of this world and she obviously has no problem showing skin. People are quickly taking notice of this beauty and Trey Songs already chose her over hundreds of models to be in his next two videos. This is a model on the rise. Her goal is take over the world and she just might do it at this rate.
Basic Profile
Name: Sahara Santos

Gender: Female

Age: 25,

Country: Brazil
Appearance
Body: Normal

Ethnicity: White

Weight: 56kg (123 lbs)

Height: 170cm (5'6")

Hair Length: Very Long

Hair Color: Dyed (Other)

Eye Color: Brown

Orientation: Straight
Sahara Santos – Made in Brazil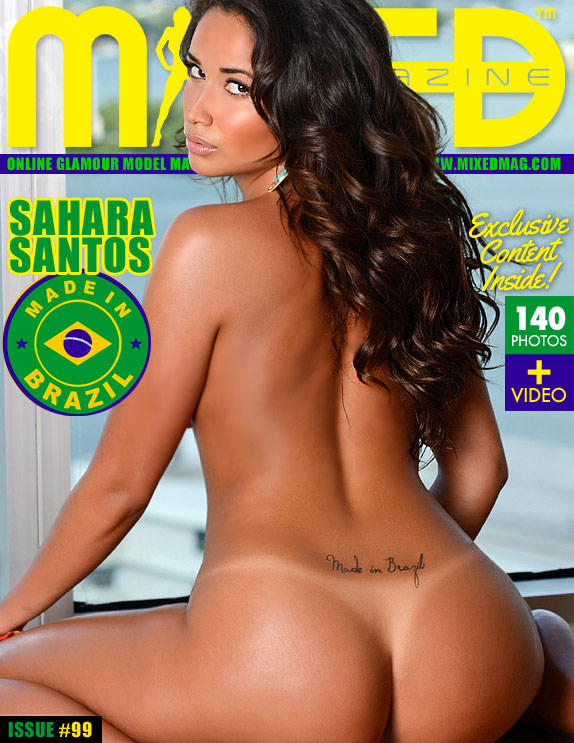 An Interview with Sahara Santos:
Where were you born, and how was life growing up? Brazil. It was extremely hard growing up in a 3rd world country. I moved to England when I was 11 and was amazing in much safer. Not being able to speak English was difficult and I learned to speak English in just 3 months. I love England but you prefer America.
What would the average person say about you? That I'm funny, spontaneous and too honest. hehe
Are you a good dancer? YES SIR!
Do you like the nerdy type, muscle guy or the regular joe? The Real Type
Do you have any secret weaknesses or guilty pleasures? BROWNIES
Describe your most embarrassing moment. My pocket rocket flagged the airport security scanner and it made me late for my flight.
What has been your most memorable experience as a model? Flying to LA for the Trey Songs music videos.
What's your biggest turn on? A loyal man
How long have you been modeling? Since I was 18
What's one thing about yourself that everyone should know? That I'm crazy. Never underestimate me
What do guys compliment you most on? MY BUTT, SMILE & DIMPLES
Do you consider yourself more of a "giver" or a "taker"? TOO MUCH OF A GIVER
If you could have any car you wanted, what would it be? Matte Black Lambo
Do you have any hidden talents? I can Belly Dance
What do you like best about being a model? I'm shy in real life but when the camera is on me I change into a very confident person
What would you consider your strongest attribute? I'm strong minded
If you could go anywhere in the world, where would you go and who would you take with you? I would take my Dad to Egypt
We know you're a model and all, but you must have a favorite food. What is it? A Brazilian dish called Feijoada which is stew
Besides modeling, what do you do for fun? I work out and sunbathe
Would you prefer a guy to pursue you, or do you like to be the aggressor? I like to be pursued. I don't do cardio
How did you get your start in modeling? Watching women from the Playboy Mansion on TV
What is your favorite social network? Instagram
What's the craziest thing you've ever done? I stole stripper bikinis from the porn shop just once
Do you have a website? Yes You can find me at www.saharasantos.com
Relationship Status: You will never know
Favorite Sports Team: Brazil
Favorite Comedian: Kevin Hart
First Job: Paper Girl
Piercings/Tattoos (How many? Where?): I have a nipple piercing and two tattoos. One on my lower back that says "MADE IN BRAZIL"
What fun fact or talent should guys know about?: I can play video games. I love COD and Battle Field
How does someone contact you for a modeling project? Email me at info@charlesandkomodels.com