Iesha Marie
Age:
21,
United States
Iesha Marie is the fresh face model that is lighting up Miami's modeling scene. Just within a few months she has already been the lead model in a Rick Ross and Omarion video, she's done several bikini fashion shows and has modeled for several of the top photographers. She's being booked just as fast as she can say "YES"! We love Iesha because she has a cool name, her body is perfect, her face is beautiful and most of all she is very spicy with her latin roots. Iesha is simply a dream come true. She is very easy to work with and knows how to work hard to play hard. She is definitely one of the fastest growing models in the business and we can't wait to see what else she is about to do in her career. Make sure you check out her very hot and sexy photoshoot inside our member section where you can see over 1000 high res photos and 2 very steamy videos of the behind the scenes photoshoot.
Basic Profile
Name: Iesha Marie

Gender: Female

Age: 21,

Country: United States
Appearance
Body: Thick

Ethnicity: Hispanic / Latina

Weight: 50kg (110 lbs)

Height: 167cm (5'5")

Hair Length: Shoulder Length

Hair Color: Dyed (Other)

Eye Color: Brown

Orientation: Straight
Iesha Marie – Fresh Fire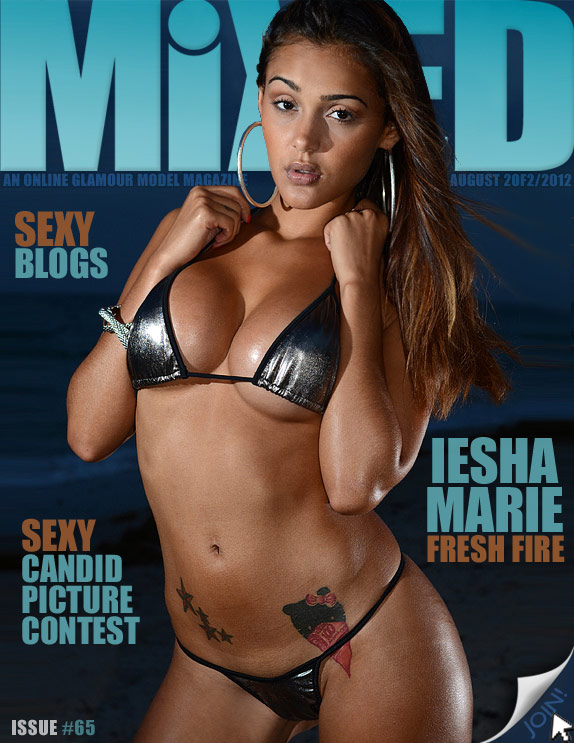 An interview with Iesha Marie:
Where were you born, and how was life growing up? Was born in Vineland, NewJersey but was raised in Miami Fl being raised here has some crazy memories.
What nationality are you? Puerto Rican and Cuban American
Do you go to college? No
What would the average person say about you? I'm funny I love to clown
What do you normally sleep in? Oh god tank tops or crop tops and boy shorts
Are you a good dancer? I go with the music I love hip hop
What kind of guys are you attracted to? I don't have a specific type I guess its all about the initial conversation first impressions go along way with me.
Do you have any secret weaknesses or guilty pleasures? My secret weakness my blue nose pit Jeezy a guilty pleasure Queso frito and mangu and Dominican plate
What's your biggest turn on? I guy with some humor
What's one thing about yourself that everyone should know? I'm funny I love to clown
Who is your favorite Mixed Magazine Model? Amber Rose
What do guys compliment you most on? My eyes
Who is your favorite photographer? @Richphoto305
Do you have a favorite club you would like to give a shout-out to? Yes Club Play and especially the club Play girls
Do you have a favorite DJ you would to give a shout-out to? dj clue
Do you consider yourself more of a "giver" or a "taker"? A giver
If you could have any car you wanted, what would it be? BMW M6
Do you have any hidden talents? I'm a good bartender have a bartending license.
What do you like best about being a model? Playing dress-up
What would you consider your strongest attribute? My sweetness I have a good heart
If you could go anywhere in the world, where would you go and who would you take with you? Greece and I would take my immediate family.
What is your favorite food? My moms Puerto Rican homemade cooking
Can you cook? Plead the 5th
What do you do for fun? The playa aka Sth beach
What are your dreams and goals? to take my career to the limit.. And enjoy the ride..

Favorite Comedian: Kevin Hart

First Job: Hooters babii