Rosanna Castillo
Age:
25,
United States
Rosanna Castillo from Miami is your September 2012 Cover Model. When was the last time you have seen a purely natural 21 year old girl with perfectly extra large natural boobs and a body and face to match? Perfection is the name of the game at Mixed Magazine and this is why we chose Rosanna for the September 15th Issue #67 Cover. Rosanna is a fresh face to the industry and just so happens to be the sister of Mixed Magazine cover model Iesha Marie. Yes the family is just filled with beauty. Can you say JACKPOT!? Rosanna lives in Miami and works at Hooters and models when she can find the time. Her personality is very sweet and nice and she admits that she is shy at times. She loves to watch her older sisters modeling success continually grow as she is able to follow in her footsteps while sometimes utilizing her connections and earning modeling tips. Rosanna's goal is to become a very successful model and we have no doubt that she will have a soaring career. You must see her ultra busty and sexy exclusive photoshoot at the beach in her skimpy green slingshot bikini located inside our member section. Just click her to Join NOW!
Basic Profile
Name: Rosanna Castillo

Gender: Female

Age: 25,

Country: United States
Appearance
Body: Normal

Ethnicity: White

Weight: 75kg (165 lbs)

Height: 168cm (5'6")

Hair Length: Very Long

Hair Color: Brown

Eye Color: Brown

Orientation: Straight
Rosanna Castillo – Natural Beauty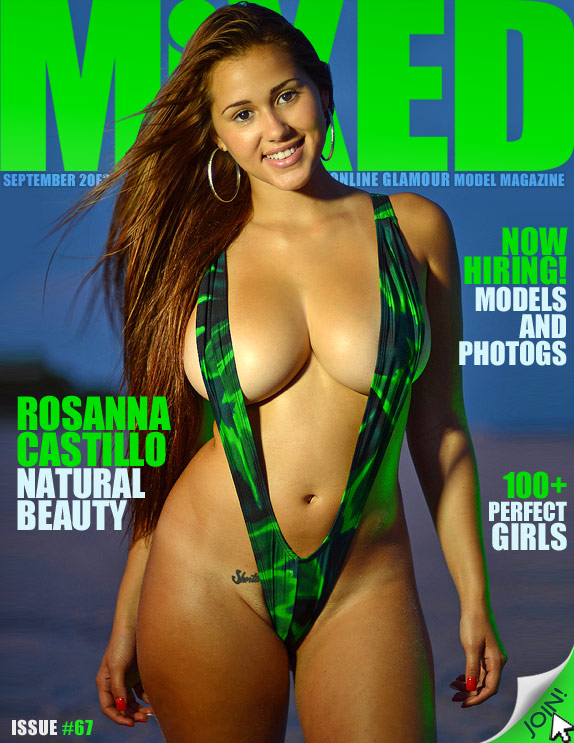 An interview with Rosanna Castillo:
Where were you born, and how was life growing up? Born in miami constantly back and forth to NYC and back
What nationality are you? Puerto Rican/Cuban
Do you go to college? No
What do you like most about working for Hooters? the hustle
What would the average person say about you? That I'm a very nice good person caring and sharing both outgoing yet a kind of chilled layback kind of girl with a great personality
What do you normally sleep in? My favorite pJs Panties & a bra
Are you a good dancer? Not really a dancer more like a two stepper
What kind of guys are you attracted to? Smart ones with a goal or career nice body very challenging good looking and just one who's respect woman and is great at being him self gets his own money got his things together and can get a smile out of me
Do you have any guilty pleasures? None
What's your biggest turn on? A man who looks like a boss and can back it up
What's one thing about yourself that everyone should know? that no matter how long or who hates I'll always be me and im always going to fight for what i want and were I want to be no ones going to stop me
Who is your favorite Mixed Magazine Model? My sister Iesha Marie
What do guys compliment you most on? My smile/breast/& my long hair
Who is your favorite photographer? Daniel Richard
Do you consider yourself more of a "giver" or a "taker"? YESS never take what isn't offered
If you could have any car you wanted, what would it be? Mayback
Do you have any hidden talents? Not really
What do you like best about being a model? The fun of being in front of the camera knowing your looking your best at that moment
What would you consider your strongest attribute? I'm a sweet heart and I don't get involved with clicks. I like to stay to myself.
If you could go anywhere in the world, where would you go and who would you take with you? Paris with all my hot mama's
What is your favorite food? Spanish food and pasta
Can you cook? Yes
What do you do for fun? Go out party or take vacations
What are your dreams and goals? To some day make it in the modeling industry
How did you get your start in modeling? My older sister took me to do a shot out of no wear one day and from there on I liked it and kept on going with it
Favorite Comedian: Will Ferrell
First Job: Hooters