Jess Molli
Age:
24,
United States
Jess Molli is One Fly Honey! This half white/half nicaraguan model from Orlando, Florida has sparked major interest after her recent photoshoot with Miami Photographer Angelo Lumas. Her eye popping curves and extremely sensual face with big baby blue eyes has everybody wanting more and more. Molli is a real smooth mover and her subtle and sexy attributes give her amazing potential to be the next big star. She has a very sexy hip-hop style, in fact she is a very talented rapper. She has already made several catchy songs that can be found on google and is currently pursuing her music career as we speak. Her personality is very chill and sweet. Drama is not in her vocabulary. We always choose models that we believe have that certain "IT" factor and Jess Molli is that chick. Her photoshoot with Angelo Lumas was the perfect fit for her cover photoshoot for Mixed Magazine.
Basic Profile
Name: Jess Molli

Gender: Female

Age: 24,

Country: United States
Appearance
Body: Thick

Ethnicity: Mixed

Weight: 135kg (298 lbs)

Height: 165cm (5'4")

Hair Length: Short

Hair Color: Dyed (Other)

Eye Color: Blue

Orientation: Straight
Jess Molli is One Fly Honey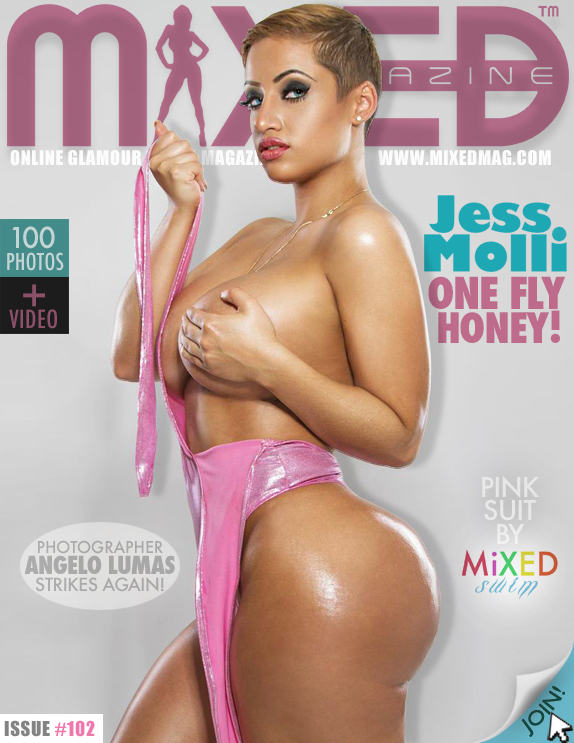 An Interview with Jess Molli:
Where were you born, and how was life growing up? I was born in Miami, Fl. The oldest of 5 siblings. Overall life was great as a kid my parents were separated since I was 6 so half my time was with my mom and half my time with my dad but I always had them both in my life. I was extremely shy never let my self get comfortable but my patents were strict and I stayed to myself great student. I was a happy innocent child.
What would the average person say about you? That I have a good heart and I'm down to earth
Are you a good dancer? Yes
Do you like the nerdy type, muscle guy or the regular joe? I like em all I go through my phases but I don't have a preference. A little of everything .. I'm greedy
Do you have any secret weaknesses or guilty pleasures? Mexican food & sweets..I try to stay away though
Describe your most embarrassing moment. I was out at a club all pretty dressed up new heels new dress fresh cut feeling myself and busted my butt I front of everyone
Do you have any new music that you would like to share? Yes check out my latest colab below..
What's your biggest turn on? Nice wardrobe
What's one thing about yourself that everyone should know? I'm a little crazy
What do guys compliment you most on? Eyes
Do you consider yourself more of a "giver" or a "taker"? A giver
If you could have any car you wanted, what would it be? Bentley
Do you have any hidden talents? You get what you see ..
What do you like best about being a model? I love to take pics
What would you consider your strongest attribute? I would say that I'm self reliant
We know you're a model and all, but you must have a favorite food. What is it? My weakness is Mexican food
Besides modeling, what do you do for fun? I love making music
What are your dreams and goals? To be successful in anything I pursue and build a happy family
Would you prefer a guy to pursue you, or do you like to be the aggressor? I like to be pursued
What is your favorite social network? Instagram
Do you have a website? www.Officialjessmolli.com
Relationship Status: single
Favorite Sports Team: The heat
Favorite Comedian: Chris rock
First Job: Winn-Dixie
Piercings/Tattoos (How many? Where?): No tattoos, ears are pierced
What fun fact or talent should guys know about?: I can rap
How does someone contact you for a modeling project? Jessmolli07@gmail.com