Charm Killings
Age:
23,
United States
Check out this package full of voluptuousness named Charm Killings. Most girls try to be models but there is no trying for Charm. She is a complete natural when the camera is pointed in her direction. She oozes sex appeal with her slow movements and seductive poses. Her images are mesmorizing and her videos are heart stopping. There is something to be said about people with cool names and Charm Killings is definitely right on the money as she will kill you with her amazing charm. She is is currently one of the top urban models and has been on several urban style magazine covers such as Black Men Magazine, Show Magazine, Low Rider and many others. She is a hip hop artist favorite as they continue to utilize her abilities in countless music videos. We see a big future ahead for this rising star as she continues to kill the competition with her incredible beauty and curves.
Basic Profile
Name: Charm Killings

Gender: Female

Age: 23,

Country: United States
Appearance
Body: Normal

Ethnicity: Mixed

Weight: 116kg (256 lbs)

Height: 169cm (5'6")

Hair Length: Long

Hair Color: Black

Eye Color: Brown

Orientation: Straight
Charm Killings – Born2BSexy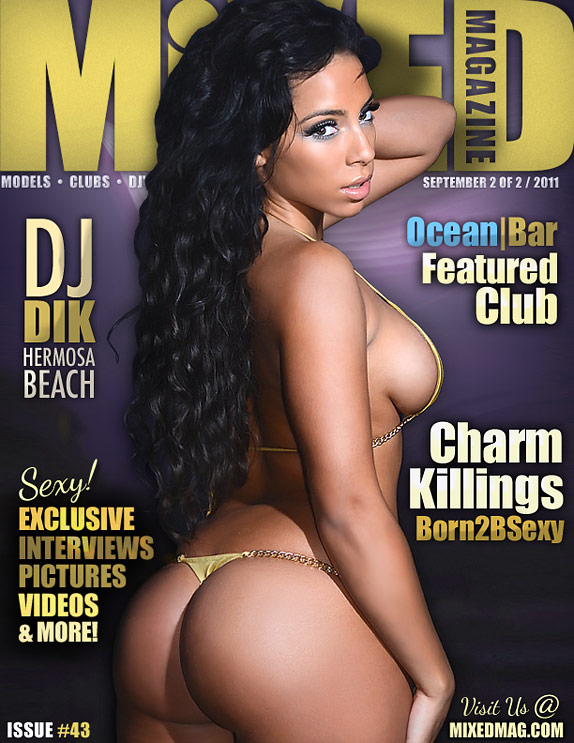 An interview with Charm Killings:
Where were you born, and how was life growing up? I was born in Pomona, California I would say I had a childhood.
What nationality are you? I'm Portugese, African American and German
What would the average person say about you? That I'm very chill and love to have a good time.
What music videos have you been in? Big Sean and Chris brown-my last, bow wow-pretty lady, Jay Sean Nikki Minaj 2012, Dr Dre snoop Dogg Dat Kush, Jdoe and Busta Ryhmes coke dope crack smack and many more
What are your measurements? 34d 24 40
Are you a good dancer? Yeah I would say I'm a good dancer
Do you have a celebrity crush? Hmmm celebrity crush?? Probably Travie Mccoy
What were you like in high school? High school I was always pretty social and was definitely the life of the party!
If you won the lottery what would be the first thing you'd do? I think I would probably donate a lot to charity and start a couple businesses
What is your favorite club in LA? Favorite club in la right now probably would be colony on Monday
Do you have any secret weaknesses or guilty pleasures? That would have to be sweets I love most sweets a lil too much
What's your biggest turn on? Genuine guys
What's one thing about yourself that everyone should know? I love to laugh be goofy and have a good time
What do guys compliment you most on? Probably my eyes
Do you consider yourself more of a "giver" or a "taker"? I would say I'm more of a giver I'm a big believer in what you give always comes back and then some
If you could have any car you wanted, what would it be? I have it… it's a Range Rover
Do you have any hidden talents? Hidden talents? I'm really good at figuring most situations out and fixing them
What do you like best about being a model? I love being in front of the camera idk what it is but its fun for me
What would you consider your strongest attribute? My honesty I've never been one to not make it clear how I feel about anything
What do you normally sleep in? I like to sleep with bra and panties on
If you could go anywhere in the world, where would you go and who would you take with you? Probably Italy seems like a romantic place so I would probably want to bring someone special
What is your favorite food? Sushi
What do you do for fun? I just love spending time doing different things with the people I care about
What are your dreams and goals?I hope to eventually have group homes