Alanna Kolette
Age:
18,
Philippines
When Alanna Kolette a 21 year old bombshell responded to our facebook post that said, "Mixed Magazine is looking for the hottest model ever!", we instantly removed the post knowing that we had our girl. Alanna Kolette hails from Miami, FL, by way of Denison, TX–an endearing trait that comes apparent when you spend some time talking to her. Alanna has done so much already in just one year from winning Miss HIN 2009, a top model for FlirtCatalog.com, Capristan Swimwear, the cover of Import Tuner and countless more impressive accomplishments. If Alanna had a nickel for every time someone said she looks like Megan Fox she would probably be richer than Megan Fox! Alanna is super hot, very classy and clearly at home in a bikini.
Basic Profile
Name: Alanna Kolette

Gender: Female

Age: 18,

Country: Philippines
Appearance
Body: Petite

Ethnicity: White

Weight: 38kg (84 lbs)

Height: 150cm (4'11")

Hair Length: Bald

Hair Color: Blonde

Eye Color: Blue

Orientation: Straight
Alanna Kolette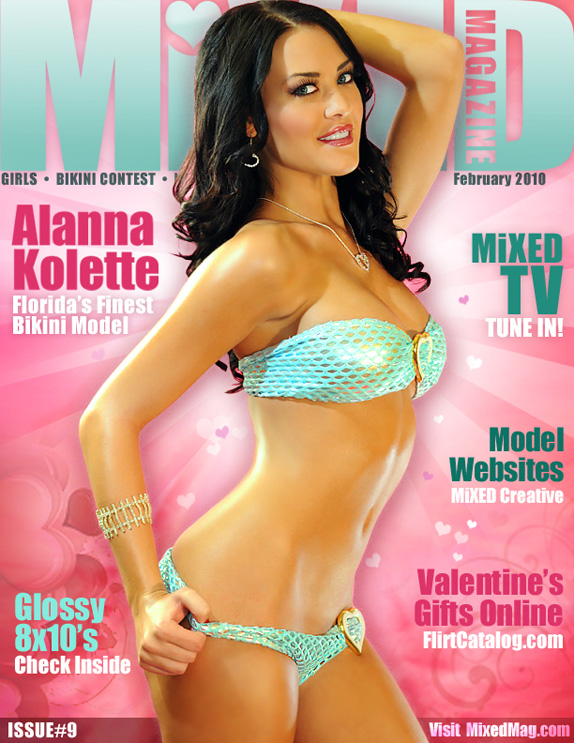 An Interview with Alanna Kolette:
Where were you born? Oklahoma City, OK
Where do you call home? Florida
What is your ethnicity? Hawaiian, Caucasian and Native American Tell us a little bit about your personality.
Are you outgoing, shy, selfish, or sweet? I consider myself to be outgoing and sweet. I love meeting new people and I'm always excited to try new things.
How stoked were you when you found out you won Miss HIN? I couldn't believe it! I competed last year in the Miami HIN model search and I was really nervous–it was my first time competing at an HIN. I remember right before they called my name as the winner, I didn't think I had a chance and my girlfriend and I almost bailed out. When I went on stage and heard everyone cheering for me, I was stoked! I won Miss Miami on the crowd votes. A couple weeks later, my friends and I were hanging out on the beach when I got a call saying that Hot Import Nights would like me to be Miss HIN 2009!
How did you get into the Miami competition? I was modeling for Capristan Swimwear at the HIN fashion show.
Before this, how long were you modeling? I was born in Texas and moved to Florida to pursue modeling five years ago. Fashion, fitness, swimwear, catalog and commercial are some of my specialties.
How do you like the car show scene? The import scene is awesome! I love going to different cities and seeing how everyone builds their cars. I've always been a fan of custom rides.
If you had to single out your favorite car, what would it be? I love the G35 coupe! I kinda have a thing for tuned, twin-turbo Infinitis with titanium-tipped dual exhausts.
A woman after my own heart. As Miss HIN, you're about to embark on a nationwide tour; do you enjoy traveling? Yes! That's one of my favorite perks about modeling, traveling to different and beautiful locations for shoots.
If you could pick a vacation spot, where would it be? It would have to be Hawaii! Last year, it was one of the tour stops and everyone said they had a blast. It would be nice to travel to the islands!
On the topic of geography, are you a mountain or beach kind of girl? I'm a beach girl for sure! I love warm weather and being able to wear my bikini all day! I don't think I could ever live where it snows half the year. I love surfing and boating! When I'm not modeling or out of town at an HIN show, you'll find me on a beach in Miami. Miami has the best nightlife and some of the most beautiful beaches!
What's your idea of a perfect date? I love it when a guy kisses me on my neck then blows on my skin. I like when a guy wants to hold my hand or kiss me in pub
How long have you been modeling, and is there any model who has inspired you? I have been modeling fashion, print, swimwear, and fitness for five years. I started modeling in my teens and have grown a strong passion for it. My mom inspired me to take the first step into modeling. She has always been behind me in my career.
What projects are you working on now? I'm currently working on my new modeling events. I was recently titled Miss ESM Magazine of the year. My most recent magazine that I made the cover of is Image Magazine winter 2009.
What music are you listening now? I love Indie rock music, rap, and reggae, just about anything except country. When I'm getting ready to go out with my friends, I like to turn on some old school Twista, Mike Jones, Chamillionaire, Paul Wall and Dirty South Music.
When you're not modeling, what are some things you do in your spare time? I like to go to the beach with friends and go out boating. I also love just having lazy days and hanging out at my house watching movies.
If you could meet and fall in love Mr. Prince Charming, what would some of his traits have to be to sweep you off your feet? He would have to be honest and trust worthy and be able to make me smile. I love a man that has a good sense of humor but still knows how to take care of business. I would want my Prince Charming to be sensual and caring.
Give an example of when you used your sex appeal to get what you want? I use sex appeal when I want to get in to a high-end club. My friends and I love using our looks to get in to the best places in Miami Beach.
What are some of the movies you can watch over and over? I love comedy and scary movies. I can watch Step Brothers with Will Farrell over and over. Horror films are my favorite as long as I have a guy to watch them with.
What are three things you take on a plane? I have to bring my laptop. Music is a must, so I can't forget my iPod and a girl can't go anywhere without her purse.
What are some of clothing brands you wear often?
I love to wear surf brands like Hurley and Roxy for my day wear. When I'm going out, I like to have a unique style. I like to wear vintage clothing with a little bit of a rocker style.
What was your favorite cartoon as a kid?
I liked watching Looney-Tunes and Sylvester the cat. My all time favorite movie to watch as a kid was Aladdin.
What are your long-term goals?
I want to be involved in the fashion industry. I would like to be an events coordinator or do marketing and merchandising. Modeling is my passion and I plan to pursue my career in it. I am strong willed and determined to achieve my goals.
Do you have a favorite quote, If so what is it? "Life is not measured by the number of breathes we take, but by the moments that take our breath away.