CORSLONDON
Age:
21,
United Kingdom
Meet CorsLondon! Brought to you by Charles and Ko. the modeling agency in London. We got the phone call from Charles telling us about a model that was in Miami. We took a look at her and said yes go ahead and book her for a shoot. It was supposed to be a test shoot and quickly turned into a cover shoot. This model simply set the photoshoot on fire. She couldn't do anything wrong. It was like watching a perfect orchestra going to work. It was poetic watching her pose. Her body is absolutely perfect and her classy style just all came together. The more we shot the more the sky and colors started to come together. It was just majestic. There is no teaching what CorsLondon possesses. Maybe it's just a London thing. We don't know but we know she is fine as wine. Let's give a big shout out to Charles and Ko for finding this dime!
Basic Profile
Name: CORSLONDON

Gender: Female

Age: 21,

Country: United Kingdom
Appearance
Body: Thick

Ethnicity: Black

Weight: 111kg (245 lbs)

Height: 170cm (5'6")

Hair Length: Shoulder Length

Hair Color: Blonde

Eye Color: Hazel

Orientation: Straight
CorsLondon – Fine as Wine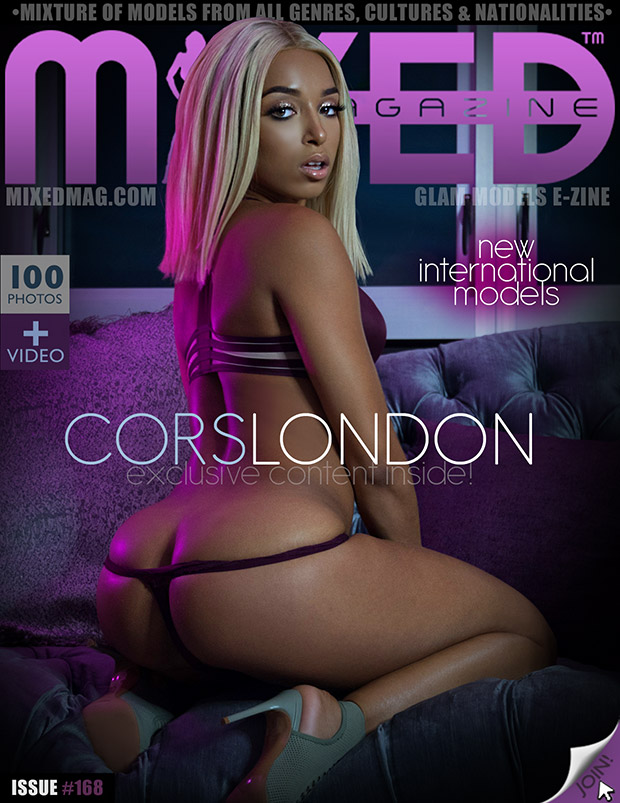 An Interview with CorsLondon:
Where were you born, and how was life growing up? I was born in London. Growing you was always adventurous and sporty. Loads of fun memories
How did you get your start in modeling? I was scouted by a agency.
Favorite Sex position? Reverse cowgirl
Have you ever kissed a girl? Of course
What has been your most memorable experience as a model? Traveling internationally
What would the average person say about you? I'm real crazy but yet loving
Describe your most embarrassing moment. Don't have any but I hate arguing in public
What's your biggest turn on? Confidence
What do guys compliment you most on? My eyes & body
What do you sleeping in? Nothing, always
If you could go anywhere in the world, where would you go? Australia
We know you're a model and all, but you must have a favorite food. What is it? I love real filling foods that put you to sleep like bowls of rice or pasta
What are your dreams and goals? To explore the world and meet different people
Would you prefer a guy to pursue you, or do you like to be the aggressor? I love a pursuer but some one who can't still let me chase a little
First Job: Working for Nike
How does someone contact you for a modeling project? Though my manager
Would you date a guy that you met on social network? Yes
Do you have a passport? Yes