Brazil Twins
Age:
29,
United States
These two Brazilian Twins have Miami going crazy. Meet sisters Nadinne Bruno and Dana Bruno. They are both fitness models that live on South Beach. They love the same exact things. Staying fit, body sculpting, traveling, tanning, and partying. They surround themselves with the elite fitness people because for them it's a way of life. They believe you are who you surround yourself with. They both have mountains of energy and positivity and push everything to the highest limits. They also take control of their own lives and don't make any excuses. They both dabble in a little bit of modeling for swimsuit companies. They love to be in front of the camera to show off their hard work. The two are like a artistic masterpiece of curves and tattoos. They couldn't wait to shoot for Mixed Magazine and brought some ultra sexy wild lingerie outfits that can be seen inside now.
Basic Profile
Name: Brazil Twins

Gender: Female

Age: 29,

Country: United States
Appearance
Body: Thick

Ethnicity: Mixed

Weight: 68kg (150 lbs)

Height: 168cm (5'6")

Hair Length: Long

Hair Color: Black

Eye Color: Grey

Orientation: Straight
Brazil Twins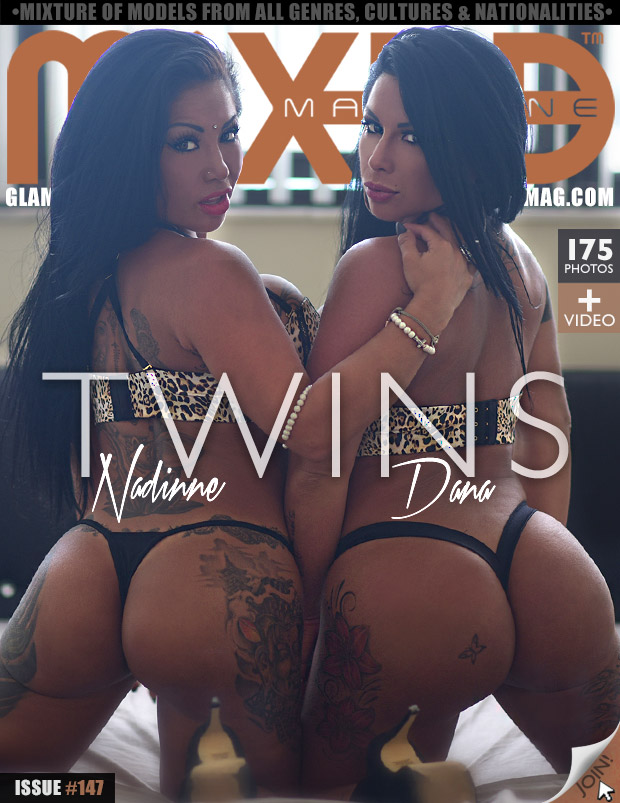 An Interview with Nadinne:
Where were you born, and how was life growing up? I was born in Brazil. Life was tough growing up but I got stronger from it.
How did you get your start in modeling? In Brazil I did Playboy
Favorite Sex position? On the top
Have you ever kissed a girl? Yes
What has been your most memorable experience as a model? In one shoot the photographer washed it my hand in vodka. We ended up getting excellent pictures because the vodka made my hair thin and perfect
What would the average person say about you? That I'm a sweetheart and loyal
What's your biggest turn on? A big heart and personality
What do guys compliment you most on? my physique
What do you normally sleep in? tiny thong
If you could go anywhere in the world, where would you go? Dubai
We know you're a model and all, but you must have a favorite food. What is it? Salmon
What are your dreams and goals? Become a real estate agent
Would you prefer a guy to pursue you, or do you like to be the aggressor? I am the aggressor
How does someone contact you for a modeling project? nadinnebrunna@gmail.com
What is the largest gift offered to go out on a date with you? 50k for one weekend
Would you date a guy that you met on social network? yes
Do you have a passport? yes
An Interview with Dana:
Where were you born, and how was life growing up? I was born in Argentina. Life was tough growing up but I got stronger from it.
How did you get your start in modeling? In Brazil I did Playboy
Favorite Sex position? On the top
Have you ever kissed a girl? Yes
What has been your most memorable experience as a model? Playboy Brazil was on the beach and was like paradise
What would the average person say about you? That I'm very reserved and I only trust close ones to me
What's your biggest turn on? Talk DIRTY to me and kisses on the neck
What do guys compliment you most on? My butt
What do you sleeping in? Naked
If you could go anywhere in the world, where would you go? Rio De janeiro
We know you're a model and all, but you must have a favorite food. What is it? Sushi
What are your dreams and goals? To have my own line of fitness clothes
Would you prefer a guy to pursue you, or do you like to be the aggressor? I like to be pursued
How does someone contact you for a modeling project? dana.bruna@hotmail.com
What is the largest gift offered to go out on a date with you? 50k for a week
Would you date a guy that you met on social network? Yes
Do you have a passport? yes