Kayte McKenzie
Age:
18,
Philippines
The holiday season is finally here and it's only right for you to get the very best present possible from your truly – Mixed Magazine. Meet your christmas gift, Kayte McKenzie. A black haired – blue eyed, tall and voluptuous bombshell with triple double D's! Kayte is the full package coming to you from the sunny Orlando, Florida. Originally from Oregon, Kayte moved to Florida a few years ago to take advantage of her academic scholarship at the University of Central Florida. Kayte is quite the genius as she scored a 4.2 gpa, 1280 SAT and 145 IQ. Things just come easy for her as she knows how to make the right decisions and works well with others. Kayte now heads up a sales department at a large company during the day and is one of the top bartenders at one of the largest nightclubs in Orlando. Kayte is a proven success already at the age of 22 and the future is just waiting to see how she will impact the world with her intelligence + beauty. Hanging out with Kayte makes you feel that world is in a great place with her around which is why she is this years December 2009 Cover Model. The sexy lingerie outfit she is wearing is from G World Intimates.
Basic Profile
Name: Kayte McKenzie

Gender: Female

Age: 18,

Country: Philippines
Appearance
Body: Petite

Ethnicity: White

Weight: 38kg (84 lbs)

Height: 150cm (4'11")

Hair Length: Bald

Hair Color: Blonde

Eye Color: Blue

Orientation: Straight
Kayte McKenzie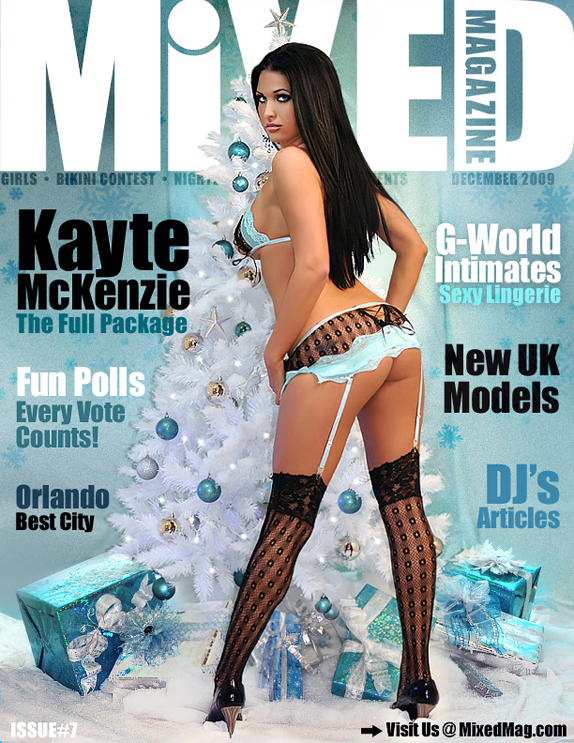 An Interview with Kayte McKenzie:
Where were you born, and how was life growing up? Salem, Oregon.
What nationality are you? Guatemalan and German
What would the average person say about you? That people think I'm a bitch, but once you get to know me I'm a sweetheart
Are you a good dancer? Absolutely
Do you like the nerdy type, UFC fighter guy or the regular joe? Football player
Do you have any secret weaknesses or guilty pleasures? My secret weakness is a guy with a killer smile
Describe your most embarrassing moment. Sorry it's too embarrassing
What has been your most memorable experience as a model? The 2009 eastern US Pepsi Tour
What's your biggest turn on? Confidence
What's one thing about yourself that everyone should know? I'm secretly a genius
What do guys compliment you most on? My eyes
Do you consider yourself more of a "giver" or a "taker"? Giver
If you could have any car you wanted, what would it be? Audi R8
Do you have any hidden talents? I can drive a stick shift great!
What do you like best about being a model? Being in front of the camera
What would you consider your strongest attribute? My confidence
If you could go anywhere in the world, where would you go and who would you take with you? Fiji and whoever's lucky enough to go with me
We know you're a model and all, but you must have a favorite food. What is it? Naked hot wings
Besides modeling, what do you do for fun? Sunday brunch with a lot of mimosas
What are your dreams and goals? to be a hot mom
Would you prefer a guy to pursue you, or do you like to be the aggressor? I like it it when a guy pursues me
How did you get your start in modeling? Through Hooters
Myspace or Facebook? Facebook!!!!
What's the craziest thing you've ever done? Skydiving
Do you have a website? No
Relationship Status: Very happily attached
Favorite Sports Team: Tampa Bay Bucs
Favorite Comedian: Dane Cook
First Job: Hostess
Piercings/Tattoos (How many? Where?): 5 tattoos and 3 piercings
How does someone contact you for a modeling project? Modelmayhem.com/kaytemckenzie
Thank you Kayte and best of luck to you in the future!
Top 10 Modeling Accomplishments:
• Dozen Dames Calendar 2007
• On go 2 years energy shot spokesmodel
• Surf Expo Model for Dunkelvolk
• Florida Lifestyle Calendar – Cover Model
• Pepsi Max Summer Tour 09
• Kia of Orlando Purple Cow Promo Girl
• Capristan swimwear runway HIN
• Central Florida Bridal Directory Model
• WEF Ring Girl December 07
• Bloody 27 Movie – Playing Yasmine a model
• Mixed Magazine Online Cover Model December 09