Zahra
Age:
24,
United States
Meet Zahra! This Navy babe has been making her way to Miami lately to show off her incredible dairy air aka ASS! She is a fresh face model but don't let that fool you. She is already surpassing veteran models only after a few months. There is something about her that just grabs your attention. She has the "IT" factor. Her face is beautiful, she is mature, smart, sexy and has that wop. We took her to the mall to shop for her lingerie outfit and she walked around with her tight jeans and heels and she broke more necks than a Steven Seagal movie. It was truly an incredible thing to watch. Zahra is one of a kind. She is also very cool to hang out with. She is always laughing and is the life of the party. She loves to travel and meet new people and that is exactly what she does. One day she is in Jamaica and the next day she is Arizona hosting an event. We are proud to have her on the cover and you will be seeing alot more of her soon. Learn more about her below.
Basic Profile
Name: Zahra

Gender: Female

Age: 24,

Country: United States
Appearance
Body: Thick

Ethnicity: White

Weight: 150kg (331 lbs)

Height: 167cm (5'5")

Hair Length: Short

Hair Color: Black

Eye Color: Hazel

Orientation: Straight
Zahra Elise – Pure Booty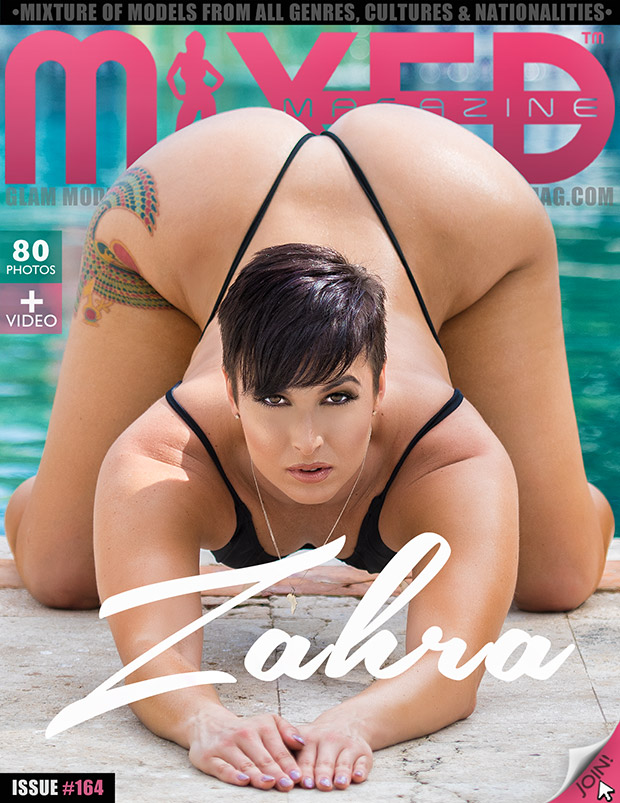 An Interview with Zahra Elise:
Where were you born? Bay Area California
What has been your most memorable experience as a model? My first shoot was the most memorable with my manager. I had so much fun because I've always wanted to model and that is when I felt my dream coming true.
What is your dream modeling job? To be on the cover of Vanity Fair
What is your favorite food dish? Seafood
What are your dreams and goals? To be a famous model
What is the best and worst thing about modeling? The best is traveling and worst is creeps
How does someone contact you for a modeling project? My email works best zahraelisemgmt@gmail.com
What is the best pickup line you've ever heard? can't really think of one at the moment but i usually get really corny ones in my dms lol
Do you have any hidden talents? I'm a pretty good twerker lol
Who is your favorite model? myself!
Do you have a favorite photographer? I love shooting with Ohrangutang
How would you like to be remembered? That I'm always fun and inspiring to others ?