Elizabeth Jade
Age:
24,
United States
Check out this doll face Beauty from Denver Colorado named Elizabeth Jade. You most likely know who she is already because she has over 1 million followers on Instagram and is among one of the hottest girls in the world. With her big green eyes, dark hair, curvy body, perfect boobs and her perfect little white girl booty she will have you mesmerized with every picture she takes and she loves every second of it. She just started modeling within the last couple years and she has already made the cover of Maxim magazine and Has shot for some of the top photographers in the world in reached 1 million followers right before her eyes. She is now bombarded with business opportunities that she cannot keep up with but she is not complaining. We were so excited to shoot with Elizabeth so we flew her to Miami to shoot and stay at the fountain blue hotel on South Beach where we captured her beauty using natural light coming in over the ocean with a light breeze blowing the curtains softly against her delicate naked body. Elizabeth is very comfortable in her own skin and has a very mature personality. She takes life as it comes in is currently a full-time Model so if you were looking for the perfect model brand your business or just to take pictures of well then you definitely have to contact Elizabeth Jade. You can visit her website at ElizabethJadeXO.com to find out more about her booking information.
Basic Profile
Name: Elizabeth Jade

Gender: Female

Age: 24,

Country: United States
Appearance
Body: Petite

Ethnicity: White

Weight: 123kg (271 lbs)

Height: 167cm (5'5")

Hair Length: Long

Hair Color: Black

Eye Color: Green

Orientation: Straight
Elizabeth Jade – Doll face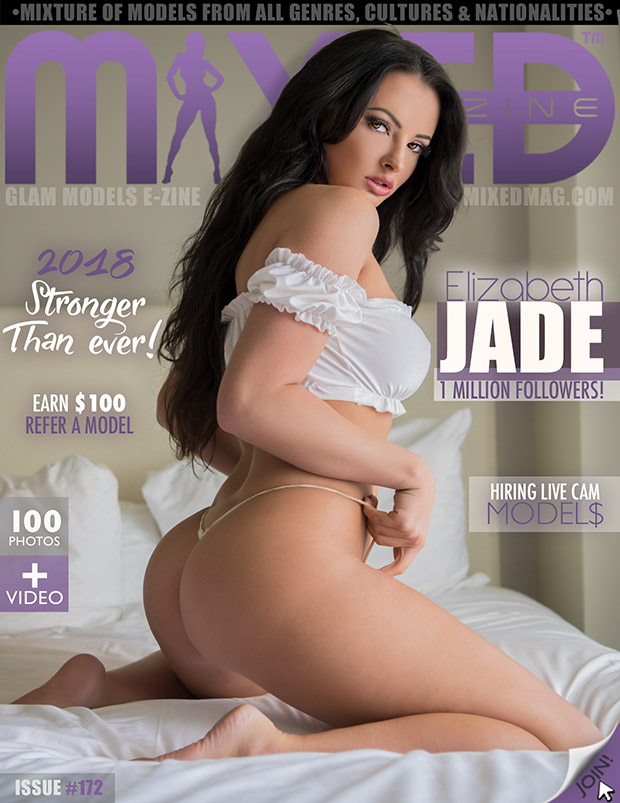 An Interview with Elizabeth Jade:
Where were you born, and how was life growing up? I grew up I'm Florida, I loved the outdoors and being active growing up. I was extremely shy at school but I enjoyed the company of close friends and family. I loved riding my horse and being at the barn.
How did you get your start in modeling? I was 18 and was approached by a Photog that took amazing pics of me that I posted on my Facebook. And agent saw them and signed me to his agency where I started getting paid work.
Favorite Sex position? Doggy
Have you ever kissed a girl? Yes like 7-8 lol
What has been your most memorable experience as a model? Getting the cover of maxim Africa
What would the average person say about you? That I'm humble and funny
Describe your most embarrassing moment. In the 6th grade I went to the bathroom and had a dress on. I came back out with my dress tucked into my underwear. Everyone laughed
What's your biggest turn on? When a guy spoils me
What do guys compliment you most on? My "amazing body"
What do you sleeping in? A long guys shirt and underwear
If you could go anywhere in the world, where would you go? Paris We know you're a model and all, but you must have a favorite food. What is it? Bagels ( can't eat those tho)
What are your dreams and goals? To make 1 million dollars by 30. Own 3 horses on a huge farm. Make more magazine covers. Reach 2 million followers.
Would you prefer a guy to pursue you, or do you like to be the aggressor? I want the guy to pursue.
First Job: Working at a dog kennel
How does someone contact you for a modeling project? They can email me off my booking email on my Instagram What is the largest gift offered to go out on a date with you? One guy offered me 10k to just have dinner with him. Did not accept
Would you date a guy that you met on social network? Probably not
Do you have a passport? Yes !