Courtney Leigh
Age:
23,
United States
Courtney Leigh is the unique busty model from Orlando, Florida. Courtney clearly gets massive attention from her voluptuous curves and piercing baby blue eyes. She currently works as a VIP bottle service girl at the some of the biggest clubs downtown Orlando. Her piercing blue eyes and sensual sex appeal is enough to get any guy to purchase a bottle from her. She also is a professional make-up artist and does everything from basic make-up jobs to very elaborate Hollywood style scenes for film. Courtney loves to shop, party, sit by the pool and pretty much anything that doesn't involve anything work related. Sounds good to me!
Basic Profile
Name: Courtney Leigh

Gender: Female

Age: 23,

Country: United States
Appearance
Body: Thick

Ethnicity: White

Weight: 130kg (287 lbs)

Height: 168cm (5'6")

Hair Length: Short

Hair Color: Black

Eye Color: Brown

Orientation: Straight
Courtney Leigh – The Bad AZZ Bombshell!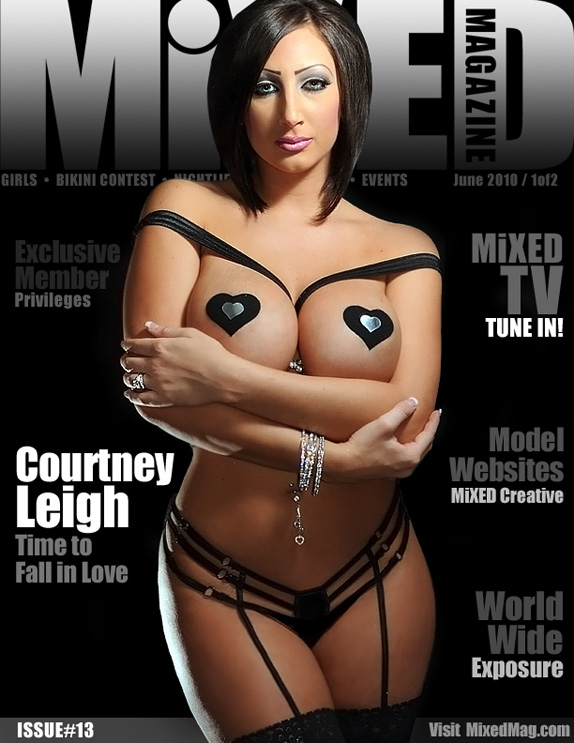 An interview with Courtney Leigh:
Where were you born, and how was life growing up?
Deland Fl. It Was Good I Was In Dance My Whole Life So All i Did was eat sleep school and dance.. i stayed out of trouble… =)
What nationality are you?
French, Native American Indian,, Andddd i think irish.. lol….
Do you go to college?
i Went To Become A Professional Make Up Artist .. & i Kinda Wanna Go Back To School Maybe For hair?… Im Hoping That Ill Just Become Lucky Somehow And Hit the JackPot So i Don't Ever Have To Work Again.. Thatd Be Perfect=)
What would the average person say about you?
-Im Fun, Flirty,Spontanious, Outgoing, Honest & Saucy ;)
Are you a good dancer?
DUH ;)
Do you like the nerdy type, UFC fighter guy or the regular joe?
Well… i Tend To Like Guys Who Take Care Of Them Selfs.. And Physically Look Amazing… Buttttttt You Cant Help Who You Fall For…
Do you have any secret weaknesses or guilty pleasures?
Shopping!!!! But Thats No Secret, Everyone Knows This….
What's your biggest turn on?
When Guys Take Care Of Themselfs Physically … And Just Look Plain SEXY ;)
What's one thing about yourself that everyone should know?
I Tend To Not Sugar Coat Anything…. So Sometimes People Appreciate it… and sometimes People Think i Come off as A Bitch or Just Really Blunt.. I Think its a Good Thing……
What do guys compliment you most on?
My Eyes
Do you consider yourself more of a "giver" or a "taker"?
Both…
If you could have any car you wanted, what would it be?
Def… a Maclaren or Lamborghini
Do you have any hidden talents?
Well Everyone seems To Be Shocked When They Find Out I Was A Swing Girl At One Point… And im Stillll Damn Good at it ;)
What do you like best about being a model?
-I Love When I See My Pics…its Like if Im Feeling insecure or ugly or blah or whatever and then i see them i feel so much better … and when people tell me how great they look i just feel like i got done what i wanted…. and of course meeting all the fun people!
What would you consider your strongest attribute?
-That i Can Get Along With seriously anyone… i am the easiest person to get along with…
If you could go anywhere in the world, where would you go and who would you take with you?
Id Just travel the whole world screw going to only one spot!!! hehe and id bring my Bff or something…
We know you're a model and all, but you must have a favorite food. What is it?
I Eat Chicken Salads like Everyday.. im obbsessed….
Besides modeling, what do you do for fun?
-Shop,Tan,Spa,Beach,Vaca, hang with Friends… Etc…
What are your dreams and goals?
-My dreams is to just be happy and enjoy my life and then be sucessfull and never stress!
Would you prefer a guy to pursue you, or do you like to be the aggressor?
– I Like When A Guy Pursues Me… But Sometimes i Like To Be The Agressor ;)
How did you get your start in modeling?
-Well… I Am a MUA, So i originally Started Doing Makeup For Photoshoots, weddings… etc… and the photographers would always ask do you model? why dont you? or can i shoot you? and i always said to my sefl that i wasnt good enough to do that! buttt i tried it out n love it =)
Myspace or Facebook?
-FB! DUH!
What's the craziest thing you've ever done?
ehh… Whats Not Crazy That i Do… lol… i honestly Dont Even Know… My Life is Just Crazy =)
Do you have a website?
Its Coming Soon =)
Favorite Sports Team:
i Dont Have A FAV.. But i Love All Sports… MMA,Football,baseball,basketball,dance…. you name it .. i enjoy it..
Favorite Comedian:
– i like chelsea lately
First Job:
-oh god.. jcpenny…
Piercings/Tattoos (How many? Where?):
-My Whole Back is tattooed… And i have 7 piercings =)

How does someone contact you for a modeling project?
-My Modeling Email
-ModelC04@yahoo.com