Johanna Macedo
Age:
23,
United States
Johanna Macedo woke up one day and said to herself, "I think I'm gonna start modeling"…. and the next thing you know Bam we have a new super model. Yes it was that easy for this blessing of perfection from Boca Raton, Florida to launch a new career as a glamour model. She has it all! A girl next-door look with perfect curves, spunky personality and sex appeal that melts the sun. She is originally from Brazil where she grew up on the beach mostly where she became one with her swimsuit. She has the patented thong tan line that is synonymous with Brazilian models but don't you worry because this booty is 100% real. This fresh face model is taking over the planet so get ready to learn and see more of this beautiful model. Read more about Johanna below in her exclusive interview and don't forget to join our members area where you can see exclusive photos and video
Basic Profile
Name: Johanna Macedo

Gender: Female

Age: 23,

Country: United States
Appearance
Body: Thick

Ethnicity: White

Weight: 125kg (276 lbs)

Height: 170cm (5'6")

Hair Length: Long

Hair Color: Brown

Eye Color: Brown

Orientation: Straight
Johanna Macedo – Can you say Damn!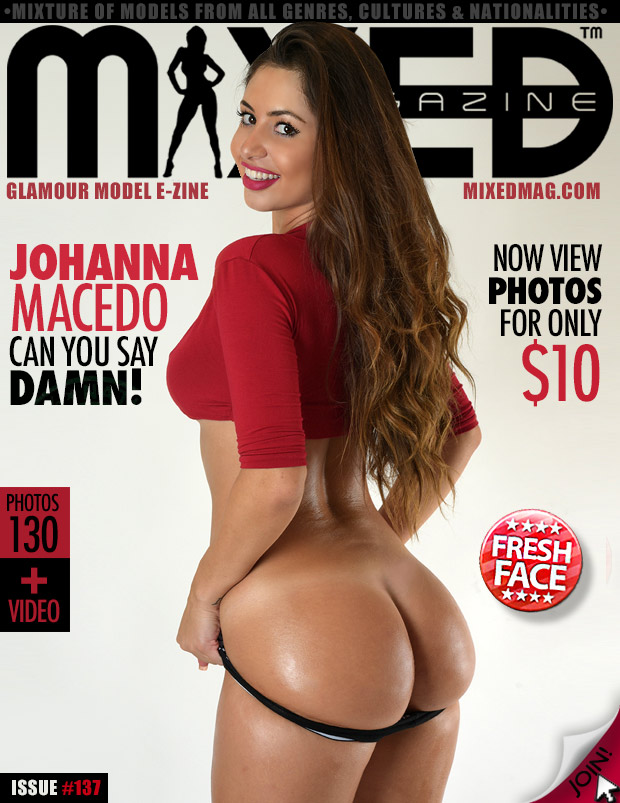 An Interview with Johanna Macedo:
Where were you born, and how was life growing up? Brazil. I lived right by the beach so I spent most of my time on the beach playing. I remember playing video games all day. Call of Duty was my favorite. :)
How did you get your start in modeling? On Halloween I posted an image on Instagram and everything happened from there.
Favorite Sex Position? I'm a good girl and won't tell. ;)
Have you ever kissed a girl? Yes
What has been your most memorable experience as a model? When I shot with Nick Ramirez and posed half nude on a populated beach in Miami. It was a little awkward.
What would the average person say about you? That I have no filter and I'm fun.
Describe your most embarrassing moment. I don't get embarrassed
What's your biggest turn on? Confidence
What do guys compliment you most on? My Lips
What do you normally sleep in? My big pink floyd shirt
If you could go anywhere in the world, where would you go? Dubai
We know you're a model and all, but you must have a favorite food. What is it? Steak Burrito
What are your dreams and goals? To be a Plastic Surgeon
Would you prefer a guy to pursue you, or do you like to be the aggressor? I'd prefer a guy to pursue me by 90% of the time I'm the aggressor.
First Job: Barista at a coffee shop
How does someone contact you for a modeling project? Instagram
What is the largest gift offered to go out on a date with you? A super duper old guy offered me $1k to go to an Opera show but I declined
Would you date a guy that you met on social network? Yeah
Do you have a passport? Yes