Nadine Kerastas
Age:
26,
Germany
All the way from Germany we have the busty babe Nadine Kerastas! This babe hit the instagram scene hard in 2018 after she shot a photo with her booty poking out and the rest was history. It's a whole new world for this once fitness model. Instagram can change lives overnight and after her immediate success with her viral photos she decided to head over to the land of the free home of the brave which is AMERICA! Her and her friend came to stay in Miami for a few weeks while she prepared several shoots with nearly all of the top photographers. Everyone had a field day shooting with this busty babe and all her excitement and willingness to show off her crazy curves. Every day she was preparing to take over the world and that is what she has done. She is inches away from hitting a million followers and it doesn't look like it's stopping anytime soon. She is the talk of the town. She has the look that everyone wants to see. America is much different from Germany in many ways and she is very thankful for her opportunities. She will be coming back to shoot with even more photographers in LA, New York and I'm sure all of the world. She is very easy to work with and she is willing to go that extra mile to get the shot.
Basic Profile
Name: Nadine Kerastas

Gender: Female

Age: 26,

Country: Germany
Appearance
Body: Thick

Ethnicity: Mixed

Weight: 70kg (154 lbs)

Height: 172cm (5'7")

Hair Length: Long

Hair Color: Black

Eye Color: Brown

Orientation: Straight
Nadine Kerastas – Red Hot!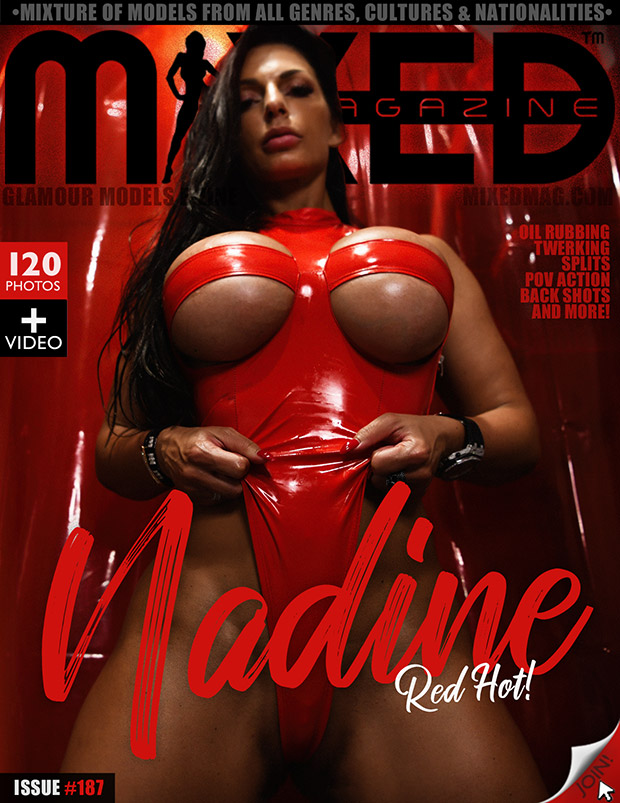 An Interview with Nadine Kerastas:
Where were you born, and how was life growing up? I grow up in a small village in Germany…my life was amazing…I have a wonderful family
How did you get your start in modeling? …I was for 5 years a very successful ifbb bikini competitor and travel a lot around the world …I changed my plans 2018 want to live my life, and started modeling in LA…that's how all begins and now I love to shoot around the world
Favorite Sex position? Doggy
Have you ever kissed a girl? Yes
What has been your most memorable experience as a model? My favorite moment was the beginning with one photographer…the pic has gone viral….we broke the internet with this pic in one night…I will never forget this moment…I was so happy and I could not believe what happened there.
What would the average person say about you? A lovely, funny and totally sexy babygirl with a big heart at the right place but sometimes the devil comes out lol
Describe your most embarrassing moment. Oh my god my embarrassing moment was definitely when my parents come in my room and saw me with my friend ;-)))
What's your biggest turn on? When somebody brings me to laugh and we have a nice time, it's all about the ENERGY
What do guys compliment you most on? My Ass -the KerASStas
What do you normally sleep in? Only a G-String or nothing I hate clothes in my body
If you could go anywhere in the world, where would you go? Miami or Los Angeles
We know you're a model and all, but you must have a favorite food. What is it? Absolutely favorite all day all night is Ice Creammmm
What are your dreams and goals? My dream ist to live in Miami
Would you prefer a guy to pursue you, or do you like to be the aggressor? I'm like a little babe and love it when the man comes to me and handle it like a real MAN
First Job: My first job was for a music video
How does someone contact you for a modeling project? mostly on Instagram or Email
Would you date a guy that you met on social network? Yes….
Do you have a passport? Yes for sure