Gia Simone
Age:
28,
United States
Gia Simone is that all around model that you just can't help but to notice. Her exotic look and her perfect body makes her one of Miami's foxiest babes. This African American model grew up in Chicago which is where she learned how to be one tough cookie where she gained her independency and excellent work ethic. She now juggles several professions in Miami from modeling, hair styling and bar tending. Gia is also very easy to work with and always brings a fun and professional vibe to the work place. She has an excellent ability to get the job done! Gia has shot for some of Miami's top photographers and has done a little of everything from hosting club events, modeled for apparel companies, and much more. What more can you ask for? Smarts, beauty, professionalism, talent, personality, etc, etc..
Basic Profile
Name: Gia Simone

Gender: Female

Age: 28,

Country: United States
Appearance
Body: Thick

Ethnicity: Black

Weight: 127kg (280 lbs)

Height: 172cm (5'7")

Hair Length: Long

Hair Color: Dyed (Other)

Eye Color: Hazel

Orientation: Straight
Gia Simone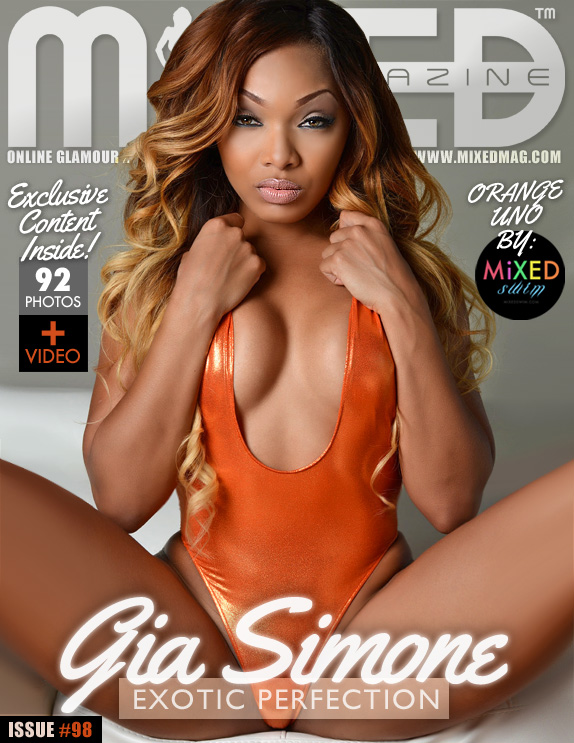 An Interview with Gia Simone:
Where were you born, and how was life growing up? I was born and raised my first 17 years of life in Chicago. Church every Sunday and Wednesday and in the house before the street lights came on or else we were meant at the doorstep by a belt. Being a tomboy and all fighting became a norm however I still managed to be an honor student.
What would the average person say about you? The average person would say I'm a hustler, grinder or go getter!
Are you a good dancer? Yes I am. I used to GoGo dance in a hip hop club and I also use to train with celebrity choreographer/artist Miraj
Do you like the nerdy type, muscle guy or the regular joe? I like a muscle guy with a regular joe attitude
Do you have any secret weaknesses or guilty pleasures? My weakness is Hersey kisses with almonds…..and I do mean the chocolate fellas!
Describe your most embarrassing moment. I think I'm cute so any time I trip or fall is embarrassing to me lol
What has been your most memorable experience as a model? Seeing myself on tv when I was on the dating show Finding Me My Man.
What's your biggest turn on? A handsome, physically fit, clean cut man that knows how to put it down.
What's one thing about yourself that everyone should know? I'm loud so please excuse my excitement. Don't get offended or think I'm yelling….no I'm just loud!
What do guys compliment you most on? My eyes
Do you consider yourself more of a "giver" or a "taker"? Definitely more of a giver. I donate clothes and toys every year and I help out friends that need help. I pay my own bills but when I meet the right one he better be the giving type lol.
If you could have any car you wanted, what would it be? Id like to pull up in a white range rover.
Do you have any hidden talents? If you cool being handy a talent for a woman. I own my own saw, sander, drill and jack and I know how to use them.
What do you like best about being a model? I love the impact that I have on others next to being paid to look good!
What would you consider your strongest attribute? My personality…I'm a Virgo baby!
If you could go anywhere in the world, where would you go and who would you take with you? I would go to London and I'd take my best friend tomasa because she has worked so hard getting through school being a mother. She deserves it!
We know you're a model and all, but you must have a favorite food. What is it? I love chipotle….chipotle is my life! And if that's still to healthy for ya pepperoni pizza yummy!
Besides modeling, what do you do for fun? I consider my other jobs fun, bartending and doing hair.
What are your dreams and goals? Long term dream is to become a famous model or tv host while owning a full service salon.
Would you prefer a guy to pursue you, or do you like to be the aggressor? I like to make him work but if I'm interested and he's dragging his feet trust I won't let him get away.
How did you get your start in modeling? A photographer by the name of Terrence Tyson approached me in the club to do a photoshoot with him back in college. Been in front of a camera ever since!
What is your favorite social network? Instagram duh lol
What's the craziest thing you've ever done? Between getting my bound redone or getting my cooch pierced I'm not sure which is crazier.
Do you have a website? www.giasimone.com
Relationship Status: single
Favorite Sports Team: Miami Heat and Chicago Bulls
Favorite Comedian: Kevin Hart
First Job: checkers
Piercings/Tattoos (How many? Where?): no tats but my cooch is pierced thanks to the spontaneous influence of my bestie Nina Marleena
What fun fact or talent should guys know about?: I'm cool as fuck!
How does someone contact you for a modeling project? Bookgiasimone@gmail.com