Janz J
Age:
24,
United States
Check out this super thick and curvy model named Janz J! It only took one glance at this model on Instagram to realize she needed to be featured in Mixed Magazine. What would life be like if you didn't get the chance to see this amazing model? She is 100% Dominican but resides in New York City. Apparently if you are Dominican then you are automatically thick. She is a new model but has quickly caught the eye of some of the biggest magazines such as Smooth and now Mixed Magazine. Her personality is excellent and she is very humble. She is very easy to work with and she loves to get stunning images. It's always important for us to find models that are easy to work with and that have respect for themselves and others around them and Janz J is that model. Her face is beautiful, her boobs are perfect, her waist is tiny and her booty and legs are just out of control with thickness. She is one of the tattoo free models which is great for modeling purposes. We have to admit that her photos and video inside our member section are just jaw dropping!
Basic Profile
Name: Janz J

Gender: Female

Age: 24,

Country: United States
Appearance
Body: Thick

Ethnicity: Mixed

Weight: 145kg (320 lbs)

Height: 165cm (5'4")

Hair Length: Long

Hair Color: Black

Eye Color: Brown

Orientation: Straight
Janz J – Thick and Curvy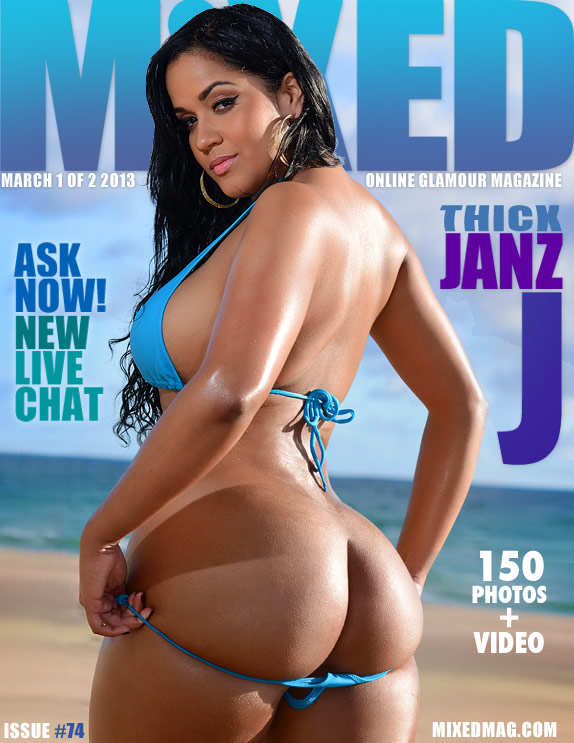 An interview with Janz J:
Where were you born, and how was life growing up? I was born in Washington Heights, New York City. Life growing up was tough coming from a broken home and ultimately living with my mother alone. No matter how hard it got and how tough growing up in Washington heights got, my mother did her best to raise me as best she could with the best morality and respect towards me and others.
What nationality are you? I am Dominican
What would the average person say about you? At first I may seem conceited or stuck up but once anyone gets to speak to me and get to know me I am very humble and very funny
Are you a good dancer? I got moves
Do you like the nerdy type, muscle guy or the regular joe? It all depends how the guy carries himself
Do you have any secret weaknesses or guilty pleasures? Umm
Describe your most embarrassing moment. I have a couple of those I would have to say while I dormed in college during lunch time in the cafeteria I slipped and fell right in the middle so instead of looking even more dumb I just started laughing along with everyone else.
What has been your most memorable experience as a model? My most memorable experience thus far has been my shoot with mixed magazine because just being out on the beach at 6 am and watching the sunrise while doing something that I love and enjoy was total bliss!!
What's your biggest turn on? My biggest turn on when it comes to a guy is definitely the way he carries himself and his swag but most importantly I love a man that is ambitious and dreams big like me.
What's one thing about yourself that everyone should know? I'm very driven and I get what I want, always.
What do guys compliment you most on? I get complimented a lot on my smile and my legs
Do you consider yourself more of a "giver" or a "taker"? I would consider myself more of a taker
If you could have any car you wanted, what would it be? A Bugatti or Ferrari, hey I dream big !
What do you like best about being a model? Modeling is not my career nor I want it to be, modeling is a hobby and its something I enjoy. What I like best about it it's the people you meet, the networking.
What would you consider your strongest attribute? Physically, my height and shape
Other than that I would say my personality I think im very charismatic and humble
If you could go anywhere in the world, where would you go and who would you take with you? Dubai, who ever can afford it.
We know you're a model and all, but you must have a favorite food. What is it? I love love love Italian food!
Besides modeling, what do you do for fun? I'm a very social person so I enjoy going out
What are your dreams and goals? Like I said before I dream big but my dream is to be economically stable and in great health. I set my goals really high because even if I get halfway it's way past what's expected.
Would you prefer a guy to pursue you, or do you like to be the aggressor? In the beginning I prefer getting pursued after and during intimacy it's not bad to shift roles and become the aggressor.
How did you get your start in modeling? It all started when I met my photographer and friend Jose guerra he introduced me to my agent Arthur from Arabelle modeling and it got started from there.
What is your favorite social network? Right now Instagram
Do you have a website? Not yet
Relationship Status: I prefer to maintain my personal life as private as possible
Favorite Sports Team: Yankees
Favorite Comedian: Umm right now Kevin hart
First Job: Hustlers it was a sneaker and urban wear store
Piercings/Tattoos (How many? Where?):
Ink virgin! I had my belly button and tongue pierced during my rebel teenage stage now just my ears.
How does someone contact you for a modeling project? bookjanzj@gmail.com