Amina Blue
Age:
21,
United States
Check out this lil' dime piece from Brooklyn, New York. Her name is Amina Blue and she is Pakistani and German! It's not every day you see exotic girl like this with her piercing blue eyes, all natural body and tattoos that accent her body giving her that ultimate unique look. And of course she is a bad ass. What would you expect from a Brooklyn girl? The one thing that really sticks out about this model is that she is all business and her personal aura let's it be known. She comes ready to shoot and leaves you with exactly what you need. She is a new face to modeling but we predict enormous things to come out of this young model. She has all the right tools for success. All New York photographers need to book her immediately!
Basic Profile
Name: Amina Blue

Gender: Female

Age: 21,

Country: United States
Appearance
Body: Petite

Ethnicity: White

Weight: 103kg (227 lbs)

Height: 157cm (5'1")

Hair Length: Long

Hair Color: Honey Blonde

Eye Color: Blue

Orientation: Straight
Amina Blue is Pretty & Petite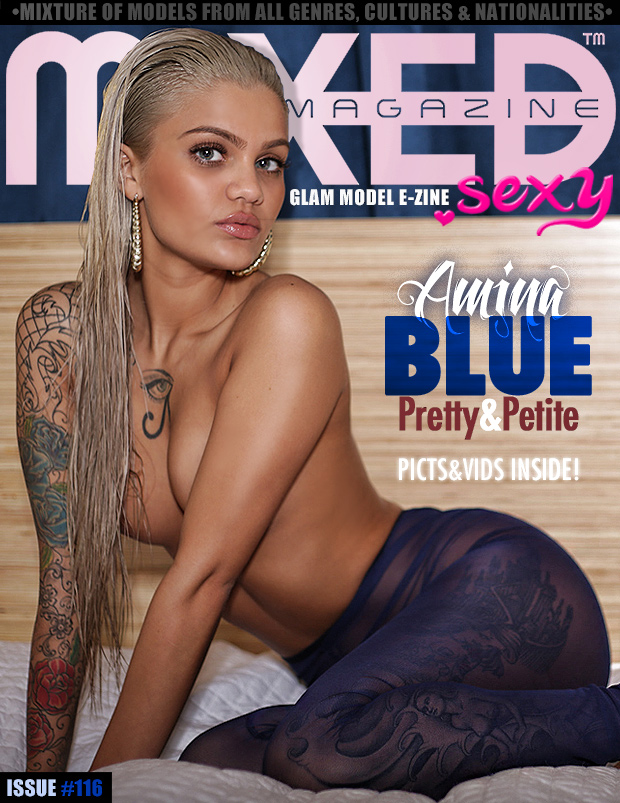 An Interview with Amina Blue:
Where were you born, and how was life growing up? I was born in Brooklyn New York. I had a great life growing up. I went to an all Catholic school. Things were strict but I'm very thankful for everything.
How did you get your start in modeling? I went to a Jadakis video shoot to meet Waka Flaka and I ended up getting casted for the video.
What has been your most memorable experience as a model? Shooting with Angelo Lumas because he kept me laughing
What would the average person say about you? I'm a very quiet person
Describe your most embarrassing moment. I don't really get embarrassed
What's your biggest turn on? an intelligent man
What's one thing about yourself that everyone should know? I'm a vegan
What do guys compliment you most on? eyes
If you could go anywhere in the world, where would you go? A third world country to help people
We know you're a model and all, but you must have a favorite food. What is it? soy nuggets
What are your dreams and goals? to be happy
Would you prefer a guy to pursue you, or do you like to be the aggressor? it goes both ways
First Job: a bakery
What is the largest gift offered to go out on a date with you? I don't even let it get there
Would you date a guy that you met on social network? No
Do you have a passport? yes
How does someone contact you for a modeling project? bookbluenyc@gmail.com